Lights Out: Veteran, Joe Hobson, Offers His Account of Suddenly Losing His Vision
This is the personal account of a veteran who lost his vision later in life suddenly from a rare eye condition but for whom the military has been an important force in his life.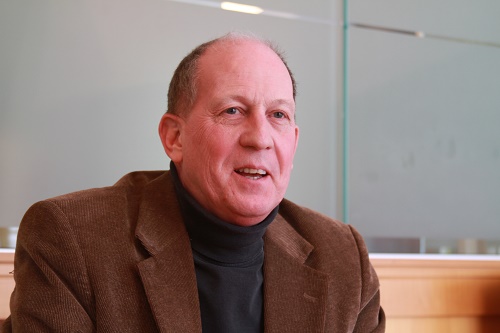 Joe Hobson was born in Washington, DC, and grew up in Arlington, Virginia. He majored in journalism and political science at the University of South Carolina, and for the first two years of his college education, Joe was engaged in the U.S. Air Force ROTC program.
After college graduation, he enlisted in the U.S. Army Reserve. This was 1969, winding down of the Vietnam era, but the war was still actively going on. He completed basic training at Fort Jackson, South Carolina and was assigned to the Office of the Commanding General.
He served in Civil Affairs Units in South Carolina and in suburban Riverdale, Maryland, outside Washington, DC and was in the Army Reserve for six years.
Joe went on to work on Capitol Hill as Special Assistant and Military Liaison to a Member of Congress, who was Chairman of the U.S. House of Representatives Committee on Veterans Affairs, 1969-1974, after which the Congressman did not seek re-election.
Fast forward this account to 2007 and Joe picks up his story.
"And then the lights went out": Joe's Story of Vision Loss
Well, where do I begin? Life was going swimmingly and exceedingly well for me. That was the late summer of 2007. It seems so long ago, a lot of water under the bridge, and I am trying to swim upstream against a strong current (sometimes one has to be a strong swimmer!). But I have made it, and I continue to make progress. Now, it is approaching the end of 2016 and almost ten years since this saga began.
Up until 2007, I had enjoyed a progressively upward mobile professional track. I was gainfully employed for many years in a high level executive position with an international multi-association management firm. I traveled for business; I enjoyed life experiences that could cause envy; I enjoyed a healthy and comfortable lifestyle, only needing reading glasses with perfect eyesight until about age 52. Having just turned 60 in July 2007, I was contentedly transitioning into my sixties.
Then, "boom!" everything changed. My apple cart turned upside down, only to later again really turn completely upside down and my apples scattered everywhere. Losing one's sight older in life is not really a very optimal "slam," but it is manageable and it is, in reality, what it is.
Losing My Sight But Not My Vision
I like to say that I lost my sight, not my vision.
I came down with life-threatening MRSA pneumonia in early August 2007 and was on a respiratory breathing device for seven plus days; then, I underwent emergency lung surgery to clear abscessed lungs. I continued hospitalization for two months on numerous antibiotics trying to find one to fight the antibiotic-resistant MRSA. Finally, in late September, I came home from the hospital, albeit still on 24/7 oxygen and was regaining my strength. I was then diagnosed as anemic and had a blood transfusion. That procedure was in the first week of October 2007, and a week later, I lost my eyesight.
One night in early October, about a week after the transfusion, I completed reading the Diana Chronicles, by Tina Brown. I turned off the light and enjoyed a good night of sleep.
The next morning, I awoke to being blind!
Yes, literally, overnight!
All I could see through a foggy milky-like blur were dots. The doctors told me these were caused by my brain trying to see. It was like looking at a peg board, just one dot after another! Plus, there were geometric figures and colors dancing in my mind — very weird! Yes, I know it sounds a bit bizarre and strange; I prefer to say drastic and scary!
More hospitalizations resulted, more tests, more doctors, and more mysteries! But, no answers!
At this point, my employer put me on disability. George Washington University Hospital, Johns Hopkins University Hospital, and Emory University Hospital were are all involved in trying to figure out what was wrong with me.
No one really seemed to know what happened. We know that some genes mutated from a hereditary strain, but what happened? Was it toxicity with antibiotics, the transfusion, or something else? Who knows? My task was to accept what is reality and work to cope, live, and grow with it.
The Diagnosis
In early January 2008, while I was actually doing my in-take interview and processing to open my case with the Virginia Department for the Blind and Visually Impaired (DBVI), my neuro-ophthalmologist phoned me to confirm I had been diagnosed with Leber's Hereditary Optic Neuropathy (LHON), a very rare condition.
It had been like searching for a needle in a hay stack, but no one had an answer. There is no known cause, no known treatment, no known cure, and the condition results in permanent blindness.
Getting Vision Rehabilitation Services
After the diagnosis came a series of events: The time of the gainful employment came to an end, and I went out on disability, a process that was done expeditiously through Social Security. Actually, while painful and not comfortable, the loss of employment did provide me time for medical matters, learning blindness skills, and adjustment. That said, not having the fellowship of my professional community, an income, or continuing my work was a difficult emotional and financial adjustment.
The DBVI services ensued with the start of home instruction in mobility/orientation with use of the white cane, adaptive technology, JAWS, occupational/vocational and mobility trainers and tutors, daily life skills such as labeling (the stove, microwave, television, telephones, etc.), and trying to learn alternative ways of doing what I had successfully managed all my life. What was one of the most frustrating aspects, and frankly still is, was the loss of control of my personal matters: writing a check, understanding my mail, etc. Here again, I was introduced to alternatives, and I learned "patience" quickly. I didn't have an option!
A major priority was to obtain some sighted assistance on a regular basis, and the Columbia Lighthouse for the Blind (CLB), in Washington, DC Metro, found me a wonderful reader whom I refer to as my "Saint Patricia." I do not know that I can ever express to anyone how kind, helpful, and guiding Patricia was to me, and we became very good friends too. Unfortunately, she is now deceased, but she got me on the road and was a constant pillar of help and strength to me in those early days. I could not have done it without her. She used to tease me when she departed after our session, "You know, I could rob you blind!" We would have a hardy laugh at that remark.
Next, I went to the residential blindness rehabilitation program. That, too, while incredibly helpful, was a difficult emotional time as I was the oldest person there surrounded by youth over 18, college students, and younger generations of fellow rehab attendees.
Back home, I had to figure this all out to my growth and advantage. I was still scared, everyday a learning curve, angry, impatient, and again, I emphasize, scared. I am single, now 69, and it is not necessarily a comfortable environment, but each day is a new opportunity. I remain appreciative to my family, friends, clergy and church parish, family, doctors, trainers, tutors, the blind community, and others who helped to provide a rock to me through this incredibly difficult period!
Joining the National Federation of the Blind
I found and affiliated with the National Federation of the Blind (NFB) (including my local chapter and the state affiliate), and met some exceptional mentors and role models. I discovered a whole new circle of people, some of whom have become dear friends, and acquaintances whom I could trust and relate to in many ways.
Maintaining Your Confidence
It is important to realize and maintain confidence in yourself. You can do it. You did not lose your brain, only your eyesight. That is pretty drastic, yes, but it is important to move ahead. So lesson #1 for me is that you have to become your own self advocate!
I am often asked the question, "Do you think it is easier to be blind or visually impaired from birth, earlier in life, or later in life?"
This may seem a rather strange question, but it is reasonable and logical to consider as well as difficult to answer. I have to respond honestly from the perspective of losing my sight very suddenly later in life at age 60. In many cases, much of the training and learning skills one would acquire in earlier years in schooling, programming, and training can be more stressful to learn later in life. On one hand, I do relate to what colors are, what the sky looks like, the ocean and waves, a sandy beach, the mountains, and the snow covered landscape. On the other hand, I do not have the life and technology skills of many individuals who experienced vision loss earlier in life.
I like to say "in my mind's eye" when understanding or detailing something. I constantly remind myself, "Things could be worse!" And, I try to manage matters by thinking through my experiences in the past. This has been very helpful to me in my transition.
Getting Involved
I decided that I had to jump in head first and go for it. So, I plunged into the NFB agenda, received in 2009 a McDonald Fellowship for first-time attendees to the NFB national convention, and all of a sudden found myself negotiating the hotel "Request for Proposal RFP" and hotel contract for the 2010 state convention. It was almost like being at work, but without a pay check or benefits of the job.
Since that first time, I have remained actively involved in similar matters for every state convention as well as mentoring others on various initiatives and committees, served in various chapter offices, attended the national and state conventions, and tried to fill my personal sense of loss and void by giving back to help others.
Moving Forward with Life
I increasingly am more and more comfortable with the way it is. There is always change in life. It is the way we, as individuals, manage that change that matters, again, I mention, with a lot of patience.
I have been successful to occasionally obtain some work writing, editing, proofing, and testing of accessibility of articles and documents formatted to read in JAWS, a screen reading program. I have also returned to more involvement in my parish church agenda, rejoined community and political endeavors (it is very helpful to make the acquaintance of your local grocer, restaurant service staff and managers, merchants, etc.), and continued involvement in the greater blind community (as well as attending and participating in annual General Assembly and U.S. Congressional advocacy and legislative efforts). I am also enjoying digital talking books and learning the latest navigational voting machines (including being photographed and featured in the Washington Post when I was trying one of the new machines here in the Commonwealth of Virginia).
I am still working on using the touch screens that are inaudible and those that are audible. These cause me some difficulty as I am technology challenged and also have some fingertip neuropathy.
I will not be reading Gone with the Wind in braille in this lifetime, but I have learned the alphabet sufficiently to not mix up the Men's Room and the Ladies's Restrooms, find a hotel room, read an elevator keypad, and other such logistics. Still, braille and I are not yet friends.
I had good travel skills, when sighted, and that, coupled with travel training skills has helped me manage blindness skills for travel (regional, national, and international). Gee whiz, when I now stop and think about it, since losing my eyesight, I have been to many regional places (Washington, DC, various Virginia venues, Baltimore, Philadelphia, New Jersey countryside, South Carolina, Florida, Iowa, Michigan, Texas, California, Oregon, Georgia, and even to Puerto Rico, Scotland, and England).
Realize Your Strengths and Weaknesses
As I said in the beginning, it is important to realize your strengths and weaknesses and then charge ahead. Yes, blindness is an inconvenience but not an obstacle. Rather, I find it is low expectations that hold you back, so step forward for yourself and for others. Go forward with advocacy, patience, confidence, and living the life you want for yourself!
Full Circle: Returning to My Military Beginnings
When I lost my eyesight, I became involved in the National Association of Blind Veterans of the National Federation of the Blind (NFB). I have participated in the Honor (Color) Guard and Veterans Recognition at National Convention opening ceremonies for the past four years. I have also participated the Veterans Honor (Color) Guard and Veterans Recognition at the Virginia NFB (NFBV) for the past three years.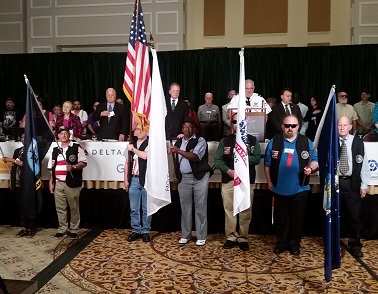 My Mantra
"Blindness is not the characteristic that defines you or your future. Every day we raise the expectations of people who are blind or visually impaired because low expectations create obstacles between us and our dreams. You can live the life you want; blindness is not what holds you back."
Additional Information