Interview with Timothy E. Hornik, LMSW CPT, US Army, Retired
Deanna: When I reached Tim Hornik by phone, he was pleased to share his story with our readers especially since this Veterans Day marks the tenth anniversary of the injury that caused his vision loss.
Deanna: Was your vision loss service related?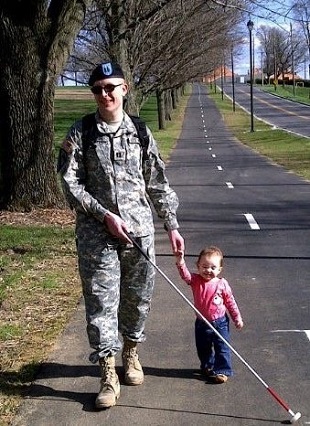 Tim: Yes, I was commissioned into the Army in 2002, and deployed with the 1st Cavalry Division in September 2004. During combat operations in Iraq, I was shot by a sniper, causing my blindness on November 11, 2004.
Deanna: How long did it take you to begin your adjustment to vision loss?
Tim: I guess the first six months was spent in denial and just dealing with the injuries. Then I entered the V.A. programs for visually impaired veterans the first time. I was still fighting the idea of losing my vision and didn't absorb all there was on offer. I think this is often the case when there is a sudden loss. Shock, anger and grieving have to be accomplished before you can take full advantage of the training to adjust to blindness. My second try at it was about four years later and I was able to get more out of it then.
Deanna: What helped you most to begin to deal with your blindness?
Tim: My family was there for me. They were the ones investigating options and supporting me in looking for answers in those early days.
Deanna: Are you married?
Tim: Yes, for 12 years, and I have a four year old daughter.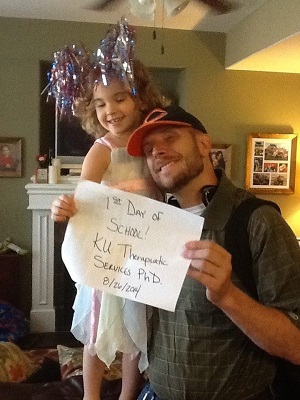 Deanna: Is being a blind parent a challenge?
Tim: Yes, but it has its good times too.
Deanna: What drew you to the work you are involved in now?
Tim: I wanted to be able to help others and to make a difference. I have the time and supports I need to put in as a volunteer and to continue my studies. I am in a good place to follow my inclinations and work to make it better for others dealing with vision loss.
Deanna: Mr. Hornik told me that he successfully remained on Active Duty for eight years serving in program management and operations assignments. Timothy medically retired as a Captain in 2011. These personal experiences enable him to provide consumer based knowledge on the various aspects of transition and resiliency from debilitating combat injuries and military service. Mr. Hornik is a native of Chicago. In 2002 he earned a Bachelor in Liberal Studies from Viterbo University in LaCrosse Wisconsin. He later went on to earn a Masters of Social Work from the University of Kansas, and was awarded the school's Margo Award for clinical practice in 2010. He is a member of the National Association of Social Workers and The National Council on Independent Living. He is also a life member of the Blinded Veterans Association, Disabled American Veterans, Military Officers Association of America, and Veterans of Foreign Wars.
Other Resources for Veterans
Information for Veterans Coping with Vision Loss