Ben Karpilow, Esq.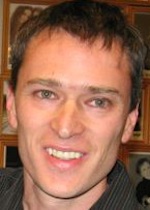 Ben Karpilow, blind attorney
Ben Karpilow is a visually impaired attorney who practices disability law in California. He's also a musician, runner, and most importantly, father to Devin and Sophia, with his wife Denise, who is totally blind. Follow Ben's journey as he experiences vision loss, undergoes brain surgery to remove a tumor, and "grows into his new identity" as a visually impaired person.
His Early Years
I was born in Willimantic, Connecticut and lived in several places on the East Coast (including Pennsylvania, New Jersey, and Indiana) before my family moved to Santa Rosa, California in the summer of 1986.
My parents met when Dad was stationed in Germany during the Vietnam War. My mother left Germany and returned to the United States with him. When her visa ran out, they got married and started our family. I was born in 1977, and my sister Miriam followed in 1978. We have always been, and remain, a close family.
After College, Playing the Trumpet with Carnival Cruise Lines
In 2000, I graduated from Humboldt State University in northern California with a B.A. in Liberal Studies. I had been playing the trumpet since elementary school, and after college I got a job aboard Carnival Cruise Lines playing my trumpet in the showband. I did this for nearly a year, touring the Mexican Riviera and the Caribbean.
When my contract with Carnival ended, I made a brief foray to St. Louis with a friend from the showband, until I felt the call to return home to California. This was in the summer of 2002.
The Beginning of Vision Problems
It was early in 2003 when I began noticing deteriorations in my eyesight, which were subtle at first, but gradually became undeniable and severe. It got to the point where I could barely see to drive myself to work at the mall a couple of miles away. I was very conscious of the fact that my eyesight was failing, yet subconsciously I hoped that if I waited it out, the problem would go away.
About six weeks after I noticed that my vision was failing, I drove my car halfway on to a sidewalk at 45 miles per hour. Then and there, I decided to make an appointment with an eye doctor. I realized this problem wasn't going away on its own.
Diagnosing a Brain Tumor
An MRI showed I had a brain tumor that was about the size of a lemon, doctors told me. Despite the uncertainty and concern my friends and family felt, I remained genuinely calm in the weeks leading up to my surgery. I stopped worrying about earthly things and kept a positive attitude. On some level, I knew that by remaining calm, I would give my family the strength to remain calm through this ordeal, too.
My "second birthday" is on March 19, 2003, the day I underwent a nearly 24-hour surgery to remove the tumor from my brain. This is also the day the United States invaded Iraq, making March 19, 2003 an historic occasion on two fronts. My operation was successful, and I was discharged from the hospital less than one week after my surgery.
Optic Nerve Atrophy
Because of the pressure created by the tumor, the blood flow to my optic nerves had become constricted, and my optic nerves basically died as a result. My eye condition is called optic nerve atrophy.
A scar from brain surgery runs from ear to ear over the top of my head, but it is not outwardly apparent that I am visually impaired. Frequently, I'll be asked to explain what my vision is like: "What do you see, Ben?"
My answer is that I see well enough to stay out of traffic most of the time, and I can read the headline of a newspaper with my nose touching the page while reading very slowly. Otherwise, I do not recognize faces unless the individuals are really, really close-up, which can make some people a little uncomfortable.
Rehabilitation Begins
After recovering from surgery, I began instruction at the Earle Baum Center of the Blind (EBC) in Santa Rosa, California in May 2003. I had never been to a center for the blind, and, frankly, didn't think of myself as blind. But my life changed there as I began to grow into my new identity.
The EBC sits on the former property of Earle Baum, a blind farmer who worked his land independently into his 90s. In his will, he left the land for use as a place for blind and visually impaired people to socialize and receive education.
It's a small, yet modern, campus, and on my first day there, I remember hearing lots of laughter. Immediately, I felt at ease and ready to meet new friends and learn new skills. I took classes there for about a year. I learned how to use adaptive technology such as a screen reader, and I also received instruction in braille and orientation and mobility.
Preparing for Law School
The California Department of Rehabilitation had been funding the training and services I received at the Earl Baum Center. As I was completing my program there, my rehabilitation counselor and I developed a plan for my future education and training, called an Individualized Education Plan (IEP). I had chosen to become a lawyer, to fight for the rights of those like me who were in a vulnerable position and needed strong advocacy.
The next phase of my education led me to Santa Rosa Junior College in the spring of 2004, where I applied my adaptive technology skills in a variety of courses I felt would be both interesting and intellectually challenging. I spent three semesters there, taking a variety of classes, from swimming to jazz combos to philosophy.
Law School Begins
In summer 2005, I began law school at Empire College School of Law in California. The first semester was pretty rough overall, but I identified my weak spots quickly and worked to improve them.
For me, the most challenging aspect of law school was managing the massive amounts of information. All my textbooks came in electronic format, and it was very convenient having a 600-page text on a CD-ROM!
In law school, professors select students to "brief" cases for their classmates. A "brief" is a short written summary of the relevant facts, issues, legal rules, and reasoning of a particular case. The purpose of "briefing" is for law students to practice and hone their legal analysis skills.
When a professor called upon me to brief a case, I'd have my headphones plugged into my laptop so I could listen to my screen reader, and I'd use the arrow keys to "read" my brief; i.e., repeat what my screen reader "said." This takes some practice, and I had my share of awkward moments when I couldn't keep up with my screen reader and had to pause until I found my place again. Since becoming an adaptive technology user, I've downsized my equipment somewhat, having traded my bulky stereo headphones for a sleeker pair of earbuds.
Becoming a Father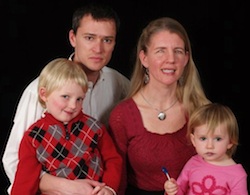 Ben Karpilow, his wife Denise, and
their children Devin and Sophia
As fate would have it, my former EBC braille/tap dance instructor Denise and I got married while I was in law school. Academic rigors aside, I became a father during my first year of law school when my son Devin was born and again in my fourth year, when my daughter Sophia made her debut. Now, Devin is 5 and Sophia is 2.
Fatherhood has had an enormous impact on my life. It has made me more responsible, and has motivated me to do better, both personally and professionally.
Many dirty diapers and sleepless nights later, I graduated cum laude from law school in the summer of 2009, receiving the Labe Leibowitz Award, given to the student whose classmates believe has overcome the most hardship in graduating from law school. Truthfully, I just worked hard and kept my focus.
Passing the Bar Exam and Becoming a Lawyer
I went on to pass the July 2009 California Bar Exam. I took the entire test electronically, i.e., on my computer. This was significant, in that the multiple-choice portion of the exam had never been officially administered previously in an electronic format, due to security concerns on the part of test administrators. I had to appeal the initial decision to deny me this accommodation, and I wasn't willing to take "no" for an answer.
After passing the bar exam, I began networking in earnest. I tried to set up at least weekly meetings or phone calls with a variety of attorneys. It felt a little like cold calling!
I also joined a Listserv for blind attorneys, which I found to be a valuable resource. After several months of intense networking, I was offered part-time work practicing workers' compensation and related civil litigation.
About a month into my new job, I had a "light bulb" moment when I suddenly realized I was actually practicing disability law. Throughout law school, whenever I was asked what area of law I wanted to practice, I always responded "disability law," since my own disability was the catalyst for my attending law school. The work I was doing right out of law school felt like exactly the right fit for me.
Adaptive Technology and Accessibility
I still hold this same job almost two years later. The majority of my practice involves representing injured workers in discrimination cases against their former employers.
I use a variety of adaptive technologies to perform my job: a screen reader-equipped laptop computer, a handheld digital magnifier, and sometimes a portable video magnifier. I also have a high-speed scanner I use to digitize large volumes of text and create pdf documents.
Otherwise, the work is generally manageable from an accessibility standpoint. (I still hate spreadsheets, though!) I do encounter access barriers from time to time on the Internet, and when this happens, I make it a point to address the problem with someone at the website and work towards a solution.
Being a new lawyer can be daunting and frustrating at times, and I try to avoid learning things "the hard way" too often. Gaining a foothold among more experienced practitioners takes time; on the other hand, there is no substitute for the proverbial "baptism by fire."
In fact, since becoming visually impaired, I force myself to venture out of my comfort zone whenever possible, as I believe this builds confidence. Better said, perhaps, I try not to worry about what people will think about "that blind guy," which, I believe, will only serve to hinder my success.
As far as community involvement, I'm on the Board of Directors for the Disability Services & Legal Center and the Academy for Certification of Vision Rehabilitation & Education Professionals (ACVREP).
Family is Important
My family and I recently moved to another part of Santa Rosa that is within walking distance of the school where my son Devin attends kindergarten. I can also walk to work from my home in about 15 minutes, which I absolutely love.
Actually, I was determined to find a job I could walk to. It's one of the reasons my wife and I choose to live where we do. As neither of us are drivers, it's important for us to live independently, which means living within walking distance of school, work, shopping, and restaurants.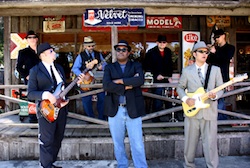 The RoseTown Soul and R&B Revue.
Ben is on the trumpet at right rear
Aside from my role as a family man, I enjoy cooking, reading (audio books), and playing trumpet in my soul band, the RoseTown Soul and R&B Revue. We do a lot of Otis Redding and Blues Brothers songs, and perform wearing black suits, hats, and ties.
I also began running after my vision loss, after being encouraged by a longtime friend who I played rugby with in high school. My sphere of usable vision is just enough to permit me to avoid most obstacles and objects before I run into them, while still managing to look somewhat graceful.
I have run three half-marathons and a number of 10k races. It's fun and it keeps me in shape. And it's really the only outdoor exercise I can do independently. I don't see well enough to ride a bike solo, for example, although I do enjoy the occasional tandem ride.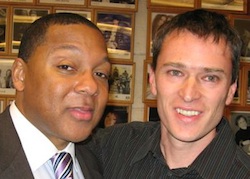 Ben Karpilow with Grammy Award-winning jazz trumpeter Wynton Marsalis
Life is Good
I tell people that my vision loss is the best thing that ever happened to me. Obviously, I miss not being able to drive or read visually, which is frustrating at times. However, with a wonderful family, good health, and a career path, my life is richer now than ever before.
I can't say where I'll be in ten, or even five, years, but I try to keep a healthy balance of working toward the future and being in the present.