Daniel Aronoff, New York's Premier Blind Food Critic
Daniel Aronoff is New York City's premier (perhaps only!) food critic who happens to be totally blind. He's also a recent Master of Social Work (MSW) graduate of Lehman College who is searching for employment helping people with disabilities. And Dan really loves assistive technology, too!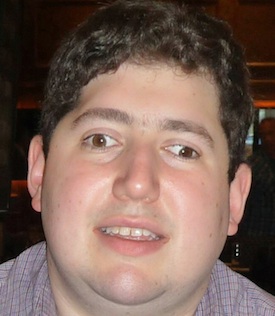 Hi Dan! To begin, can you tell more about yourself?
I'm 31 years old— and yes, I am indeed a blind food critic; in fact, the name of my food criticism blog is The Real Blind Taste Test.
For now, being a food critic is a project that I'm pursuing in addition to my main career, which is social work. This past May, I graduated from Lehman College in the Bronx, NY with a Master of Social Work (MSW) degree. My goal is to be a social worker helping people with disabilities in New York City. I live in Manhattan, on the Upper East Side, which is a great neighborhood, despite being quite a long walk from the nearest subway.
I have been blind/visually impaired since I was a very young child. I was able to read print by age three, but one day my parents noticed that I was holding the pages very close to my face. My parents brought me to an ophthalmologist who diagnosed me with a brain tumor.
I had surgery to remove the tumor, but it grew back the following year. During my second brain surgery, the doctors discovered that the tumor was wrapped around my optic nerve; removing it, therefore, would make me go blind. After receiving my parents' permission, my doctors removed the tumor and optic nerve during a third surgery. As a result, I lost most of my sight except for some shadow and light perception.
Having light perception may not sound like a great deal, but I have learned to maximize its utility. For example, occasionally I can see when something is in my way when I'm walking, or I can see where a car is when I'm crossing the street.
I don't have enough sight to read print, however, no matter what the print size is. I try to use my other senses to compensate for my lack of sight, but I do not believe that my other senses (such as taste, for example) are naturally or "magically" heightened. Over many years, I have worked very hard to increase the amount of information I gather from each sense, which is something that many people who are blind also have learned to do.
After you lost your sight, did you attend a residential school for the blind?
Throughout my schooling and academic life, I was always "mainstreamed"; that is, I always attended regular schools—not schools for the blind or special education classes. My mother always advocated for me to have all of the necessary services required for a student who is blind, such as a resource teacher and textbooks in accessible formats. As a result, I have always valued my independence and never wanted to be viewed as different or "special."
I took a year between high school and college to attend an intensive training program at the Louisiana Center for the Blind, sponsored by the National Federation of the Blind. I used this time to enhance my skills in the areas of computers, reading braille, mobility, cooking and home management, and college readiness.
I began college the next year, but I wasn't sure what I wanted to do with my life. Eventually, I dropped out of school and started my own business, via the federal Business Enterprise Program. (Note: The Business Enterprise Program (BEP) is a federally authorized program, implemented by each US state and territory, to train and license people who are blind or visually impaired to establish and operate food service businesses in public and private facilities.)
This was successful for me, but after a while I realized that I much preferred helping people, rather than working in the "business end" of food. Thus, I returned to school and earned an associate degree in human services while doing my internship at the Catholic Guild for the Blind in New York.
I earned my bachelor's degree in social work from Lehman College and interned at the Institute for Community Living's Joselow House, a residence in Manhattan for people who are blind and have a dual diagnosis (such as developmental disabilities, and/or hearing loss, for example).
In June 2010, I began taking classes once again at Lehman College, this time towards my Master of Social Work (MSW) degree. I graduated in May 2011 with a 3.9 (out of a possible 4.0) GPA. My internship for my master's degree was located at the veterans' office of the counseling center at the Borough of Manhattan Community College (BMCC) and taught me a great deal about the needs of our veteran population.
What kinds of technology do you use for school and your food criticism work?
I really love technology! It's extremely helpful and provides a wide array of products that help make life more accessible to me. In order to use my computer, I have screen-reading software called JAWS. (Not the shark; instead, it stands for Job Access for Windows with Speech.)
JAWS reads the text from my monitor through my speakers, based on keyboard commands, some of which are specialized just for JAWS. (Some people think that if you are blind, you must talk to your computer via voice recognition software, but this is not true and I don't know anyone who uses this method.)
Thanks to JAWS, I can perform at an equal level with my sighted peers for word processing, Internet, email, and podcasting. I use other technology, including a Victor Reader Stream, for reading textbooks, audio books, and listening to music. I also use an electronic note taker for the blind called the Braille Sense, which allows me to take notes, manage addresses and phone numbers, and access Internet and email.
As you can tell, I am a huge fan of technology, but I also believe that braille is still very important and that people who are blind don't have to be reliant on only listening to materials in an audio format.
How did you develop your interest in food and food criticism?
It's interesting. In 2008, during one of my student internships, I was assigned to find websites that were not accessible to blind people. One such website had a link that said, "Click here to create your own blog." I was curious, so I clicked on the link. It brought me to a page containing a form that I could fill out to create my own blog.
However, the last item on that form was a CAPTCHA, a test used by websites to ensure that a real person (and not a machine) is registering or responding. A common type of CAPTCHA requires the user to retype letters or text by copying a wavy or distorted image on the computer screen.
Since JAWS ignores images and pictures, it was not possible for me, as a blind person, to retype the CAPTCHA text and complete the form. When I emailed the site's webmaster about the issue, the problem was resolved within a few days—and I started blogging.
At first, I blogged about my life, disability issues, sports, and my struggle with losing weight. One day, however, I posted my first review as a food critic and things took off from there. The feedback was extremely positive and I found that I enjoyed writing food reviews. As a college student, I couldn't afford to dine out often, but whenever I had a memorable meal, I wrote a review about the total dining experience.
I continued writing food reviews and last year I began paying for my own domain at www.blindtastetest.net.
I do not do this for financial compensation; rather I do "blind food criticism" for my own enjoyment. I am, however, always willing to write food reviews for other sites or to collaborate with other food critics.
I try to review food in a way that considers the four senses (taste, touch, smell, and hearing) that are available to people who are blind, and I eliminate the visual aspects of the dining experience. I also take into account the "vibe" and ambience of each restaurant, and the attitude of the staff is always an important factor.
As an example, here is an excerpt from a review of the restaurant Primehouse that I did as part of this interview with Maureen Duffy, writer and blog editor for VisionAware.org:
From the moment I entered Primehouse, I could already tell what type of experience awaited me: all of the staff were very nice, (they seemed to remember me which is strange because I don't eat there very often), and they were accommodating (which can be a great thing especially if you are a person living with a disability). In addition, I began recognizing positive elements of the atmosphere: the music was low but just high enough to be heard, the tables were spread out which was very helpful, and despite the conversations around us, the room felt hushed and laid back.
And then there's the food: both of our meals were excellent and we had no complaints. I started with the Primehouse hamburger: topped with melted Swiss cheese and cooked medium well (I can already hear the negative comments but it was so delicious).
As usual, the seasoning and crisp char of the hamburger were outstanding and I was extremely satisfied. In addition, this burger was served with some of the best thickly cut steak fries which definitely increased my enjoyment of this meal: they were very crisp on the outside but soft and full of real potatoes on the inside. If there were an award for "best French fries served with a hamburger," then Primehouse would be the easy winner by far.
Maureen ordered the lobster roll and she was impressed by not only the quality of the ingredients but also by the massive quantity (apparently it is quite a creation with the roll itself being stuffed with lobster almost until it is beyond capacity). Specifically, she described to me that the roll was filled with expertly prepared lobster salad, cucumber, avocado, tomato, and bacon, and was served with great potato chips.
You can read my full Primehouse review at The Blind Food Critic's First Interview on the Real Blind Taste Test website.
Where you can find Dan online