Interview with Barbara Beskind, Inventor
By Mary D'Apice, VisionAware Peer Advisor
Adapting to Macular Degeneration
When I heard Beskind interviewed on NPR, and learned that she is legally blind due to macular degeneration, I was anxious to speak with her. As a vision rehabilitation professional, I was curious about how Beskind had adapted to vision loss. After all, someone with the training of an occupational therapist and the creative, problem solving abilities of an inventor must have unique ideas about her own vision rehabilitation. I discovered Beskind was living in a retirement community just a few towns away from me. Beskind's story has attracted the attention of the national media and her schedule has been packed with numerous interviews, a story on the Today Show, and of course, hours spent collaborating with designers at IDEO, where she works. (A description of her Today Show interview is here.) Nevertheless, she graciously agreed to meet me at her apartment and show me some of her homemade adaptations.
On the day of our interview, I was greeted at the door by a vibrant woman wearing tinted yellow glasses who stood with the impeccable posture of a military veteran. She ushered me into her apartment, efficiently transferred her cat from the couch to the porch (I am allergic), and walked briskly to her kitchen for a tour.
People who are visually impaired benefit from being extremely organized and Beskind knows this intuitively. She pulled out drawers which were fitted with smaller trays and pointed out carefully labeled items arranged on double-decker Lazy Susans in the refrigerator. Beskind laments that refrigerators everywhere are notoriously difficult to access. Even standard safety enhancements in senior residences such as grab bars never seem to be at the right height and all are slippery for users with soapy hands.
"The problem is that people design for the elderly and the disabled — they don't design with them." Beskind told me. "We don't need pink canes and jeweled pill boxes, we need function over fashion."
She makes liberal use of tactile markers or "bump dots" to help her feel the buttons on her microwave and other devices which have flat buttons that are difficult to locate visually. I noticed Beskind had created more counter space in her small kitchen by modifying a board to cover the sink. Lifting a hinge at the corner of the board to reveal soaking glasses, she added, "And it hides the dirty dishes."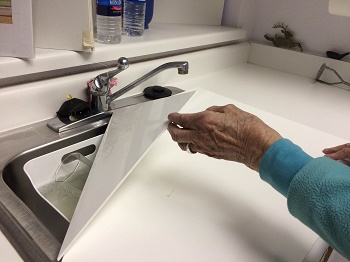 While there are many commercially available double-sided items like cutting boards with both dark and light sides to help enhance color contrast, Beskind has made her own dual colored boards for close work both in the kitchen and in her workspace.
Mastering Her Commute with Orientation and Mobility Training
Seated in her living room surrounded by a collection of glass art and Beskind's own colorful needlework, she emptied her pockets to show me how she is able to commute to her job unhindered by a bulky purse. Her compact wallet was fastened to an elastic band and pinned to the inside of one pocket while a pedometer was secured to the other pocket. Because she can no longer drive, Beskind enlisted the support of Alec Karp, an Orientation Mobility (O&M) Specialist at the Vista Center for the Blind and Visually Impaired in Palo Alto to help her learn to navigate public transportation.
It was Alec who advised her to avoid carrying a purse because it can throw a person off balance. Since Beskind is unable to see walk signs in certain light, Alec taught her to better understand traffic patterns so she could safely time street crossings. He also showed her the safest position to stand at intersections so she would avoid stumbling over curbs. O&M Specialists traditionally issue long, white canes to help people with visual impairments detect slopes, changes in terrain and other tripping hazards, but Beskind has adapted ski poles that serve as both probes and balance support.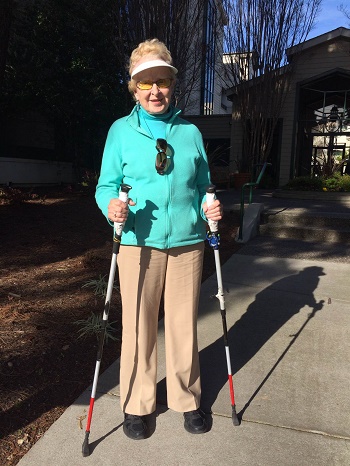 Adaptation of Ski Poles
She bought the poles at Costco, modified the handles, and added white and red tape to alert others of her visual impairment. Beskind and I discussed how many seniors who may otherwise be helped by a white cane refuse to draw attention to their vision loss. "For my generation, 'disability' was a bad word." Beskind explains. "People were afraid they'd be looked down on. Even President Roosevelt didn't want to be seen as handicapped." But Beskind is pleased that other pedestrians, particularly young people and children, are eager to offer assistance at busy street corners. Hiding a disability is counterproductive, she believes. "How can people help you if they don't know you need help?"
Beskind never leaves her home without her "sticks" which help make up for the sense of balance she has lost due to lack of visual input. Maintaining her long stride and quick pace, Beskind logs in several miles a day on her pedometer. She muses that her travel gear would be complete with a pair of light up sneakers that kids often wear. "You could tap three times on the heel to light up the shoes and then tap another three times to turn them off when you get across the street."
Beskind Envisions Improved Assistive Devices for Baby Boomers
At IDEO, Beskind collaborates with coworkers who are decades younger to design adaptive equipment for her generation. Forty-four years as an Occupational Therapist and her own real world observations of her peers have helped Beskind re-imagine the ubiquitous walker, which she criticizes for interfering with a individual's gait. Beskind is now working on a "trekker" which invites a more upright posture and improves balance by allowing for a natural arm swing. Beskind has also explored the possibility of protecting seniors from falls with a design that incorporates airbags.
Under development is a pair of glasses mounted with a camera that would help people with visual impairments better utilize their peripheral vision so they won't miss cracks in the sidewalk. The glasses would also offer face and voice recognition. Beskind first discovered that macular degeneration had affected her ability to recognize others when she woke up one morning and discovered that she could no longer see her own face in the mirror.
Wearing these glasses, Beskind would be able to enter a crowded room and a voice would discreetly announce the name of the person who had just greeted her. Beskind laughs, "This would have a dual purpose for politicians and other people who forget names." Until the design is complete, Beskind politely reminds acquaintances that she has low vision, and it is would be helpful for them to introduce themselves whenever they speak with her.
The Gift of Going Low Tech
At the IDEO office, Barbara's adaptations are minimal, though she brings her own gooseneck lamp, thick black markers, and wide-ruled paper. She writes all her iterations, the ideas for the design of products, in long hand. "I can write but I can't read my own writing. People who work with me learn to decipher my handwriting."
Beskind is aware of the assistive technology on the market for people with low vision who struggle with reading and writing, but she has not pursued training. She compares the challenge of learning new technology to the daunting task of mastering a new language. Call it a generation gap, but Beskind points out that those tech savvy "young" people may be those in their 70s or early 80s who were fortunate enough to learn how to use computers while they were still in the workforce.
According to Beskind, however, there are advantages to not being tethered to a computer or mobile phone. She enjoys an abundance of uninterrupted time to devote to simply thinking and creating. Time and silence, says Beskind, have both become luxuries in the modern world. And, she has avoided enough collisions with pedestrians texting on their cell phones to know how much of a distraction technology can be. "People are completely unaware of their surroundings. It's like they are living in a capsule."
Looking to the Future
Beskind finds it energizing to work alongside fellow dreamers who see no limits to what they can create. Currently, Beskind is in the conceptual stage of designing an early warning, earthquake detection system using zebra fish, which have been observed to uniquely respond to tremor. Knowing that the great technological innovations of tomorrow are incubating today in Silicon Valley, I wondered what was on Beskind's wish list. Like many seniors and people who can't drive because of a disability, Barbara is anxious for the first driverless car to hit the market. "I'll be the first to buy one!"
This has been a remarkable chapter for Beskind, the inventor who continues to reinvent herself. "I tried to retire five times and failed five times." Beskind laughs. I asked how she felt about all the media attention and being held up as an inspiration to other seniors. "I think one thing people my age are taking from my story is that they need to be engaged."
Beskind has some advice for the millions of seniors in the United States who are experiencing age-related vision loss. "The more adaptable, organized, and self-disciplined you've been your whole life, the better able you will be able to adjust to your needs as they come up. As we get older we have to expect change and embrace it."
Today's Milestone Career Reboot: Meet the 90-Year-Old Silicon Valley Tech Designer
The video clip opens with Today Show hosts Matt Lauer and Savannah Guthrie speaking with contributing correspondent, Jenna Bush Hager.
Older persons are relaxing by a fireplace in a cozy room at a retirement community reading or doing crossword puzzles. Barbara Beskind, wearing stylish glasses tinted yellow with jewelry matching her royal blue sweater, sits reading a paper.
Beskind is working at her kitchen counter, assembling what appears to be foam board and straws or pipe cleaners. She is then seated in front of a bookshelf and speaks to interviewer, Jenna Bush Hager. Black and white photos of Beskind flash on the screen– a little girl in a fur coat, a high school student with glasses and a young woman in a military uniform. Beskind's painting of multi-colored trees is shown.
The interview continues with an exterior shot of IDEO's modern office building and then an interior with, large windows, high ceilings and a wide open space where workers sit across from each other at long tables. Beskind's typed letter to IDEO is shown.
Beskind is shown arriving at the entrance to the IDEO office pulling a rolling suitcase and carrying two poles in one hand. She enters, greeted by a receptionist at a desk and two male co-workers welcome her with hugs.
Beskind and coworkers are seated around a coffee table typing on lap tops and drinking coffee. Then, Beskind is shown looking on as a colleague measures her ski poles with a tape measure. Gretchen Addi, IDEO employee, speaks.
Beskind and the interviewer stroll through the grounds of the retirement community. Beskind is walking with her ski poles marked with white and red tape.
Beskind is shown holding a magnifying glass attached to a board upright while she reads a newspaper A yellow filter provides contrast and a narrow opening helps her focus on small portion of the text.
An elderly woman is shown rising from a comfortable chair with the help of handles made from PVC pipe that give her leverage she needs to get up.
Back in the office, Beskind is collaborating with other designers on a device with long, vertical handles attached to wheels. This is her version of a "trekker," a walker redesigned for better posture.
She hugs one of her colleagues. The video ends at the television studio, with a photo of Beskind walking with her marked ski poles and trailing a suitcase in the background.