James Boehm, from Customized Automobiles to Customized Canes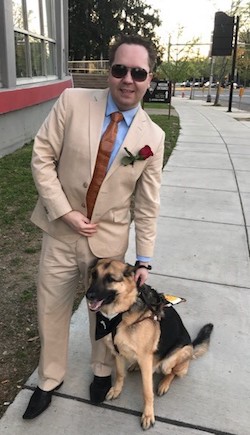 At age 15, James Boehm began a career in automotive restyling and restoration. After high school, his business developed into a "sole proprietorship" called "Custom Effects." Car dealerships contracted with Custom Effects to personalize not only their own automobiles but offered James' creative handiwork as a unique incentive for customers who purchased vehicles from their dealerships. This young entrepreneur would find new outlets for his creative drive in 2009 when he lost his vision. His energy would be redirected from one conveyance for getting around—an automobile— to another, a mobility cane used by people with visual impairments.
Deciding to Move Forward
James tells of waking up in the hospital blind. He also tells that after three days, he realized he had two choices. "I can either be a bump on a log and have others take care of me, or I can face this head-on and move forward." He asked his sister to google the braille alphabet, and by the time he left the hospital two weeks later, James had taught himself the braille alphabet through the letter "P!"
Once he was home, James realized he needed a way to get around independently. Not yet having the skills to access the Internet, James didn't hesitate to ask his dad to go online and order a mobility cane for him. As you would expect, the cane was white. And as you might have guessed, being in the customizing business, James immediately gave his white cane a new look, covering it with reflective black tape and adding a medallion of a fleur de leis with a diamond in the center, the same symbol found on the helmets of his favorite football team, the New Orleans Saints. He also attached a small bicycle bell to the grip to alert people walking ahead of him on his busy college campus.
When he began attending vision rehabilitation classes, others in the program wanted to know where James had bought his cane. When he told them he'd restyled his own cane, several of them asked if he would customize a cane for them. This was the beginning of a new business that is now known as "Kustom Cane." One fellow in the rehabilitation program owned a music studio and asked James to make his cane look like a piano keyboard. Another fellow is a University of Tennessee fan and now advertises the Tennessee volunteers everywhere he goes. In the five years he's been designing canes, James' business has spread to places like Canada, Jamaica, Japan, England, New Zealand, Australia, and Singapore.
About His Business
Kustom Cane will personalize a cane with whatever the customer requests. At least 200 colors are available to choose from. The inventory includes 12 reflective colors, for example, black, white, blue, red, green, silver, and two unique colors, a wood grain finish and Chameleon that changes color depending on the light. Other accessories, such as a bell, like James uses, braille charms, a heart-shaped alarm charm—pull it and an alarm goes off—a hand warmer charm that goes in a glove to keep your cane hand warm, or just about anything a customer wants can be added. As a finishing touch, the cane can be coated with "cane shield," a substance that protects the cane from peeling or chipping. James put "cane shield" on his own cane in 2013, and it still looks like new!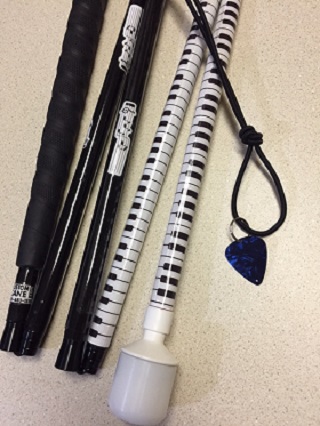 Kustom Cane will personalize your cane with solid colors, stripes going in any direction, logos of your business, favorite sports teams, cartoon characters, and family pictures. You name it; you've got it! Once James designed canes for a wedding—white for the bride, black for the groom with their names and the date of the wedding on both canes.
Benefits of Providing Customized Canes
James was asked about the benefits he has seen in providing stylish, customized canes. Without hesitation, he answered, "Adults say they feel less vulnerable with a customized cane. It has helped some kids to use their canes because the personalized cane is an extension of who he or she is." At a summer National Federation of the Blind braille training camp for kids, James let the kids design their own canes. One 8-year-old boy wanted his three favorite things on his cane. His favorite superhero, a basketball, and you might not believe this, but the third item was bacon. James found a picture of a slice of bacon to make his 8-year-old customer happy.
You don't need to talk with James Boehm for long before you learn about his true passion that grew out of his own experience with vision loss. Knowing that a major life change is a transformation that does not happen overnight, James has devoted the past few years toward his degree in Human Developmental Counseling/Clinical Counseling and has worked for the organization, Learning Ally, as a mentor to other blind college students. His own concern about living a life of independence, achievement, and vitality, no doubt, has heightened his concern for others with this same goal and the tools needed to achieve it.
When James agreed to give an interview about his custom cane business, he immediately added, "I would like to also plug in our very important initiative if possible." In 2016, James began the philanthropic organization "You Cane Give" to put a cane in the hands of people around the world who cannot afford a cane nor can they go online to order one. Below are his own words describing his goal to provide independence, safety, and success to others.
James' Motto: "Why Be Plain? Go Kustom Cane!"
No doubt, the recipients of his cane giveaway would agree with James Boehm's motto. In case some readers think that James Boehm does not know how to spell the word "custom," contact James for the wise economical reason behind the "K" in Kustom Cane.