Joel Tepperberg: From Carpentry to Cooking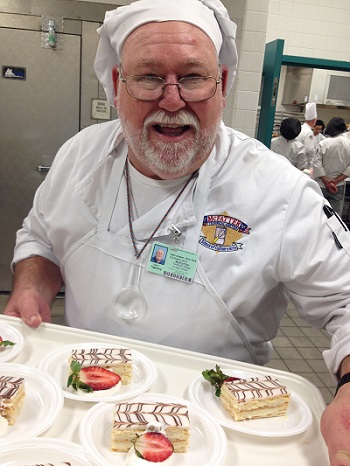 by Dolores Hanley-McDiarmid, MA, COMS
Getting Services from Lighthouse of Broward
Joel Tepperberg, now 60, walked through the doors of Lighthouse of Broward for the first time in February 2014, after losing some of his vision due to Anterior Ischemic Optic Neuropathy. I can remember meeting him for the first time. He appeared depressed and non-expressive. Mr. Tepperberg had spent most of his professional life as a very successful carpenter and then became project superintendent in the construction industry; managing construction projects. Now he found himself without work, without purpose, and without direction in his life.
Considering Turning a Hobby into a New Career
One day we were talking and I asked if he had any hobbies. He shared that he had been baking and his friends had been encouraging him to sell his pastries to the public. Mr. Tepperberg had been baking for family and friends for years, providing desserts for numerous occasions. I asked him to bring in some samples for staff and clients to taste. WOW!!!! His pastries were out of this world delicious!
First Sales of Pastries
Every autumn since 2011 Lighthouse of Broward has an Autumn Market where vendors who are blind/visually impaired as well as people with other disabilites can sell their hand-made products. I asked Mr. Tepperberg if he would consider selling his pastries and he accepted the challenge in spite of being nervous and unsure of himself. He sold his pastries like they were never going to be sold again. The feedback was awesome leaving him with no doubt that he was on the right track to re-inventing himself.
Training in Culinary Arts
Before completing his coursework at Lighthouse of Broward, Mr. Tepperberg registered at McFatter Vocational School and enrolled in an intensive six month program in Culinary Arts Program for Baking and Pastry. Five days a week he got up at 4:30am to get picked up by our local door to door service (paratransit transportation). He arrived at school by 6 a.m. and helped the chef prepare for the day. In June 2015, Mr. Tepperberg graduated with a certificate in Baking and Pastry.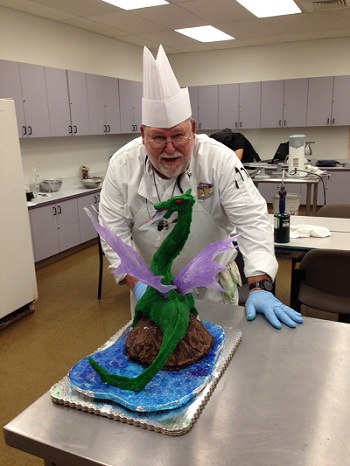 "Out of Sight Baked Goods" Is Born
Mr. Tepperberg has been consumed with enthusiasm and has been baking and selling his pastries under the Cottage Industry Law in Florida. His business is called "Out of Sight Baked Goods." He is on fire!!! He enjoys his new career in "creating and building desserts" instead of buildings. He feels he has found his passion in life!
Mr. Tepperberg continues to bake for many of the Lighthouse of Broward events as well as community events that we might co-sponsor. He needs to be careful that he does not get so many orders that he has to turn people away, a nice problem for a baker to have!
Teaching Others the "Tricks of the Trade"
Presently, Mr. Tepperberg is in the process of deciding what he wants to do next. He is seriously interested in being able to teach other people living with disabilities his "tricks of the trade" so that his "sinfully delicious" pastries will continue past his years.
His Dream Moving Forward
Mr. Tepperberg has a dream– to open a bakery similar to The Dog Tag Bakery run by wounded veterans in Washington D.C. His concept is include people living with various disabilities. Everything begins with a thought, then sharing that thought with others who might be able to play a role in helping his dream come true. Until then, Mr. Tepperberg continues to bake with great joy, putting smiles on the faces of all his customers.