Joseph Monks, Filmmaker
Joseph Monks creates and produces films for his production company Sight Unseen Pictures. He is also the first blind filmmaker to direct a feature film: The Bunker is a psychological thriller/horror film that revolves around the kidnapping of a congressman's daughter. His wife Pamela Hazelton is an e-commerce and online business consultant and developer, focusing on social media and online marketing.
Joe and Pam: Can you tell us more about yourselves?
Joe: I was born and raised in Queens, New York, before moving out to the 'burbs (Valley Stream, Long Island) in 1977 when I was nine. I'm married to Pam since 2004, both of my parents are still alive I'm happy to say, and I've got a sister who's married with two kids—all of whom live locally. Ours is a small family, but we all migrated to Florida from New York within a few years of one another. I was the last one to head south, moving down in early 1999.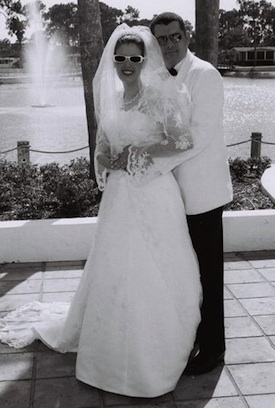 I went to college at Fordham University in the Bronx, New York. Initially, I thought about going to law school, but by the time I was getting ready to graduate, I'd already released two issues of my first comic book, Cry for Dawn.
I liked the idea of being able to look in the mirror and feel good about myself more than I wanted the allure of being a defense attorney, so I went with the comic book thing.
Even though I didn't particularly need college to get into the business of writing and publishing comic books, I'm still glad I went. I'm not sure that Fordham was necessarily happy about my attendance, but it was a heck of a fun time!
Pamela: I grew up in a small town in Upstate New York. Joe and I came from very different backgrounds: I went to a K-12 school with just under 500 students total, while he was raised in a much more populated area. When I was a kid, going to a fast food restaurant was a big treat because it was a decent drive to a city that had one. Fortunately, we both grew up on New York style-pizza!
I come from a large family, so family reunions and holidays were quite busy and cramped. As a kid, like my cousins, I couldn't wait to be graduated from the "kids table" at all the events!
I really benefited from small-town life when it came to education. Our classes were smaller, so teachers were able to spend more time working with us, even individually. Interestingly, my high school English teacher was my father's teacher (and she taught until the day she died).
After graduating high school, I took off for Arkansas (1,400 miles away from home), then transferred to a Texas school, majoring in journalism and minoring in commercial music. Just prior to graduating with honors, I landed a job at a city newspaper and ultimately became a criminal justice reporter.
There I was, a small-town northern girl, who grew up in a place where the average crime was egging cars at Halloween, now covering murder trials and prison construction. It was during this time that I took up reading alternative (non-superhero) comic books, and ultimately met Joe while I was working on publishing a magazine.
Joe, what is your visual impairment? Can you talk about that with our readers?
I'm "blind-blind." That's how I put it. I know some folks prefer visually impaired, no matter what level of impairment there is, but my attitude's always been this: If you're at the ballpark and sitting behind the foul pole, you're visually impaired. If you can't see the ballpark, you're blind.
I'm not uncomfortable with the term "blind." I'm not thrilled about it, of course, but it's accurate. The lights went out for me in early 2002 as a result of diabetic retinopathy—the death of my retinas. It is what it is, so when it happened, I decided that I wasn't going to let it put an end to my career. As you can imagine, I'm glad I didn't want to be a pilot!
Can you discuss what led you to filmmaking?
A colleague of mine got hired to direct a TV pilot for the foreign market—targeting Asia. That was in 2003. Unfortunately, the companies involved in producing the pilot weren't terribly enthusiastic about his story concepts and ideas, so he called me up to see if I could put together a "pitch package." Basically, they wanted a couple of story outlines, brief character breakdowns, a short synopsis, and the nuts and bolts of the story so they could consider how it would play on the small screen.
I pulled an all-nighter, wrote up synopses for six or seven of my story ideas, and the production company chose one of them, based on a short story from my horror anthology, Stuff Outa My Head.
Soon after, I got tapped to write the teleplay (the script used for a TV show as opposed to a film), which kind of got me rolling in that direction. Since they were shooting for a series, I wanted in, and immediately began writing another script. That one wound up being much longer, and eventually turned into The Bunker.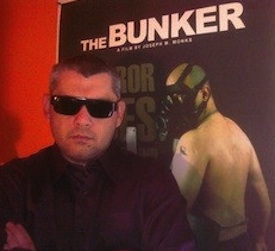 My colleague lost the directing job and the producers decided to release the TV pilot as a straight-to-video product. It was then that I started thinking about directing The Bunker myself, as a film and not a TV episode. When I told Pam, she was immediately supportive, but also asked how I was going to pull it off.
By then, I'd already put a lot of thought into it, so I explained how I was going to do it. She was on board right from the moment I laid it out for her—she never hesitated. That same day, we started doing what needed to be done in order to make it happen.
So how did you do it?
I'd already spent time on a film set before, during the making of the Cry for Dawn documentary back in 1992. I knew how a shoot worked, and I had done a cameo appearance in the TV pilot. What I began doing was dissecting the filmmaking process: what I could control, and how I could control it.
Obviously, I could set up shots based on memories of other films and describe those to my director of photography, so that made things much easier. I began reading film glossaries so I could talk-the-talk, so to speak, so that when I was on set, everybody would be on the same page.
I began researching microphone placement techniques so we'd have the best sound possible, lighting options, every part of the process. Of course, I wasn't going to light my own set, but I did take my schematic—the diagram for my lighting rig—and run that past several pro cameramen. They were impressed, made some suggestions and fine-tuning notes, and I built the lighting rig myself, with my brother-in-law doing the wiring. The system worked great.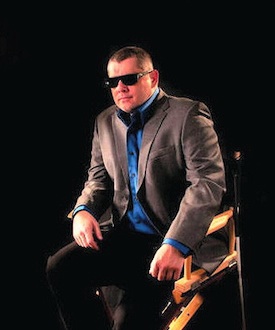 I also built rigging for my microphones for the interior shots so that microphone placement could be done quickly, or changed on the fly without requiring a lot of setup time. Basically, I played engineer, got pros to look over my ideas, and kept what would work and chucked what wouldn't.
With the main sets built in my home, I could learn every square inch of them—and did. Now, I was able to walk my actors through the blocking—that's what you call the positioning of the actors on your set—and they could watch me move around and understand what I wanted from them.
The process was lengthy, but it was basically my film school. The aspects that I needed work-arounds for weren't primarily to address my blindness as much as budgetary restraints, since Pam and I were funding this out of pocket.
How about the actual making of The Bunker? It seems as if it was a long haul for both of you!
Joe: Long haul doesn't even begin to describe it, but yeah, it was quite an effort. After enduring endless delays and internal struggles, I hired a new film editor named Liz Smith and—finally—everything began to change.
Liz and I threw out everything that had been done to that point. I needed to maintain my vision for the movie, and she understood that. She was creative, but I made sure we worked side-by-side going over every take for every scene, the raw footage for the entire movie.
If something wasn't working, Liz told me, and together, we shaped the film into the movie I wanted, not the movie somebody else was trying to turn it into. And we got the results I wanted:
The new editor's cut of the film? It got us invited to the first film festival we submitted it to.
The recently completed final cut, with the new musical score by several bands I'd approached myself? It won me the Achievement in Cinema Award at the Gasparilla (Florida) International Film Festival:
You can view Joe's AIC Award video at YouTube.
Now I have a distribution deal, two projects in development, and I think the turnaround can directly be attributed to finally taking back control of my film. That was a hard decision, but the right one. I know Pam and I are in a much better place now.
Pamela: The Bunker was definitely a very big thing in our lives. When Joe first told me he wanted to direct a movie, all I could wonder is, "How?" Once he told me the basics of his strategy, I knew he could pull it off. My husband is a very visual person, and that vision never faded after he lost his sight.
The biggest challenge for me was living with a movie set in our house. Joe designed and built the actual bunker in our living room, and let's just say that I definitely felt like I was living in cramped quarters.
Many outsiders think that I had to be there to "guide" Joe through everything – the design, the building of the set and props, and analyzing everything. But I actually played a very small role in the making of the film. The most I watched him during the building of the sets was just enough to take a few pictures and grab a moment of video. I never saw the initial design, just the finished sets.
In actuality, I cooked for the actors and crew (which was like a gift, as I love to cook), and, on occasion, drove my husband to various locations. That was it. The Bunker is Joe's movie, and he is the one who made it happen.
What are your other interests? What do you like to do in your free time?
Pamela: I love cooking and baking. Anyone visiting us comes with an empty stomach because they know I'm going to put all sorts of food in front of them. Joe's my taste tester. He's usually working while I prepare things and I call him out of his office when it's time to give me a verdict.
Despite the fact we both work in adjoining offices, we very much keep to our own work during the daytime, and most nights. When time allows we'll head out to a local "small town" bar to listen to music or karaoke, or we'll see if an audio-described movie we'd both like to see is playing. When we can spare a few days, we like hitting theme or water parks.
Joe: I'm a voracious reader. Thank goodness for programs like the National Library Service Talking Book Program, a free service which brings audio books to the blind and visually impaired through the mail. I am reliant on that program and the library for a lot of entertainment.
Recently, after several failed efforts, the local theatre has convinced me that they can get descriptive audio to work right, and I've begun going to the movies again. I've always been a big movie buff, but the past ten years haven't really been the same since I needed Pam for the audio description. Now, we can go to the movies again, and I don't have to worry about her whispering to me and annoying our fellow moviegoers!
I also still like sports. There's no ice hockey for the blind that's local to me, unfortunately, but I play football with my nephews, soccer with a ball that's equipped with bells inside for those with visual impairments, and what I'd really like to do is get into the ring and box with somebody. Somebody sighted.
So far, I haven't gotten that going, but I'm thinking of giving the guys at the Opie & Anthony talk radio program a call and seeing if they want to do it in New York. They did have a few blind boxing bouts in the studio—but the participants were both blind, and it was more of a gag. I'm not a gag and I'm not doing this as some stunt. I've been skydiving, I've been bungee jumping, and I've gotten into a sword fight with a martial arts trainer, which you can see in the following video:
You can view Joe's martial arts video at YouTube.
I came up with a way to be able to face off against a sighted boxer, and sooner or later, somebody is going to take me up on it. Trust me—I'll let you know when it happens!
Additional information about Joe and Pam
Where you can find Joseph Monks online:
Where you can find Pamela Hazelton online: