Maxwell Ivey: Entrepreneur on the Midway
Need to Sell a Carnival Ride?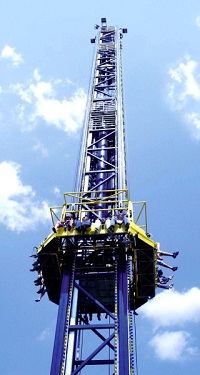 Need to sell a flume ride or a trade in a 38-Meter Drop Tower? Want to buy a carousel for your zoo or a huge inflatable slide for your pumpkin patch? Looking for a miniature golf course to entertain the kids at your car dealership? Then you need to call Maxwell Ivey, an entrepreneur whose knowledge of amusement equipment spans three generations of carnival owners. When he's not dealing in rides, games or concession stands through his online business, Midway Marketplace, Max is also the man behind The Blind Blogger. It was a pleasure to talk to Max, a fellow VisionAware Peer Advisor, and hear his story.
A Family Business
Growing up, Max's family spent several weeks a year traveling in their motor home, bringing games and rides to carnivals and festivals across Eastern Texas. Max would help set up and take down the kiddie rides and run games like the Duck Pond. Customers would pick out a rubber duck and Max would check the braille label to find out what prize they had won. It was a time before bill identifiers, so Max had someone in the booth to help him with the money. "When you are working on the Midway, you are even more likely than anywhere else to have somebody hand you a bill and tell you it's something that it's not."
Max with his website, blog, podcasts, and masterful command of social media, looks back and marvels at how much his family did without technology. "There was my Dad with a big calendar, me with my Perkins brailler, and a book listing all the festivals in Texas." When Max's Dad passed away, he and his brothers found it difficult to keep the carnival going. Eventually, Max found himself down to one game, the Kiddie High Striker, a junior version of the big hammer test of strength.
He struggled to make his modest earnings stretch from one festival to the next but enjoyed watching every kid win a prize. "It was my job to make the kids believe they could lose, but they won every time. I was broke, but I had a passion for what I was doing."
Max Becomes an Entrepreneur
Things changed after a bad day at a festival in Grove, Texas. The weather was perfect, but Max couldn't reel in enough customers with his usual patter and didn't earn a cent. "I bought Midway Marketplace's website on a day when I was disgusted with the entire world. I figured that if I don't do it now, I'm never going to do it."
Back when his Dad wanted to upgrade a ride from his collection, Max would sell it and find a replacement. Max decided that by leveraging his vast knowledge of all things related to the amusement industry, he could reinvent himself as a broker for carnival attractions around the country. He started by scouring industry classified ads and websites and now, after 8 years, the hard work has paid off. His mailing list has grown exponentially and his website has more hits than any of its kind.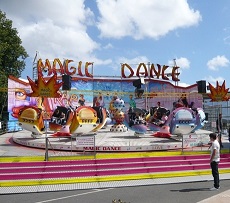 His biggest achievement so far was saving a beautiful, $230,000 1960s carousel from languishing in a New York storage unit and finding it a new home in Australia. Currently, Max is trying to figure out the logistics of transporting bumper cars from the East Coast overland to Costa Rica. He has a standing order that if he sells a thrill ride that is a challenge to relocate, he will help dismantle, ship, set it up, and then be the first person to ride it. This is quite an offer as the first and last coaster he rode was the Serpent at Astro World. "I'm scared of rides." Max admits. "I was someone who'd go to a carnival for the food and the shows."
On Being an Inspiration
When Max isn't helping amusement industry professionals network online, Max is orchestrating connections through The Blind Blogger. At first, he was reluctant to accept the moniker "The Blind Blogger," but since it stuck, he has taken on the role of helping making blind people visible to the sighted. "I know I might be the only blind person any sighted person has ever had an interaction with. Maybe they were not aware that blind people had blogs or even would want one."
By sharing his experiences, he hopes people other visually impaired people will feel less alone. For VisionAware audiences who are adjusting to vision loss, Max has advice. "If you can get to the point where you can laugh at your 'blind moments' and not let them totally ruin your day, then you've made a big step forward." Max is a huge fan of the blogspot on VisionAware, Laughter is Often the Best Medicine
Says Max, "I'm the only blind person dealing in amusement equipment –unless of course another blind person wants to come work for me." Max has been told that his story is inspirational. However, Max wants people to know that building his business from the ground up was difficult, but not in the context of his visual impairment. Says Max, "Whether you are building a business, starting a blog , trying to lose weight, or learn a language, everything is challenging. It's all hard."
Max's Key to Success
Max believes the key to success is to just show up and then take one step at a time. Max said he made lists of things that had to get done and either doing them, learning how to do them, or having someone else do them. In the case of the website photos, for example, he has the help of his brother or fellow VisionAware Peer Advisor, Chelsea Stark, a photographer who happens to be visually impaired. "Whether you are sighted are not, if you overwhelm yourself with what needs to happen, you will talk yourself out of it."
Coaching Services
Having discovered his can-do attitude, practical advice and infectious enthusiasm is in demand, Max is now offering coaching services online, over the phone or in person! Now anyone who is mustering up the courage to follow a dream is welcome to a pep talk from Max for the reasonable fee of a buck a minute. He is also available for public speaking engagements for audiences looking to infuse their lives with his special brand of positive energy and hope.
The Future
Max's business is thriving but he would like to be able to travel more to trade shows and go to clients to help them create better photos and videos. Max has light perception only but he is well aware that many customers aren't working hard enough on marketing their products. "You can't believe how many photos I get that are unusable. People even send me videos that are upside down."
Max is confident that at least until virtual reality catches on, young people's love of technology has not threatened the appeal of a thrill ride. "As long as the amusement industry can continue to provide the element of physical danger, I think that people will keep coming to the Midway."
Employment Resource
Explore CareerConnect® if you are blind or visually impaired and interested in exploring a career, finding a job or connecting with a mentor.