Pauline Winick, a Job Coach Who Knows How to Help Job Seekers with Vision Loss Win
From the Miami Heat to the Lighthouse for the Blind and Visually Impaired
by Mary D'Apice,COMS, VisionAware Contributor
When Pauline Winick was Executive Vice President of the NBA's Miami Heat, she admired how great coaches like Pat Riley got the best out of each player. Now she is emulating his locker room speeches as a job coach for the Miami Lighthouse for the Blind and Visually Impaired. Her clients may have felt sidelined for a while as a result of vision loss, but she wants them to "suit up" in Lighthouse classrooms and immerse themselves in vocational training.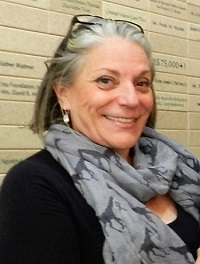 Winick Meets Clients Where They are in Life
The vocational rehabilitation process begins with a written assessment which is followed up by an interview with Winick. "I ask, 'what are your goals and dreams? What would make you happy?'" Next, Winick meets each client exactly where they are in life. Her clients are diverse. Some have had successful careers and others have never worked. She is not the type to shout directives from a comfortable chair; instead, she is right beside each client, sweating with them through every phase of the process. Recently, Winick accompanied a widow who had never held a job to the mall to fill out an electronic application. The woman read slowly with a magnifier and the computer seemed programmed to be impatient. It nearly shut down whenever it didn't get a swift response to a question. It took 45 minutes, but Winick guided her client through the frustrating task until it was completed. In another instance, Winick spent hours helping a medical interpreter earn a national accreditation that would allow her to translate for Spanish speaking patients. "We got Medical Terminology for Dummies and studied new vocabulary and practiced pronunciation together."
Connecting Clients to Jobs
In addition to working for the Miami Heat, Winick has had a career as a government official and television producer. Her high profile positions have resulted in many contacts. "I don't mean to be a name dropper, but I do know a lot of people who might connect a client to a job." Winick enjoys thinking out of the box. She recently snapped a photo of a handsome client and is now waiting to hear from her friend who works at a modeling agency. Winick has also had success finding internships for those looking to just dip a toe in the water before diving into a new career. Although personal introductions are invaluable in a competitive market, a job seeker cannot rely on connections alone. Winick likes to quote her mother, "Those who prepare the most have the best luck."
Winick Shows Clients How to Shine in an Interview
Winick demonstrated exceptional marketing and public relations savvy in the early years when the Miami Heat was a new team. Now she talks to clients about how to promote themselves and stand out in a crowd of job applicants. "I never want to hear out of anyone's mouth that they are a hard worker. Who in their right mind is going to go to a job interview and say they are not a hard worker? I encourage them to tell their stories and talk about how they overcame obstacles." For some, the story may illustrate how being a creative problem solver helped the interviewee adapt to a visual impairment. But Winick knows that blindness does not wholly define a person, so she encourages her clients to share experiences that reveal their core principles and unique assets. Winick encouraged the medical interpreter to talk about how she grappled with professional ethics when a couple denied their son a blood transfusion on the grounds of religious convictions. While the medical interpreter desperately wanted to save the boy, she had to adhere to the professional standards and accurately interpret the parents' wishes. The boy passed away, but in the aftermath of a tragedy, the interpreter exhibited courage and dedication by choosing to return to the profession.
Finding the Right Job Fit
Funders expect vocational rehabilitation programs to measure success by the percentage of clients who find jobs. These statistics don't measure job satisfaction, however, and so Winick will advocate for each client until they land a position that makes them happy. Winick describes the case of a young "gym rat" who disliked working in a pizza place. He expressed his interest in getting outside and doing physical work instead. Now he's thriving in his job at Home Depot, lifting heavy boxes off the loading dock. The young man eagerly responded to his job coach but not every client who walks through her doors meets Winick's level of enthusiasm. One older gentlemen who had been diagnosed with glaucoma was angry and negative. "He had an attitude." Winick remembers. She gave him the space to vent but also insisted he pursue a concrete goal. "I told him, 'while you are doing cranky, let's work on your technology skills.' "Now the former client is poised to become an entrepreneur in the world of online education."He came in as a victim, now he is a conqueror."
Locker Room Pep Talks
Winick talks about the real possibilities of being rejected for a job, but adamantly refuses to coddle her clients. "You can mope for a while, but then you have to get back to the gym." One theme of her locker room speech is the intrinsic dignity of work. "I want you to be a productive citizen, so you can start paying taxes. You've received benefits and it's time for you to pass it on." Nobody on Winick's team is allowed to throw in the towel. Possibly the only thing that can rattle a person more than an interview is the anticipation of the first day on the job. Winick draws on her experience as an Etiquette and Protocol consultant as she helps new hires confront the anxiety about fitting in at the office. Fully sighted newcomers can safely study the culture of a workplace by observing what their co-workers are wearing, but Winick is aware that visually impaired employees don't always have ability to assess the dress code. To offset first day jitters, Winick will accompany clients to a job site before their first day of work. This is particularly critical for women who have more wardrobe options to consider. "It's girly," says Winick, "but my clients want to know if their co-workers will be wearing jewelry or how they do their hair." She has advice for the lunch room, too. "Don't bring a smelly salami sandwich on the first day," she laughs.
Winick Discovers She has Age Related Macular Degeneration
Clients gravitate to Winick whose humor and energy are infectious. Winick jokes that she is so empathetic that she somehow manifested a diagnosis of age-related macular degeneration within four months of working at the Miami Lighthouse. "I couldn't do my needlepoint as well and thought I had to have my glasses adjusted." An ophthalmologist found that one eye has the dry form of AMD and the other eye could be treated with injections prescribed for the wet form. So far, her eye condition has not affected Winick's daily life, but she is grateful to be in an environment where she will be fully supported should her vision loss accelerate.
Finding Successful Role Models and the Golden Ticket
Winick knows first hand that a visual impairment does not have to derail a career. Her former husband, the late Bruce Winick, a noted scholar and prolific author, is credited with having founded the field of therapeutic jurisprudence, an academic discipline that marries mental health and law. He had retinitis pigmentosa (RP) and relied on adaptive technology to write numerous books and articles. But his blindness is merely an incidental footnote in the web pages that describe his pioneering work. Closer to home, clients can readily find role models at the Miami Lighthouse, where they can observe extremely talented professionals who happen to be visually impaired themselves. Winick admits to forgetting her colleagues may be blind or have low vision. "They come to the door and sometimes I forget to direct them where to go." It's Winick's hope that all of her clients will be viewed as co-workers and not co-workers who are blind or visually impaired. "A disability should not define or limit you," Winick insists. Professional athletes know that training and conditioning can only go so far — they need confidence. And like any good coach, Winick understands that success is a mental game. "I want people to look at their life experience, skills and talents as something akin to Willy Wonka's golden ticket. "If I can help everyone feel like they are holding the golden ticket, they are going to be unstoppable."
Related Articles
Using VisionAware to Prepare for and Maintain Employment
Challenges of Applying for a Job Online