The Job Hunt: Perseverance Pays Off for Physical Therapist Who Is Blind
By Trina Bassak, DPT (Doctor of Physical Therapy)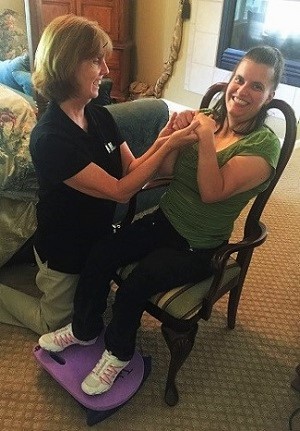 Job Search Finally Over
I have had a difficult year in searching for a job and it is finally over. The frustration level was much more than I ever imagined and I thought maybe sharing it with others may help someone on the verge of giving up on their own job hunt.
About Me
I was born with glaucoma which was diagnosed at age six and I already had tunnel vision. I had a retinal detachment after yet another glaucoma surgery the summer after high school and went to college with low vision. I always knew I wanted to be in a medical career and work with people. Once I was exposed to physical therapy, that was what I wanted to do without question.
Some accommodations were made after more glaucoma surgery in college (assist for reading and special bright colored markers in cadaver lab). Then two years after graduation, employed in an outpatient clinic, my other retina detached after glaucoma surgery again. I continued to work totally blind and then returned to school in 2009 to get my doctorate of physical therapy (DPT) degree.
I worked and went to online school for three years and graduated in 2011. I used my computer with JAWS, Open Book OCR and had a reader to assist with the school work. The college let me take extra time for testing. I also went to massage school as well and graduated in 2000. I was afraid advancing technology in my field may not be accessible and this might force me to change professions. So I wanted to prepare.
Trying to Find a Job
I have been a physical therapist for 27 years in Pennsylvania and for 25 of them, I have been totally blind. I left a long-term position to relocate to Florida, for family reasons, thinking I would find another position in a reasonable amount of time. I moved to a very rural area and the people were not accepting of outsiders, yet alone a person who is blind! There were only a few clinics within 20 miles and no public transportation. I didn't even make it to the interview stage and that was without disclosing my visual deficit!
My husband and I decided it was not the area for us and we began to investigate opportunities in Colorado. There were more job openings, great weather in the southern region, gorgeous mountains and friendly, accepting people. This led to a second move after only seven months! I applied online, made phone calls and contacted agencies that I thought could be useful. I even started looking in other related professions such as healthcare advocate.
I interviewed on the phone and even went to Colorado twice before moving for in-person interviews. One company flew me out and provided us with a car and hotel accommodations. I passed all their work lift tests and drug screens and thought I would get an offer. They declined me after six months, claiming they could not accommodate me.
This was one of many rejections – at least 12-15. I stopped counting. I started looking at other career options again. I applied online and contacted people with experience working from home. This included customer service, writing articles, and data entry. I really love my profession and working with patients, but was getting discouraged by the many barriers to employment. I kept remembering the saying "insanity is doing the same thing over and over again and expecting different results."
At this point, I was frustrated, angry, getting depressed and cried a lot more than I ever had in my life. I very much identified with being a physical therapist and I came to realize that my feelings of self-worth and self-esteem depended on my work.
My husband and I argued all the time and things were not going well. At a very low point, I knew I had to do something. I then decided to take any position I could find and started looking at both therapy and non-therapy positions. On an impulse, I started calling chiropractors who seemed to work in conjunction with physical therapists. My focus was still on working in an outpatient clinic setting, which I believed would be the most accessible for a blind therapist. Or was it?
AIM Home Health Gives Me a Chance
Finally, I received a call from an operations manager for an outpatient clinic and home health agency called AIM Home Health in Pueblo Colorado. We talked a bit and I learned they did not have an opening in outpatient. He wanted to meet me and discuss the opening in home health, even after I disclosed my visual limitations.
After a few meetings, I was offered a position as a home health therapist and I accepted the job. The company offered to provide me with a driver who also would assist with computer work and home orientation, and a company car to do in-home treatments.
Help with Work Accommodations from the Department of Vocational Rehabilitation
I contacted the Department of Vocational Rehabilitation upon arriving in Colorado and they started my application process immediately. While I was waiting to be accepted, I had found a job on my own, which changed my plan for employment with them. Instead of helping me obtain a position, they were now assisting with work accommodations. They sent an access technology specialist to assess the computer system, which is already partly accessible. I am working out the necessary accommodations, learning the job, and orienting myself to new environments. It all has definitely been an adjustment for me.
Adjustment to New Environments
The biggest adjustment has been working in new environments: not knowing where everything is all the time, as I did in an outpatient clinic. I don't have control of the situation as I did previously but I still have to present myself as a confident and competent therapist.
It seems to be going okay so far, but I am constantly striving to make it better. My assistant and I are getting used to each other and she is learning how to provide me with directions. She is not used to being around a blind person and I am doing silly things since she doesn't know how to tell me where things are.
Soon we will fall into a routine. I am grateful for her help and the opportunity this company has provided me. I am a good therapist and just needed to be given a chance and some accommodations. I keep wondering what I would be doing now if I had given up the search. Instead of doing the same thing over and over again, I'm glad I tweaked my search and opened myself up to new opportunities. It feels like the right place for me now.
Don't Give Up! Be Open to New Ideas and Experiences
Anyone in search of a job needs to be persistent and look at all opportunities and options, even if they don't seem feasible. I was on the verge of giving up but chose to continue forward. Now I completely understand why many people do give up.
During this difficult process, something in job preparedness needs to be done every day. Whether it is working on a resume, searching for openings online or in newspapers, making phone inquiries, networking, expanding your knowledge by taking online courses, or reading articles of interest. Just do something! Perseverance will pay off. It may not be in the way you initially thought, but open yourself up to new ideas and experiences.
And stay active! I love to roller skate, and do yoga and garden with my husband. We were Penn State Master Gardeners and 4-H leaders (and just got approved to be 4-H leaders in Colorado this week!).