Volunteering and Retirement: A Great Way to Give Back!
By Bill Cohen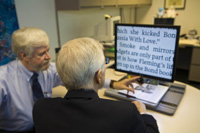 I am legally blind, enjoy volunteering and am a retired attorney. My vision in my right eye is 20/400 and in my left eye I can count fingers from two feet away. My vision impairment started in 1976 after a one-year military tour during the Vietnam War. I was diagnosed with histoplasmosis, an airborne fungus infection found in soil that comes from bat and bird droppings. It affects the lungs primarily but the eyes can be impacted too. It operates much like macular degeneration. In 1998 my vision reached the point that I was declared legally blind. My retina specialist at Emory Eye Clinic suggested that I go to the Center for the Visually Impaired (CVI), a vision rehabilitation center in Atlanta. I visited CVI's Florence Maxwell Low Vision Clinic. I was examined by a doctor specializing in low vision. He measured my ability to see and gave me a prescription for reading glasses. I then met with a low vision therapist and she showed me tools and instruments that could help me with my daily activities. Finally I met with a social worker who advised me about various support groups.
Volunteering at the Low Vision Clinic
I was so impressed with the care, concern, and kindness that I received at CVI that I asked if there was anything I could do to help them. They said yes and I began volunteering in late 1998. I started volunteering two days a week at the low vision clinic.
I would greet clients as they came to the clinic for assistance. Many were scared because they were just beginning to lose their sight. I would reassure them that, even with vision problems, life goes on. You just have to adjust and do things a little differently. It was wonderful and rewarding to see the change in attitude in these clients after their visit to the Low Vision Clinic.
Volunteering with Mentoring Program
In addition to volunteering in the clinic, I became chairman of the CVI Mentor Committee. CVI has visually impaired adults who mentor our visually impaired school students. One of my mentees became an Eagle Scout. Two others went on to college (one with a scholarship to Belmont University).
Volunteering as a Public Speaker
I have also served as a member of the CVI Speakers Bureau. This gave me the opportunity to speak to organizations, companies and senior groups throughout the state and build an awareness of the available resources for the visually impaired. Sharing my personal story of vision loss and how CVI helped me was a powerful way to educate the public and volunteer my time.
Volunteering as a Board Member
In 2002, after two years of officially retiring as an attorney from the Mackey, Wilensky, Cohen, Witner and Kessler Law Firm, I was elected to the CVI Board of Trustees. I served as a volunteer on the Board for nine years. In 2005 I was elected as Vice-Chairman. During my term on the Board, I had the privilege to serve as Chairman of the Strategic Planning Committee, Chairman of the Advocacy Committee, and Chairman of the Program Services Committee.
Recipient of Several Volunteer Awards
Over the years I was honored to have been nominated by CVI and selected to receive several awards. In 2003, I received the SunTrust Hometown MVP. In 2006 it was the Boardwalk Consulting Board Champion of the Month, and also the Healthcare Georgia Foundation's Joseph D. Greene Community Service Award. Although I appreciated the honors and awards, the best rewards for me are the smiles, hugs, and thank-you greetings from the clients I helped.
Stay Active After Retirement
I am a firm believer that when you retire you must continue to stay active. I saw what happened to my father when he retired and did not stay active. I will always believe that the onset of his Alzheimer's came because of his inactivity. One of the things that retirees can do is go to a local senior center. At these centers you can exercise, take classes, use their library, eat meals, and be around other people. It is important to stay busy and be around other people.
Volunteer In Areas You Are Passionate About
Another suggestion to those of you who are retired is to find something that means a lot to you. Find something that is of great interest to you and STAY WITH IT. There are so many organizations that need volunteers. Consider being a volunteer in an area that interests you because helping others feels good.
Discussing Volunteering and Retirement
So do you volunteer? If not, retirement is a great time in your life to consider it. Have you considered volunteering at your local vision rehabilitation center? Or is there a local charity or other organization to which you can give some of your time? If you are volunteering and retired, what kinds of things are you doing? What suggestions would you give to others?