Amy Suniga Parlayed Her Volunteer Job into a Paying Job at Another Company
Amy volunteered at the AFB Center on Vision Loss for two and one-half years until she landed her first real paying job! She now works at Reading and Radio Resource in Dallas.
Amy's Eye Condition
Amy's vision loss was caused by an immune-related vision problem that started when she was 12. She had low vision for most of her life. Then in 2000, she had an eye infection related to her disorder and now has light perception. But she has always been active.
Volunteer Work
Amy raised two children and then became an empty-nester. So she started volunteering. She volunteered as a kindergarten teacher assistant for 2.5 years; she worked at Blind Ambitions Group Disability Services for her first official office job where she was a receptionist and assistant. When that office was closed, she came to AFB, first to attend a variety of seminars and then to volunteer.
Skills She Uses on Her Job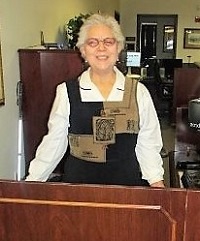 Her new job with Reading and Radio Resource employs the skills she used and learned at her volunteer jobs: answering phones, brailling, greeting people, directing people, data entry, and ordering food for board meetings.
The hardest part of the job was learning a phone system that is connected to a computer. This involved learning new key strokes. She also had to learn Office 2013 and Jaws 15, a computer software program that speaks (the Center had earlier versions), and Open Book for scanning.
She also learned to do data entry through Google, which is accessible with Jaws. Her job requires her to keep a calendar on Google. She says she had a learning curve, but with some technology training and equipment supplied by the Texas Department of Assistive and Rehabilitative Services Division for Blind Services (formerly Texas Commission for the Blind), she feels she has her job under control.
Other Skills She Uses
Amy: "I took training in office procedures and accounting before I lost most of my sight. After the episode in 2000, I decided I had to learn some skills and thank goodness I learned braille. I decided to learn braille after my eye infection in 2000. I called the Texas Commission for the Blind who sent a teacher to my house. The teacher left a book and I went to work learning braille. By the time the teacher came back, I had mastered the first book and went on to learn contracted braille and then how to use a braillewriter! After learning braille, I had training on using a computer with speech.
Learning Cane Skills
Amy: "I took training and learned orientation and mobility. You feel like you are the only person in the whole wide world who is blind. I went to the racetrack, pulled out my cane, and was embarrassed. After that I realized that carrying a cane is no big deal. At beginning people offered to help me more, but they don't do it now. I think I have an air of confidence that I didn't have before."
Achieved Her Goal
Her goal was to work in a business that employed sighted people and she has achieved that goal.