Essential Skills for Everyday Living with Vision Loss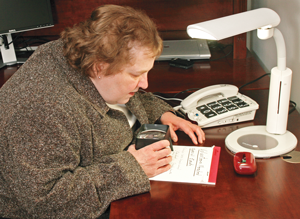 Vision loss does not have to prevent you from living an active, healthy, fulfilling life. There are many tips and techniques you can learn on your own to retain your independence; in addition, vision rehabilitation services and instruction can provide you with techniques that can help you accomplish many daily living skills safely and independently.
In this section about living independently at home with vision loss, we provide tips, techniques, and useful equipment to help you accomplish many everyday household tasks, including personal self-care, getting around safely indoors and outdoors, using the telephone, reading and writing, home and kitchen safety, eating skills, cleaning, household organization, and shopping.
New to vision loss? Our Getting Started Kit can help.
Improving lighting may make some of the other items unnecessary.

The most important fundamental: Get used to info from the senses. It's important to start this right away if lighting doesn't eliminate all of the problems.

Using the phone is vital. Solving common telephone problems for adults who are blind or have low vision.
Preventing falls is paramount.

Medication ID is vital. Learn about several options that are currently available.

Household organization is key. Try to develop efficient organization and storage systems.