Interviews with Orientation and Mobility Professionals and Authors of Book
by Mary D'Apice, COMS, and VisionAware contributor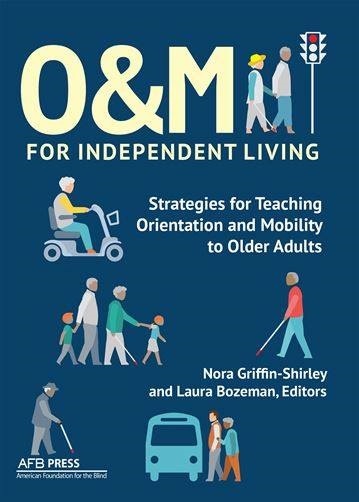 Orientation and Mobility (O&M) instructors serve individuals across the life span, each with very unique abilities, challenges and goals. Like skilled jazz musicians, these specialists must be masters of improvisation. With tried and true techniques providing a steady baseline, the O&M instructor chooses the instruments and sets the tone and pace of the music in response to the audience's preferences. Among Americans who identify themselves as visually impaired, 30% are over the age of 65. O&M for Independent Living, Strategies for Teaching Orientation and Mobility to Older Adults is a publication from APH Press that informs and instructs professionals so they can better serve this rapidly growing population. The book presents a host of modified techniques for adapting to sensory changes and health impairments and other medical issues associated with aging. Chapters on topics such as environmental adaptation, exercise, and daily living skills provide tips and techniques that will help older adults maintain a high quality of life. Primarily designed as a textbook, O&M for Independent Living incorporates learning activities at the end of each chapter which encourage observation, reflection and discussion. The content will also serve as a useful refresher for seasoned O&M instructors who have been working with different populations and want to reacquaint themselves with the needs of older adults. Other healthcare professionals seeking to collaborate with vision rehabilitation specialists may also gain valuable knowledge and insights from this comprehensive book.
Introducing Co-Editors Nora Griffin-Shirley and Laura Bozeman
With over 70 years of professional experience between them, co-editors Nora Griffin-Shirley, Ph.D., and Laura Bozeman, Ph.D., have held leadership positions in professional organizations, lectured internationally and taught orientation and mobility overseas. They also have hints of a Texas accent in common. Bozeman grew up in Texas but has settled in the Northeast while Griffin-Jones grew up in the Northeast and now lives in Texas. Although both have published extensively, O&M for Independent Living is the first collaboration for these long-time colleagues. Dr. Nora Griffin-Shirley is a professor and Coordinator of the Orientation and Mobility Program and TTU Graduate Certification Program in Sensory Impairments and Autism, and Director of the Virginia Murray Sowell Center for Research and Education in Sensory Disabilities at Texas Tech University. Dr. Laura Bozeman is Associate Professor and Director of Vision Studies at the School for Global Inclusion and Social Development at the University of Massachusetts, Boston. I had the opportunity to interview the co-editors about their past experience teaching orientation and mobility, their work training new O&M instructors, and their thoughts about the future of the profession.