Interview with Dr. Laura Bozeman
by Mary D'Apice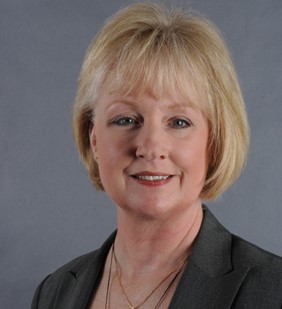 Laura Bozeman was a Special Education major at Stephen F. Austin State University when she came upon a mysterious group of students walking across campus with long, white canes and wearing sleep shades. Intrigued, she asked questions and learned she had been observing orientation and mobility instructors in training. The idea of working one-on-one with students and spending time outdoors appealed to her, and soon Bozeman was enrolled in the program. Bozeman has held many jobs in the field, but is currently Associate Professor & Director of Vision Studies, School for Global Inclusion and Social Development, College of Education and Human Development at the University of Massachusetts, Boston.
Building Rapport with Clients and Families
In the field now for more than 40 years, Bozeman has worked with all age groups, from toddlers on up, but she is most passionate about working with older adults. Yet, the hospitality she enjoys during home visits with seniors has a down side. "I always gain weight," She laughs.
The value of those social interactions over tea and cookies are not to be underestimated. "It's important to know what motivates your client," says Bozeman. "You need to earn their trust if you want to have a productive lesson that extends to a series of lessons." Because the adult children of aging parents tend to be protective, it helps to address their fears by inviting them along for a lesson. Once family members understand the use of landmarks, environmental cues and other O&M techniques, they can better support the client. "The real benefit," says Bozeman, "is that the family learns that the elder is really capable of doing a lot more than they had originally assumed."
O&M Supports Good Physical Health
Beyond teaching a person to get from point A to point B, orientation and mobility training promotes good physical health. "As we age, we all need to keep moving," Bozeman points out, "And by strengthening muscles, particularly our core, we are better able to keep our balance." Too many older adults are caught up in the vicious cycle of becoming sedentary for fear of falling when it is inactivity itself that puts them at a greater risk of injury. One chapter of the book O&M for Independent Living describes how an effective physical fitness program ensures that older adults will be able to undertake activities of daily living. Good flexibility, for example, will improve a person's ability to put on a pair of shoes or retrieve a dropped object safely. Tai Chi is introduced as an ideal activity for older adults because it integrates all four exercise types — balance, strength, endurance and flexibility. This ancient practice has the added benefit of easing the mind and reducing stress.
Mobility Tools and Adaptive Devices for Seniors with Other Health Impairments
Whether it's learning to use a cane to navigate a sidewalk leading to a neighbor's house or employing a monocular to identify the bus for the senior center, O&M skills are the gateway to maintaining an active social life. O&M for Independent Living provides instruction on modifying or adapting these skills for individuals with vision loss who are coping with other age-related medical and health challenges. The chapter on sensory impairments, co-written by Bozeman's husband, an audiologist, includes an overview of the auditory system and how hearing aids work. In the past, hearing aids were attuned to frequencies that would pick up speech but mask environmental sounds. Thanks to technological advances, however, the new generation of hearing aids offer more control so that a person with a dual sensory impairment can listen for traffic to safely time street crossings.
O&M for Independent Living includes photographs that illustrate modifications for traditional human guide techniques. Bozeman describes an older gentleman who found that grasping her arm above the elbow did not provide enough stability. Instead, guide and traveler linked arms and interlocked fingers, which provided support without interfering with graceful travel. The book demonstrates that dependence on mobility devices does not preclude a traveler from using a long, white cane. Though it might take patience and a bit of finesse, clients can learn to effectively use long canes in combination with quad canes, crutches, walkers and wheel chairs. Support canes can also be used probes for verifying drop-offs.
Helping Clients Embrace the Use of the White Cane
Bozeman points out that scheduling lessons at optimal times is often the best modification. "If a client is taking medication for arthritis, I made sure we schedule our meetings to coincide with the time of day when they are less likely to experience pain or fatigue."
Bozeman, like many O&M instructors, has found that her clients often refuse to use the white cane for fear of the stigma. "Unfortunately, most people do not know anyone who is blind or visually impaired." Bozeman feels that the media is doing a much better of job of portraying people who are blind, but it's still difficult to find good role models in the community. Other seniors worry that the cane will identify them as an easy target for crime. Bozeman, who has a black belt in karate, has taught her clients the very same principles she introduces to students in self-defense classes. Because the best way to ensure personal safety is to avoid putting yourself in a bad situation, O&M instructors stress the importance of alternative routes and back up plans. In the book, Bozeman indicates that body language can be a protective factor as well. "If you walk confidently with your head up and maintain a pace that looks like you are in charge, people will leave you alone." Bozeman asserts. "You might succeed in giving someone the impression that you could hit them with the cane."
Advocating for O&M Training for All
Bozeman thrives on the fact that her job continually tests her ability to be innovative and solve problems. "I like that what works for one person doesn't work for another." When Bozeman worked with adults who were visually impaired but also had severe to profound cognitive disabilities, she was challenged to think creatively. Ultimately, she succeeded at helping each person move more purposefully and efficiently if not independently. Bozeman fiercely defends the idea that everyone with a visual impairment can benefit from O&M training regardless of accompanying disabilities or medical challenges. "I never want anyone to feel that a visual impairment is keeping them from following a passion,'" says Bozeman. "O&M training can help clients discover what is possible and give them the confidence to pursue their goals."