Interview with Dr. Nora Griffin-Shirley
Mary D'Apice, COMS and VisionAware Contributor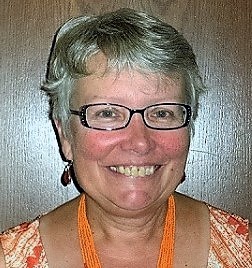 Nora Griffin-Shirley's first job was as a school teacher in rural Maine, but a summer position at a camp for adults with visually impairments convinced her to change course and pursue a degree in vision rehabilitation.
Though she had every intention of working with children, the job market steered her towards adult rehabilitation. Before long, she discovered a passion for working with older adults.
Griffin-Shirley says the unexpected detour was a gift, "I enjoy the stories older people tell. I admire their ability to use their character to get through many different trials in their lives." Griffin-Shirley went on to earn a special certification in gerontology and serve on the American Foundation for the Blind's National Advisory Council on Aging. "My ability to help seniors enrich their lives and cope with vision loss has been gratifying to me both personally and professionally." Today she is the director of the Texas Tech University Center for Research and Education in Sensory Disabilities.
Orientation and Mobility as an Evolving Field
Griffin-Shirley jokes that there is another good reason why she is passionate about working with seniors, "I'm a senior now!" Because longevity is often accompanied by vision loss, she has a reasonable expectation that she my one day be visually impaired. "I'm curious about how I will adapt. It will be fascinating to observe myself." She wonders what technological innovations of the future will assist the next generation of seniors. In recent years, computers and phones have become infinitely more accessible, but progress has been slow in other areas. Griffin-Shirley remarks that 15-20 years ago, lack of transportation was cited as a major barrier for seniors seeking to maintain their independence. Today, frustrations remain as legislation has been pushed forward but funding has been woefully inadequate. "I think we as an older population need to coalesce on the grassroots level and seek change. We need to advocate for ourselves, and imagine what we want our lives to look like as we get older."
Modifying O&M Techniques for People with Age-Related Health Conditions
The book O&M for Independent Living addresses the complexities of serving visually impaired adults with other age-related health conditions. Griffin-Shirley observes, "How many people in our field actually work with individuals who are just visually impaired? It's actually quite rare." Griffin-Shirley has first hand experience in her personal life as her husband was blind but also had other health issues. Though he was a very capable guide dog user, his ability to travel independently was often impacted by complications of diabetes, including neuropathy. Thus his mobility tools were continually adapted. He might travel in a wheel chair or use crutches depending on the nature of the outing and his health at the time.
Fostering Collaboration Among Professionals
In recognition of the importance of assessing the needs of the whole person, O&M for Independent Living provides a template of an intake and functional assessment checklist that accounts for how the cardiovascular, respiratory, and other systems might impact mobility goals. Complex organisms that we are, human beings often require a team of specialists, not just one medical professional, to help them navigate their healthcare needs. Despite efforts to better integrate services for visually impaired seniors, too many vision rehabilitation specialists find themselves working in silos. O&M for Independent Living offers a cautionary tale that illustrates how the failure of health professionals to work together can have unfortunate consequences. In this story, the O&M instructor inadvertently precipitates a patient's carpal tunnel syndrome because she failed to ask the physical therapist about contraindications before beginning training on the long cane.
Griffin-Shirley wrote the chapter about fostering collaboration which includes a "Who's Who" of the rehabilitation team. Readers will learn about the roles and responsibilities of physiatrists, recreational therapists and other personnel who serve older adults. Regretfully, not enough worksites have adopted formal systems of collaboration although Griffin-Shirley notes collaboration does occur on an informal basis. The nation's VA hospitals may be an exception to the rule where veterans are assigned transdisciplinary teams. Perhaps this culture of collaboration is an articulation of the military's intrinsic respect for team work. Griffin-Shirley reports that she learned the most about teaming while working at the Rehabilitation, Research and Development Center at the VA in Decatur, Georgia. A highlight of her tenure was being part of a think tank where an interdisciplinary team worked on the development of an artificial foot.
Training the Next Generation of O&M Specialists
Griffin-Shirley has ensured that her O&M students at Texas Tech University have the opportunity to practice working closely with other professionals as part of their internships. Guided by the University of Kentucky's Assistive Technology Evaluation Tool, each student works with a team to observe one individual's progress in learning to use a mobility tool, such as a cane, monocular, or an iPad. Griffin-Shirley feels that it is critical for vision rehabilitation specialists to become adept at gathering and evaluating quantitative data. Lessons are videotaped, and the O&M specialist conducts reflective analysis with a team that may be comprised of Occupational Therapists, Physical Therapists, Psychologists or Speech Therapists. Of course, the individual who has the visual impairment is also at the table, providing input on how the training process is helping to further his or her O&M goals.
Resiliency in Older Adults
Effective orientation and mobility training is just one factor in predicting whether clients will transform their lives through vision rehabilitation training. Much depends on each individual's motivation and personality. Someone who has been a risk taker his or her whole life may have an easier time venturing out into the community than someone who is naturally cautious. Still, Griffin-Shirley does not want her O&M students to underestimate the resilience of their clients based on personal history alone. She recalls visiting relatives on their farm when she was a child. Her aunts, experts at operating farm equipment, could not drive a car. "When my uncles passed away, my aunts got their licenses in their 60s." Griffin-Shirley sees their willingness to adapt and act courageously as a testament to the ability of any older person to rise to the occasion when life presents a difficult challenge. "People can and do go out of their comfort zones in order maintain a high quality of life." Griffin-Shirley says, "And to me that is so admirable."