Kitchen Safety 101 for Cooks with Visual Impairment
by Leann Gibson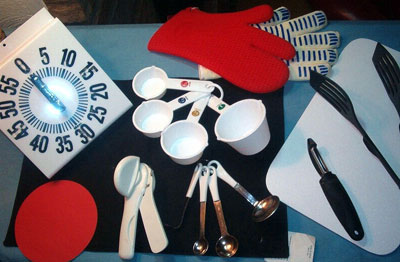 Part 1 Before you Begin
Cooking in the face of vision loss can be extremely intimidating whether you are a beginner or a seasoned cook. One of the most important aspects of cooking safely is preparation. Even before you begin there are many things to take into consideration. By minimizing potential risks and taking them out of the equation you will help to insure your safety.
Tips
You will want to read VisionAware's section on cooking safely.
Kitchen organization promotes a calm and safe environment. Everything must have its place in your kitchen. Ask for help to integrate a system that works for you. It is necessary that your family members/roommates understand how important it is for them to maintain this system with you.
Wear appropriate clothing, choose something that covers you well in order to prevent burns. Avoid loose fitting items; these can get caught on handles and graze elements. This is also the time if you have long hair to tie it back and out of the way, you don't want your hair to be the secret ingredient.
If you choose to use a knife, keep it sharp! A dull knife will cut you every time. Using knife blocks or covers make them more finger friendly than keeping them stored in a drawer. This also keeps knives sharper longer. Note: be careful if you use a knife block, as it can be challenging to get the knife back in the right slot. Knives now come in different colors, which may help cooks with low vision. Also, nylon knives are available for cutting lettuce, vegetables, and breads.
Use light and dark cutting boards that contrast with the food you want to cut, making it easier to see the item. Use a non-skid shelf liner or damp cloth under the cutting board to keep it from sliding. When not in use,it is very important to place your knife at the top of the cutting board, with the handle toward your dominant hand.
Know the dials on your stove. Make notches or use bump dots on dials to locate commonly used settings such as the broiling functions and oven temperatures 275, 350 and for low, medium, high for burners. Formulate a system that works best for you.
You will need a timer when cooking. This is a fail safe way to remind you of cooking times and when to shut appliances off. There are many types available such as talking, with raised or large numbers, counter top, or ones with a cord you can wear around your neck to carry with you.
Purchase proper oven gloves. Look for ones that cover your forearms to avoid burns when removing items from the oven and handling pots and pans on a stove top. Remove protruding tags or pieces of material as these could come into contact with the element and ignite.
Purchase a large number or talking thermometer. With my vision loss I am always worried about whether the meat I am cooking is done or not. Taking the internal temperature solves that stress and keeps me in control of my roast chicken!
Find Out About Services
Reach out and inquire with your local vision rehabilitation agency to find out what services are available to you. Many provide cooking instruction in a training facility or in home through a vision rehabilitation therapist.
Resources for Products
Speciality product sources
Tips on chopping vegetables