Two Vietnam-Era Veterans Epitomize the Goals of the Blinded Veterans Association (BVA)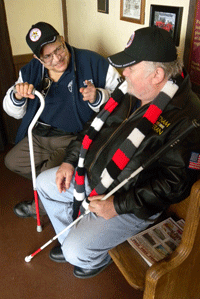 Two Vietnam-era veterans who provide volunteer service to their fellow vets at the Martinsburg, West Virginia Veterans Affairs (VA) Medical Center epitomize what the founders of the Blinded Veterans Association (BVA) envisioned for the organization and its members over 70 years ago.
Gerry Fitzpatrick and Jim Hammond, both medically retired seniors from earlier employment with VA, now make at least two rounds of visits per week at the hospital. They are usually accompanied by Gerry's wife, Ana, who also provides the chauffer service to and from the Medical Center that originates at the Fitzpatrick home in nearby Winchester, Virginia. The three focus their attention on veterans with both vision loss and difficulties with mobility. They often visit the nursing home and patients with extended stays but also interact with those who come in on an outpatient basis.
Gerry, a combat Vietnam veteran, and Jim, who served in the military during the same time period but was never actually deployed to Vietnam, are also active in helping organize the activities of their VA Visual Impairment Support Group. They assist Donna Cobean, their part-time Visual Impairment Services Team (VIST) Coordinator, with many of the overwhelming administrative tasks relating to the group and the coordination of services to blinded veterans in general.
"Instead of shutting myself up at home and focusing on my own needs and problems, I can come here and continue to help my fellow veterans with their challenges just like I did when I was getting paid," said Jim, who during his career worked as a Health Program Technician at the same Martinsburg facility. As such, he worked with veterans in crisis in the health maintenance domiciliary in problem areas relating to substance abuse, head trauma, Post-Traumatic Stress Disorder, and homelessness.
"Once I retired, I missed the companionship of the vets—listening to their daily complaints, trying to help them solve their problems, and doing what I could to get them to overcome the blues," he continued. "For my own peace of mind, I always find the time to talk to people, which is the essence of the volunteer program that BVA espouses."
When Gerry first moved 18 months ago from Philadelphia, Pennsylvania, to Winchester, Virginia, the work they are now doing was left undone. Having volunteered at the Philadelphia VA Medical Center, Gerry moved quickly, contacting Donna and helping to organize the support group. With his encouragement, the support group has regular meetings, social activities, and even put together its resources to charter a bus to Washington, DC, to visit BVA National Headquarters and the World War II, Vietnam, and Korean War Memorials. He also arranged to participate with Jim in a special Wreaths Across America ceremony at Winchester National Cemetery last December, donating a wreath to the event in BVA's name.
"I love doing this work," said Gerry. "Because of these volunteer opportunities, I've come to appreciate even more the depth of what our veterans have done for us average Americans, and how priceless their sacrifices really are."