Paying Bills
Paying bills is a big concern for most people with vision loss, and with good reason. Traditionally, the job required that you sort the mail, identify which items are bills, determine the amount to be paid and the due date, write out a check for the amount, and mail the payment. Each of these steps has its own set of logistical problems for someone with vision loss.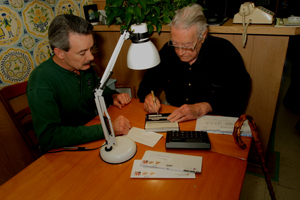 A trusted family member or friend can help you pay your bills.

>You can work through these problems successfully, or you can bypass them altogether if you're comfortable using a computer. Here's how:
Most utilities and retailers can send your bill statements electronically via email. In fact, some now charge a fee for mailing printed statements, making electronic billing the less expensive option in addition to being the most convenient.


If you have talking software installed, it can read the statements to you. (It's always best to print statements for your records.)


In addition to receiving bills electronically, you can pay them electronically, as well. Most banks provide online banking that allows you to pay bills directly from your checking account. Some utility fees can be deducted automatically from a checking account by the utility company, eliminating the need for writing a check or setting up electronic banking.


If you prefer, you can pay most bills by phone. All you need is a check number and a routing number—or you can pay by credit card.
Of course, not everyone is comfortable with doing their finances this way. You may prefer to handle bills in the conventional manner—writing your own checks. If you wrote checks prior to vision loss, you may be able to continue doing so by touch using a check writing guide. In some cases, bills may be paid at the place of business. For example, a monthly pharmacy bill can be paid while picking up a prescription. Gas and electric may be paid in a similar manner. Whenever possible, you should fill out the check in advance.
All About Readers
You may want to enlist someone to help read and sort your mail—a trusted family member, a volunteer, or even a paid assistant if financially feasible. If you go this route, be safe:
Don't allow the assistant/reader to take the checks home.


Insist on being present when each check is written so that you are aware of each check that is signed and the amount.


Assign a specific area in your home for working with the reader/assistant that is separate from personal papers; don't share a workspace with the reader.


Signature stamps are available but NOT recommended; they are too easily misused and are a potential threat to your finances.
Remember:
Banks are required to make statements available in large print, braille, or on cassette, if requested.



| | |
| --- | --- |
| A check-writing guide is a helpful positioning tool when filling out checks. | |

Large print and talking calculators are available for balancing checkbooks and statements. Some calculators will hold checking account balances and checks can be subtracted as they are written.
For information on where to purchase the products mentioned in this article, view a list of specialty product sources.