Organizing and Labeling Clothing When You Are Blind or Have Low Vision
By Maureen A. Duffy, M.S., CVRT Organizing and labeling your clothing, undergarments, and jewelry requires attention to organization as well as several different types of labeling techniques. Here are some organization and labeling tips that can help. If you need additional information about organizing and labeling a variety of household items, in addition to clothing and personal items, see Labeling and Marking, Household Organization and Organizing and Modifying Your Home. Check the Lighting Use Organizing and Sorting Systems Use Different Shaped/Sized Containers or Drawers Use Everyday Items Use Specialty Labeling Products
Check the Lighting
If you have low vision, it's helpful to first check the lighting in your closets and dressing areas:
Is the lighting bright enough for you?
Is the lighting even, and without deep shadows?
Does the position of the lighting help or hinder when you try to identify and select your clothing independently?
Take the clothing you've selected to the nearest window and see if extra light can help you identify or differentiate colors.
When you want to match colors, hold your clothing items side-by-side under bright or natural light.
Keep a flashlight in your nightstand drawer or near the closet to help you read labels or distinguish colors.
See Organizing and Modifying Your Home for additional information on lighting, color, contrast, and room-by-room modifications.
Use Organizing and Sorting Systems
Before implementing a labeling system, try using any of the following organizational techniques:
Use tactile cues such as texture, cut, style, and button design. Using these cues can help you identify many clothing items without having to label them.
Place a matching outfit together on one hanger (suit, shirt, belt, tie, and slacks).
Group similar clothing together. Place all slacks in one part of the closet; all shirts in another.
Use egg cartons or plastic ice cube trays to organize small items, such as jewelry and accessories.
Use plastic Ziploc bags to separate socks and hosiery.
Establish a place for each item.
Always keep items in the same place every time.
Return all items to their designated place when you've finished using them.
You can also use the following everyday household supplies to help you organize your clothing and smaller personal items, such as earrings, rings, watches, and hosiery:
Shoe boxes
Fishing tackle boxes
Craft boxes
Multi-drawer hardware storage units
Baby food jars/glass jars
Storage boxes/clothing bags
Use Different Shaped/Sized Containers or Drawers
Consider grouping like items together; for example, place different colored underwear in separate drawers or different shaped/sized containers.
Place gloves and scarves in another box or drawer and separate informal tops from formal tops.
Choose identifying and organizational systems that work best for you. If you've been organized in the past, you may need to make only minor changes in your organizational system.
Storing Jewelry
Use a jewelry box with dividers to hold individual pieces, such as earrings, rings, bracelets/bangles, and necklaces.
Organize your jewelry by color, style (formal, informal), or material.
It can also be helpful to explore each piece using your sense of touch and become familiar with its unique characteristics.
Custom-Designed Storage
Many companies specialize in custom shelving and closet organizers. They will visit your home, evaluate your storage space, and design shelving, racks, and cabinets for your specific needs and budget.
Again, it's important to make sure that the end result reflects your unique needs.
From Peer Advisor Stephanae McCoy: Time-Saving Wardrobe Organization Tips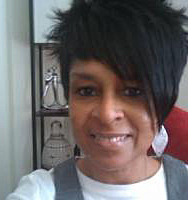 Getting the Jump on the Morning Routine
You're probably aware of the saying "An ounce of prevention is worth a pound of cure." I can think of many areas in life where this saying could be applicable, but none more than the daily morning routine. You know the one where you've just overslept and you jump up in automatic panic mode wondering how in the world you're going to be able to get yourself together in time to get to work. This issue is irritating to just about anyone but if you are blind or visually impaired it's especially annoying. What to do? "Micro-management" is key! Let's look at the following steps to help you implement a time-saving daily wardrobe routine.
Beginning Steps: Use Hangers
You won't need all of these items – just whatever works for your personal situation:
Fixed or swivel-hook plastic shirt hangers
Pants/skirt hangers. These have two clips to hang bottoms.
Suit combo hangers (can be wooden or plastic). As the name implies, these are a combination of a shirt and pants/skirt hangers with two clips to hang bottoms.
Make your own combo hangers with aluminum soda can pull-tabs and shirt hangers (the thin velvet ones are perfect), mesh drawstring bags or plastic sandwich bags, or drawstring shoe bags or grocery store bags. If you use sandwich bags, you need to punch a hole near the top of the bag to slip it over the hanger. If you don't have a hole punch, you can use the hanger itself or a pencil or pen.
Learn how to use this hanger system and read more about Steph's inventive time-saving wardrobe tips at
Wardrobe Combos: Time-Saving Tips for People Who are Blind or Have Low Vision
at the
Visually Impaired: Now What?
blog.
Use Everyday Items
If you still want or need to label your clothing after trying these organizational systems, you can use any of the following methods. Please note: If you use a label that is applied directly to the clothing item, make sure that the label is not visible and does not rub on your neck, back, waist, or any other part of your body.
Make large print labels with a white unruled 3″x5″ file card and a rubber band. Mark the label with a black wide-tip marker, laundry marker, or foam alphabet letters. Place it on the hanger with the clothing item.
Cut a large ring or "donut" from heavy cardboard. Mark it with a large print, braille, or a tactile symbol or letter. Loop the ring over the hanger.

Use a safety pin coding system to determine color; for example, blue = one safety pin and red = 2 safety pins. Be sure to use small "no rust" laundry pins for this system. Place the pins in an inconspicuous location, such as inside a pocket or a hem, where they will not be visible or rub on your neck, arm, or leg. Use no pins on whatever color you have the most of, in order to save time and resources.
You can also use safety pins to label clothes that go together; for example, all clothes with one safety pin are pastels, all with two pins are jewel tones.
Create a master list of your coding system in large print, braille, or another accessible format of your choice for quick and easy reference. See Reading, Writing, and Vision Loss for more information on the range of accessible formats.
Use iron-on patches in various sizes and shapes.
Use buttons or French knots.
Small plastic "sock tuckers" or "sock locks" (pictured at left) can help you sort your socks and hosiery. You can also use them to keep your socks matched during laundering.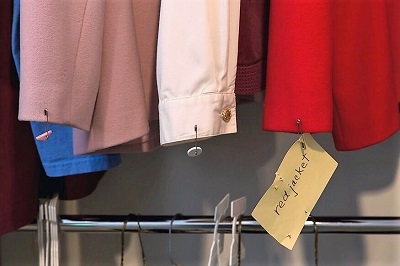 An assortment of clothing organized and labeled with everyday and specialty items. Source:
Making Life More Livable: Simple Adaptations for Living at Home after Vision Loss, Third Edition
, by Maureen A. Duffy, M.S., CVRT
Use Specialty Labeling Products
There are also many specialty labeling products for people who are blind or have low vision.
Braille Clothing Identifiers: Durable and washable white plastic tags with braille and corresponding black print. They can be sewn or pinned on to the garment. Each label contains just 2-3 braille letters that you can learn to recognize by touch without having to learn to read the entire braille system: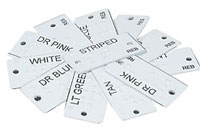 Color Mates Clothing Identifiers: Package of 160 tags, 16 colors in different shapes on safety pins to identify, mix, and match wardrobe items: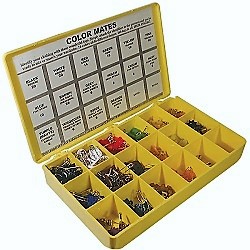 Identi-Buttons Clothing Identifiers: Package of eight buttons, one button per color, all in different shapes: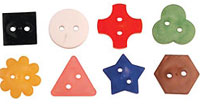 Hi-Mark Tactile Pen: A three-dimensional plastic liquid that makes raised lines, dots, and shapes to identify clothing, canned goods, frozen foods, and mark the settings on appliances:

Spot 'n Line Pen: A three-dimensional plastic liquid that makes raised lines, dots and shapes to identify clothing, canned goods, frozen foods, and mark the settings on appliances: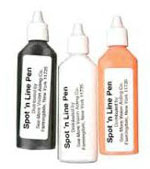 Loc-Dots: Clear raised dots to mark index cards, appliances, computers, and keyboards. They cannot be used directly on the clothing item.
Maxi-Marks: Black plastic dots and slashes with adhesive backing to mark index cards, appliances, computers, and keyboards. They cannot be used directly on the clothing item.
Touch Dots: Black, white, red, yellow, and orange raised foam dots with adhesive backing to mark index cards, appliances, computers and keyboards. They cannot be used directly on the clothing item: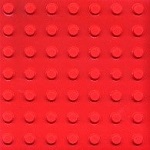 Bump Dots: Black, orange, and clear raised plastic dots with adhesive backing to mark index cards, appliances, computers and keyboards. They cannot be used directly on the clothing item: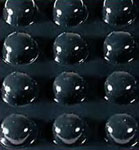 Touch-To-See Labels: Braille and tactile adhesive labels to mark index cards, medication, and food. Each reusable label contains a raised letter or number with corresponding braille. They cannot be used directly on the clothing item: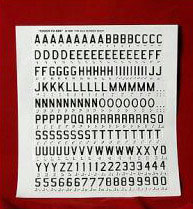 Pen Friend 2: An electronic color identifier and voice labeling system that allows users to record, and re-record, information on to self-adhesive labels. The device will speak the color aloud when you hold it against the garment:

Talking Color Identifier with Light Probe: This electronic device detects approximately 100 colors. The device will speak the color aloud when you hold it against the garment: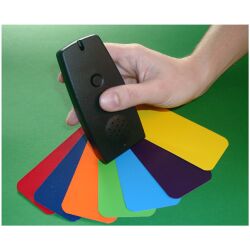 VOXCOM III Voice Labeling System: Record audio talk labels and messages by depressing a button and inserting a card into the unit. The card attaches to canned goods, medication, clothing, food, and household items: