Braille Technology: What's New and Emerging?
By Steven Kelley, CRC, CVRT Unless you've grown up using braille, you may not realize that braille technology has been in the electronic world for many years. Braille is far more than dots on paper! Many computer or tablet users who have an acquired vision loss may not even be aware of the value or use of braille in the technology we use every day—computers, tablets, smartphones, and e-readers, such as the Kindle and Kindle Fire. Many of these devices can connect to braille displays, so that text on the screen can be read as tactile characters on a display, read by touch. Historically, these displays have been pricey and not often found in many workplaces, libraries, or homes, so it is not at all surprising if you have never seen an electronic braille display. This may be changing very quickly, however! In vision rehabilitation, braille can be a tricky subject to broach, particularly with a recently acquired vision loss, or with a person who has low vision. It is not uncommon for someone with a recent vision loss to be unwilling or reluctant to try using braille for reading or even basic labeling. Given the high cost of some current braille technology, or the large and cumbersome size of some embossed-paper braille magazines or books, it's not difficult to see why this can often be a challenging discussion to have with someone new to braille. What's really needed is an affordable, portable device that lures readers into the braille world … a sexy, braille Kindle-type device that says, "Touch me!" the moment it's picked up!
The Braille Alphabet

Traditionally, braille is embossed on paper of heavier stock than printer paper, and a book or magazine in braille is much larger than its print counterpart. Braille is a representation of the alphabet, numbers, punctuation marks, and symbols made from "cells" of dots. There are 6-8 possible dots in a cell, and one cell makes a single letter, number, or punctuation mark. For example, imagine a domino that has the potential to hold either 6 or 8 dots on it. One dot is painted in the top left corner. This is how the letter "a" is represented in braille (pictured at left). On paper, of course, it is much smaller, and the dots are small bumps made in the paper that can be seen and felt. Braille is not another language. It is simply the existing alphabet, numbers, and symbols represented in a way that can be read by touch. The following chart provides a helpful example of the 6-dot cell design of the braille alphabet.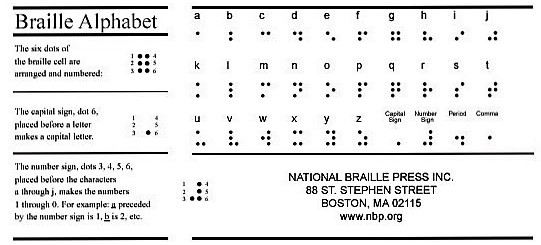 If you'd like a copy of this chart, you can get a free embossed braille card from the National Braille Press website or you can go to the printable braille alphabet card available from the American Printing House for the Blind's Braille Bug.
Producing Braille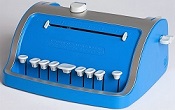 On a small scale, braille can be produced easily, using a Perkins-style brailler (pictured at left). This is a device that looks like a manual typewriter from years ago, but with fewer keys. Even more portable is a slate and stylus, which will fit in a pocket or purse and can be used like a pen or pencil to record a simple memo or phone number on a sheet of paper. Braille is also found on adhesive label guns, such as Dymo-style labelers, for creating tactile labels for food, clothing, CDs, file folders – you name it. On a larger scale, digital text documents are sent to electronic braille embossers, for larger-scale printing. Like printers, the faster the embosser, the more it costs.
Braille Displays
In the tech world, the first braille displays appeared in the mid-1970s, and the first commercially produced braille display, the VersaBraille, was released in 1982. Five years later, the Braille 'n Speak was released as the first portable notetaker that used a Perkins-style keyboard for inputting data, instead of a QWERTY keyboard. In other words, electronic braille notetakers are nothing new. They've been commercially available for longer than most of us have had access to a personal computer at home!
Electronic Braille Displays
Electronic refreshable braille displays create the dots in braille cells by raising and lowering plastic or metal pins to correspond to the dots in the letters or numbers being represented. Little has changed in this technology, almost since the technology first appeared, and this design contributes to the cost. Typically, braille displays offer anywhere from 10-80 cells in a linear display, and the cost goes up dramatically as the number of cells increases. Although the cost of personal computers has declined dramatically over the years, the decline in cost for a device with an electronic braille display has not. As manufacturers, like Humanware, Freedom Scientific, and HIMS are quick to point out, the braille market is a small, specialized, low-incidence market. As a result, until recently, even a small braille display that will fit in a pocket and connect by Bluetooth to a computer, tablet, or smartphone costs nearly $1,000, and a notetaker with a small braille display that includes the other features you might expect in a tablet, like a word processor, WiFi, or email, can start at nearly $3,000! Electronic braille has been disproportionately expensive from the outset, and the Holy Grail of braille displays has been reducing the cost of the technology behind the display without reducing the durability of the display or the feel of the dots.
What's Changing? Some Recent Projects
The Orbit Reader 20
The Orbit Reader 20 (pictured at left) will become available commercially in early 2017, from the American Printing House for the Blind (APH), at a yet-to-be-determined price in the range of $500. This dramatic reduction in cost for a 20-cell braille display is due in large part to The Transforming Braille Group, an international consortium of groups and agencies whose mission was to locate a manufacturer willing to design and produce a braille display reader for commercial resale, under $500.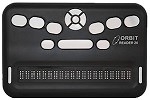 The Orbit Reader 20 is a bit more like one of the braille notetakers, in that it offers a Perkins-style keyboard in addition to the braille display, an SD card slot for transferring files, and a basic editor for notetaking tasks. (An SD card, also called a Secure Digital Card, is an ultra-small flash memory card that provides high-capacity memory storage.) The Orbit Reader 20 is primarily a braille-reading device—think of it like one of the original Kindle readers—designed specifically to read, with a few secondary add-ons. The built-in text editor does not have the "bells and whistles" found on more full-featured word processing apps or software. The file management software permits saving, deleting, renaming, and moving files to the SD card. For more robust word processing, email, and web surfing, it will need to be connected to another device, such as a smartphone, tablet, or computer, and serve as the braille display only. For a more extensive look at these features, you can read the Orbit Reader 20 Review at AccessWorld magazine.
Holy Braille!
The University of Michigan's School of Information's Sile O'Modhrain leads a project called Holy Braille that is developing and creating a full-page braille and tactile graphic display device. Imagine for a moment a flat screen tablet, coming alive with a full page of braille or a bar graph that users could touch on the screen. For braille readers, like print readers, the ability to have more than 12, 20, or even 40 characters on a line at any given time makes reading much more efficient. Imagine trying to read a printed page through a device that allowed you to see only a few words at a time—sure it can be done, but more words would be better, and a whole page of refreshable braille would truly be the Holy Grail of this technology. A large part of this project has been to reinvent the braille "dots" or movable pins used on current electronic braille displays to create a model using a pneumatic [i.e., inflated with air pressure or compressed air] system of bubbles and fluid to raise the surface of the screen. Alex Russomanno, a Ph.D. student in the Department of Mechanical Engineering working on this project, reported in a recent interview with AccessWorld that one of the project's goals was to create a device with multiple lines of braille that could be read with two hands, the way embossed braille on paper is usually read, and to keep the cost of the device down. You can learn more about the Holy Braille project at The Quest for "The Holy Braille" Full-Page Refreshable Braille Display: An Interview with Alex Russomanno at AccessWorld magazine.
Greater Braille Availability
Other companies creating innovative new braille devices include Blitab, which, like the Holy Braille project, offers a device with multiple lines of braille, and insideOne, a hybrid tablet with a 32-cell braille display built into the bottom of the screen and a Perkins-style keyboard as part of the touch screen. All of this braille innovation, much of it designed to reduce the cost of braille displays, will ultimately increase the accessibility of braille to a great many more users. In fact one of the members of The Transforming Braille Group was the National Library Service (NLS). Imagine the opportunities for access to braille if a braille reader became available from the NLS, the same way the Talking Book Player is! Finding braille in the world of technology is not new, but finding it in a relatively affordable device will be very new. Projects like the Orbit Reader 20 and the Holy Braille full tablet braille display promise to make braille more accessible to a greater variety of users. Greater access to low-cost braille reading technology ultimately may make braille a more viable alternative for all existing braille readers and those readers who are on the fence, just waiting for an affordable braille reader to entice them back into reading again!