Reading Apps for Booklovers Who Are Blind or Visually Impaired
By Steven Kelley, CRC, CVRT Tablet computers, like the iPad, Kindle Fire, and Samsung Galaxy, have dramatically changed how we read. For individuals experiencing any type of vision loss, these devices have also increased the overall ease of access to print. The digital formatting of print into electronic text allows for enlarging text by changing font size or through screen magnification and using screen reading software like Apple's VoiceOver or Android's TalkBack to read text out loud with a synthesized voice.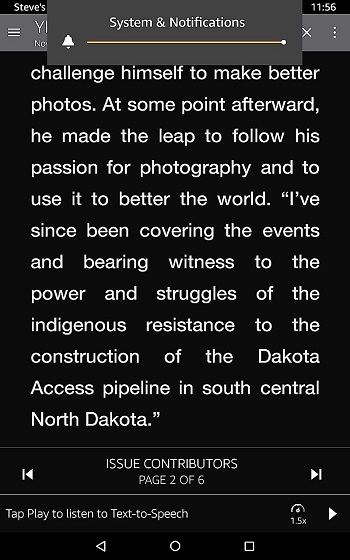 You can increase the print size in the Kindle app on the Kindle Fire Reader. It also includes text-to-speech for many titles and magazines.

Also, since these devices connect quickly to the Internet, they may also function as audio receivers, streaming newspaper reading services and audio recordings of books, magazines, and podcasts in a way that now provides unprecedented access to a vast array of content to readers of all abilities. Nearly all of these apps run on iOS devices (iPhone, iPad, and iPod Touch) and Android devices (which include the Amazon Kindle Fire). To date, NFB-NEWSLINE does not run on Android devices but that will no doubt change. With exceptions where noted, these apps are free. Also see Options for Reading Print with Vision Loss for many additional reading options, including electronic video magnifiers.
AIRS-LA
AIRS-LA is the app for the Audio Information Reading Service of Los Angeles. Readers do not have to be from the Los Angeles area to use the app or website. A brief signup is required, and the service is designed to provide a wide range of audio content to users who are blind or visually impaired. Several features of this app and the content it provides include:
A wide range of material, including current national newspapers and magazines, lectures, and podcasts.
The ability to download or stream the content at no charge.
Most of the content is read by a human reader as opposed to synthesized screen reading.
Both the app and website for AIRS-LA have an easy-to-navigate menu. You can make selections by media categories, such as "Lectures," "Periodicals," or "Vision," followed by a sub-menu of titles and available dates or articles. For example, under "Periodicals," readers will find, among other titles, "Business Week," "Good Housekeeping," and "Forbes" magazines with a list of available articles or editions. One limitation this user has discovered is that due to the availability of volunteer readers for AIRS-LA, some periodicals may be limited on the edition or article availability. For example, a check in January 2017 revealed that Atlantic, Oprah, and Consumer Reports, among many others, were up to date, but Business Week was several months behind. Nonetheless, there is enough content available on AIRS-LA to keep a voracious reader very satisfied.
BARD Mobile
BARD is a service of the National Library Service (NLS) Talking Book program. The acronym BARD stands for Braille and Audio Reading Download. The BARD website allows users of the free lending service to download books and magazines directly from the Library of Congress website. The BARD Mobile app has made this process much simpler and even more portable because reading material can be downloaded directly to the app. When the book is open, it is read using an interface that looks and works much like the Talking Book player that many of us are already accustomed to using. If you're not familiar with the Talking Book program, check their website for an application and eligibility requirements or call toll free 800-424-8567. As a member of the Talking Books program, you can register to download books from BARD with a computer or the BARD Mobile app on either an Android or iOS device. To register for BARD online, go to the BARD application instructions and the BARD Mobile Application User Guide. The first time you open the BARD Mobile app, you will be prompted for the registration ID and passcode sent to you by email shortly after completing the online registration. Once the BARD Mobile app is open, selecting "Get Books" will let you search through the NLS Talking Books collection of books and magazines and download items directly to your device. You may have a book or magazine within a few minutes! These are the same digital audio books and magazines with human narration you get in the mail if you use the Talking Book player. BARD is now offering a great new application called BARD Express, which is a delight to use and greatly simplifies the download process for PC users. BARD Express runs on any Windows 7, 8.1, or 10 computer. You will need a BARD account and password to use the app, and after logging in, you will hear an announcement as the app downloads a list of recent library additions. To learn more, read BARD Express: NLS Talking Books and Magazines When and Where You Want Them in AccessWorld magazine. One of the bonuses of downloading books and magazines to your mobile device is that you don't need to return them—they can stay on your device as long as you want them and have room to store them! The downloaded book and magazine files are rather large, so to make space for your next books, you will want to delete those you are no longer using. See Audio Players and Talking Books for more information about the NLS Talking Book program.
NFB-NEWSLINE®
The National Federation of the Blind (NFB) has offered a newspaper reading service called NFB-NEWSLINE® for years via the telephone. No smartphone required! At its most basic level, users simply place a call to a toll free or local number and use the telephone keypad to listen to articles read from their local newspaper. For users with a computer, however, there are many more advanced options for newspaper content delivery through the NFB website, so users can customize the way they read the newspaper or use the service. The NFB-NEWSLINE app allows iOS users to download content directly to an iOS device. To download newspapers on the NFB-NEWSLINE app, you will first need to be a subscriber to NFB-NEWSLINE. To subscribe, call 410-659-9314 or go to NFB-NEWSLINE®. The subscriber user ID and passcode ID are used only the first time you log in with the NFB-NEWSLINE app. Just like the reading service by telephone, the app provides access to hundreds of newspapers, local TV listings, and several magazines. The advantage of the app is the ability to move from newspaper sections and articles more quickly and to customize what is read with VoiceOver or Zoom screen magnifier. Low vision users who wish to read the articles using Zoom without VoiceOver will notice that there is no way to change the font size or style and that the text does not wrap within the screen when magnified; therefore, there may be a lot of right to left panning required to read the magnified text.
Sero (Formerly iBlink Radio)
The Sero app transforms your mobile device into a streaming audio receiver that provides hundreds of hours of programming. Sero is a product of Serotek, the makers of System Access screen reader, and SamNet (System Access Mobile Network—mobile content for technology users with a vision impairment). Sero has a comprehensive listing of community reading services, in addition to other genres, such as "Blindness Resources," "Audio Tutorials," and "Podcasts." For example, when selecting "Reading Services" from the main menu, followed by "Reading Services Audio on Demand," this user listened to a portion of the most recent USA Today Weekend edition read by a Kansas Newspaper Reading Service. Also listed here were the New York Times and The Wall Street Journal . For readers not familiar with Community Reading Services, these are often volunteer-based services that read the local newspaper and broadcast it over the radio or on the Secondary Audio Channels on TVs, specifically for individuals who are unable to access print. Many of these services now broadcast over the Internet as well. Like AIRS-LA, which relies heavily on volunteers, when reviewing some of the menu selections for reading services, this user noticed that several menu items reported an error message when selected or had no content playing. Considering the huge variety of audio content available from Sero, however, this was just a minor inconvenience. For Kindle Fire users, Sero Radio is available from the Amazon app store and runs well on the Fire. It is also available from the Apple App Store and Google Play Store.
Spotlight Text
Developed by ophthalmologist Dr. Howard Kaplan, Spotlight Text is an app that integrates with a user's Bookshare account and formats the text in larger print with high contrast for easier reading. Spotlight Text has fewer features than Voice Dream Reader (see below), so it is a good choice for someone who wants a simpler app. Spotlight Text will also scroll the text automatically, and the reading view can even be reduced to a single line of large print text scrolling at a user-defined speed across the display. Spotlight Text is available on iTunes as a no-cost trial. Once the trial period is over, however, the app costs $29.95.
Spotlight Gateway
An interesting variation on Spotlight Text is a new project called Spotlight Gateway designed to put an iPad into the hands of any student with a qualifying vision impairment at no cost. The student can sign up for free with Bookshare to download books and, while quantities are available, receive an iPad with the Spotlight Gateway app installed. An ophthalmologist is required to sign off on the proof of vision impairment, and then can register the student on the Spotlight Gateway website.
Voice Dream Reader
Voice Dream Reader has been available for several years from the App Store for iOS and more recently released for Android devices. It is available on Android and Apple iOS for $9.95 but is still not available for the Kindle Fire HD. Hands down, Voice Dream Reader most closely matches print reading on an electronic display. Users have the ability to enlarge the text; alter the font and background colors; highlight text as it scrolls or is being read; purchase different voices; change the reading speed; highlight text; add notes to bookmarked passages, and much more. Users have the option of using their device's screen reader for text-to-speech or the text-to-speech reader that comes with the app. Users select a reading voice when the software is first installed and can purchase additional voices later. Voice Dream Reader will open a wide variety of book formats and files, including the DAISY files from Bookshare, E-Pub, Word, PDF, and Web pages. If you have a subscription to Bookshare already, just enter your username and password the first time you wish to add a book from Bookshare. After that, you can download books and magazines from Bookshare directly through Voice Dream Reader. Students with a vision impairment can register for Bookshare at no cost, and non-students pay an annual subscription fee of $50. In addition to Bookshare titles, free titles from Project Gutenberg text files, webpages, and more may be imported into the app, making it very versatile. Voice Dream Reader's features include:
Text automatically wraps to eliminate scrolling left to right.
Wide variety of text options are available, such as font type, spacing between lines, background and text colors, and font size up to 90.
Text-to-speech reading with word highlighting independent of VoiceOver with additional voices available.
Text highlighting, context sensitive notes, and bookmarks.
Imports Web pages, PDFs, and Word documents.
Using Voice Dream Reader is very much like reading print books years ago, in the comfort of an easy chair. On the tablet or phone, the technology permits you to highlight text, look up words in the dictionary, and even jot a note into the text as easy as writing a comment in the margin of a text way back when!
Putting Reading Back in the Hands of Readers Who Are Visually Impaired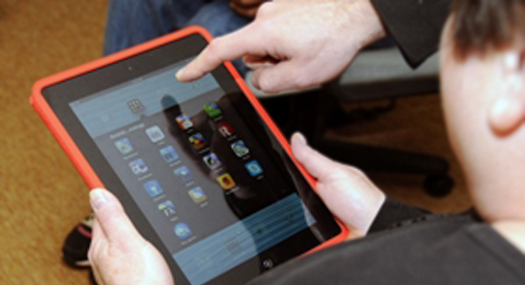 For many years, this writer felt estranged from my love of books and reading. There are many tools now to resume reading, and these apps will get accessible reading content back into the hands of readers with vision impairments. In fact, with any one of these apps, you may find yourself with a lengthy list of books you "have to get to." With these apps, you may actually discover you can read as much—or more—than you ever did. Regardless of your vision!