Adapting and Using the Telephone
By Maureen A. Duffy, M.S., CVRT Throughout your life, you've probably used the telephone without thinking about it very much. If you've experienced recent vision loss, this pleasurable activity can become problematic. Common telephone problems for adults who are blind or have low vision can include:
Getting disconnected because you require more than 10 seconds to dial the next digit of a telephone number
Dialing an incorrect number
If you have low vision, you may find it helpful to place a flexible-arm or gooseneck lamp near the telephone to help you see the numbers more clearly. You can learn more about lighting at Flexible-Arm Task Lamps on this website. There are many simple, low-cost solutions that can help you continue to use the telephone with ease and comfort. By using the following tips, techniques, and suggestions, you'll likely be using your telephone again—with confidence and accuracy—within a very short period of time.
Learning to Dial by Touch
All telephones use the same arrangement of numbers whether they have keys or a touch screen. You can practice locating the numbers on the telephone keypad without actually dialing by either (a) not lifting the receiver or (b) not pushing the "phone" button on a cordless telephone. Please note: For dialing and usage instructions for your smartphone, see Using Cell Phones and Tablets.
Become familiar with your keypad and begin practicing "touch dialing" by using the index, middle, and ring fingers of your free hand (the hand not holding the telephone) to explore the keypad.
The keypad has four rows, with three buttons across each row.
Begin practicing by using the "home row" orientation: Use the second row, or numbers 4, 5, and 6 for orientation, placing your middle finger on number 5.
Place your index finger on number 4, middle finger on number 5, and ring finger on number 6.
Reach your index finger up to the first row for number 1 and down to the third row for number 7.
Reach your index finger further down to the fourth row for the * (star) key.
Reach your middle finger up to the first row for number 2 and down to the third row for number 8.
Reach your middle finger further down to the fourth row for number 0.
Reach your ring finger up to the first row for number 3 and down to the third row for number 9.
Reach your ring finger further down to the fourth row for the # (pound) key.
Always return your fingers to the "home row" position before reaching for the next number.
Try to think ahead to the next number in the dialing sequence before you begin to move your finger to the next key.
Always ask yourself, "Where am I now on the keypad and where do I want to go?" throughout the dialing sequence. It will likely take some time and practice, but eventually you'll be able to dial a telephone number without even thinking about it! To help orient yourself to the telephone keypad, mark number 5 with a Loc-Dot, Spot 'n Line Pen, Hi-Mark Tactile Pen, or other marking material. You can learn more about labeling and marking materials and techniques at Labeling and Marking on this website.
Emergency Help
Please note: In an emergency, you will need to dial "911" to summon emergency services and/or police.
Helpful Telephone Technology
Speed Dialing
This service is available from your local telephone company for a nominal monthly fee.
To use speed dialing, you must pre-program frequently called numbers that you pair with short speed dialing codes, such as the "star" key and an assigned number, such as 1 or 2. No special telephone equipment is required for this service.
To help you remember who or what number you assigned to various speed-dialing codes, it's helpful to make a chart or list in a form that you can use, such as large print, or braille.
You can also make a duplicate regular or large print version so that your family members or friends can access your numbers if needed.
Learn more about these options in Special Reading Sources.
Voice-Activated Telephones
A voice-activated telephone allows you to dial a number by speaking the name of a person (whose number has been pre-programmed) into the telephone.
When you speak the person's name, the number is dialed for you automatically.
In the beginning, you will have to "teach" your voice-activated phone to recognize your voice, which may take some time.
Auto-Dial or Programmable Telephones
Auto-dial telephones allow you to program up to 50 telephone numbers by using either the regular keypad or an additional set of buttons.
When you lift the handset, the auto-dialer scrolls through your list of contacts until you hear the name you want to call. The auto-dialer will automatically dial the number for you.
Some auto-dial telephones allow you to place identifying material under the programmed dialing button, such as a photograph or a name in large print, that can act as a "memory jogger."
For more information about voice-activated, auto-dial, or programmable telephones and telephone adaptations, see Helpful Products and Technology for Living with Vision Loss – VisionAware. Telephone technology is always evolving, so it's always a good idea to ask about new items entering the market. Please note: For dialing and usage instructions for your smartphone, see Using Cell Phones and Tablets.
Adapted and Specialty Telephones
There are several different types of telephones, accessories, and adaptations that can be helpful if you are blind or have low vision. For more information about any of the following products, see Helpful Products and Technology for Living with Vision Loss – VisionAware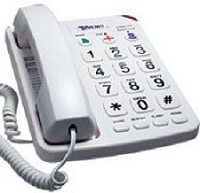 Large Print Telephones: "Big Button" telephones have large black numbers on a white background, or large white numbers on a black background.
Amplified Large Print Telephones: They can increase the volume by 20+ decibels. Some models increase volume up to 40+ decibels. Both models have bright visual ring flashers and an adjustable volume ringer.
Amplified Talking Telephones with Braille: Have 10 programmable buttons (also with braille) for frequently dialed numbers and three emergency buttons. Some models can increase volume up to 37+ decibels and announce each number as it is dialed.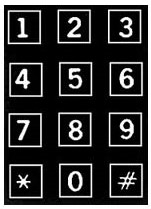 Large Print Telephone Push Button Number Stickers: Have 3/4″ by 3/4″ bold black numbers on a white background. They are also available in white numbers on black, black numbers on yellow, and yellow numbers on black.
Talking Caller ID: Has voice announce, call waiting, volume control, and audio review of the last 10 calls. Also has a digital readout.
Voice Activated Phone Dialers: Connect to any phone and enable voice-activated dialing. Features can include recall and dialing up to 60 names and phone numbers.
Please note: Whenever possible, try to select your own telephone instead of asking a family member or friend to select it for you. Also, telephone technology changes frequently, and a specific telephone can change or be updated at any time.
Accessibility: It's the Law
The Telecommunications Act of 1996 states that telephone companies must make phones (including cell phones) accessible to people with disabilities, including blindness and vision loss. Section 255 of the Act applies to all telephone equipment and was created to ensure that you can manage your cordless, wireless, business, or traditional telephone calls just like sighted users can. Here is a partial list of access features that manufacturers must include in their telephones:
Keys that are identifiable by touch: a tactile mark on the 5 key, large or color-coded control keys, high-contrast keys, illuminated keys, keys grouped by function
Accessible displays: high-contrast, large-size with large characters, back-lit, zoom capability, illumination
Caller identification
For cordless phones:
Easily identifiable buttons for dial tone or channel selection
For cell phones:
Audio alert or announcement of signal strength or connection status
Distinct audible indication of battery status; e.g., low battery, 50% charge, or full charge
Spoken menus
A non-visual way to tell whether your phone is on or off
For multi-line phones:
An adaptation to help you know which line is ringing and which line(s) are on hold
Please note: Many telephones have features that can make them more accessible. That is why it is important to ask the manufacturer of your telephone for a manual in a format you can read independently. You can also ask to have your telephone bill sent to you in large print or, if it's easier, you can pay your bill online.
Recording Telephone Numbers and Messages
There are a number of ways to keep telephone numbers and record messages, depending upon which reading and writing method you're most comfortable with. See Signing Your Name and Handwriting If You Are Blind or Have Low Vision – VisionAware and Specialty Reading Sources – VisionAware to learn more about a variety of helpful methods. Whatever method you choose, it's a good idea to store your writing materials next to the phone and keep emergency numbers separate (such as doctors, police, and hospitals) so that you can access them quickly.
Using Digital Assistants such as Alexa or Google Home
Alexa can be used for calling individuals if set up through the phone App. You cannot call 911 however.  Google Home can also be used to call your contacts.
Additional Resources for Telephones and Adaptations