Cell Phones and Tablets
When you know what to look for, cell phones are more accessible today than they have been in many years for people with vision loss. If you have given up using a cell phone because of vision loss, it may be time to take another look. If you never dreamed you could use an iPad or a tablet, we've got good news for you. Here are some tips about shopping for a cell phone, as well as information about finding accessible cell phones and tablets with features that will give you access to the apps that your family and friends are talking about.
What's Available?
Apple
Cell phones and tablets, just like computers, have different operating systems. From the beginning, Apple built accessibility into their operating system, giving people with vision loss the first off-the-shelf, fully accessible cell phone and tablet. Zoom allows users to enlarge everything on the screen and VoiceOver speaks text aloud on iOS devices. Different gestures are used when Zoom and VoiceOver are turned on, so using the built-in tutorial is advisable. Inverted colors can make the text on the screen easier to read for some, but may distort the appearance of graphics or photos. Large fonts increase the size of the text in a few native apps, but not on every screen. Some apps work better with VoiceOver than others, so before you buy, check out AppleVis, a website for iOS users who are blind or visually impaired, to make sure VoiceOver will work well with those apps that interest you.
Android
Accessibility to the Android operating system, especially for people with low vision, has taken a giant leap forward, beginning with Android version 4.2.2. Magnification gestures, adjustable fonts and Android's screen reading software, Talkback, give low vision and blind users options that enhance the accessibility of a wide variety of devices. The Android operating system requires a savvy technology user, or a very determined novice, but most aspects of the devices are definitely accessible to users with vision loss. The EqualEyes for Android package replaces smartphone apps with versions that are optimized to run with a screen reader. EqualEyes customizes their apps to run with Android's built-in Talkback screen reader. This means that as you grow more familiar with Talkback and the Android operating system, you can begin to explore stock Android apps, and even third-party apps downloaded from Google Play.
At the Store: Look for the Features You Need
If you're looking for a cell phone, and you have difficulty seeing, the next place to go is your local cell phone retailer. Be upfront with the salespeople: Let them know that you have difficulty seeing, and that you are looking for accessibility features that will help you use a cell phone independently. When they show you different models, look for these features that may make it easier for you to use the phone. Understand, however, that not all salespeople will be familiar with mobile accessibility.
A Larger Screen May Help
Finding a phone with a large screen can be very important, especially if large text helps you read what is on the screen more easily. When inspecting a cell phone model, ask yourself, "Is the screen on this phone big enough for me?" "Can I increase the size of the font, alter the contrast or brightness, and change hard-to-see icons into words?" Have the salesperson change the settings and "play" with it to see if the adjusted settings will work for you on all of the features of the phone you will use.
Look for Voice Output and Input
Ask to see phones with voice output capability that will speak information such as caller ID and that will announce numbers as you press the keys. This, in addition to a large screen, can make it easier for you to know who is calling you or to verify you are dialing correctly.
Find Easy to See and Feel Keys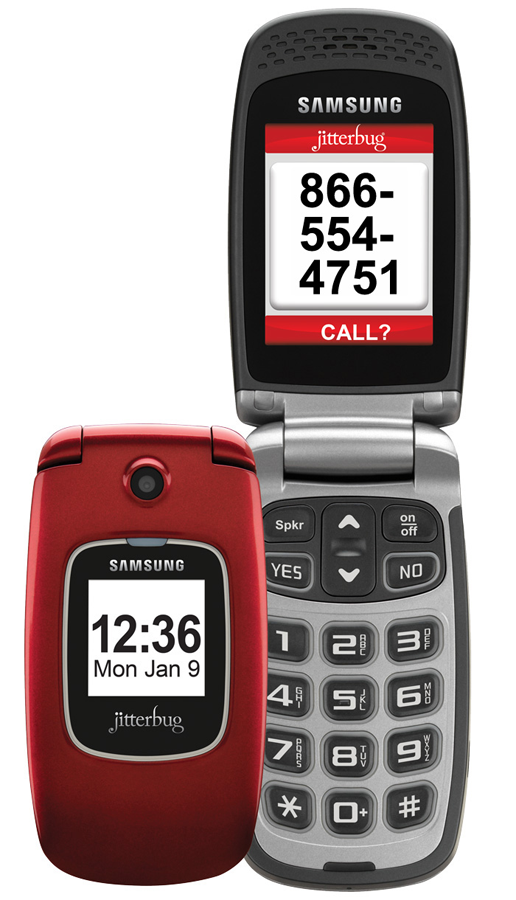 Even though touch screen phones are accessible and very popular today, you may decide to stay with a more traditional cell phone. Unfortunately, cell phones that have keys can still be hard to dial because the keys are flat and hard to feel. In addition, there may be extra buttons whose functions aren't always intuitive. If you prefer a phone with buttons, ask to see phones that have easy-to-see numbers and easy-to-feel keys. The numbers on some phones light up, making them easier to see for some people with low vision. The Jitterbug (pictured at left) is a phone with easier-to-see-and-feel keys that you may want to check out. See Using the Telephone for dialing information, including learning to dial by touch. Check with the salesperson about receiving your cell phone bill and other correspondence from the cellular service provider in alternative formats, such as large print or braille. You might also want to inquire about receiving an electronic bill that you can pay online. Most mobile carriers offer special help services to users of accessibility.  Among their services, most mobile services can help you select the mobile phone that is best for your needs. For example,