An Interview with Dolores Hanley McDiarmid, Author of Moved by the Spirit: A Call to Work with People Living with Blindness and Visual Impairments
by Amy L. Bovaird, VisionAware Peer Advisor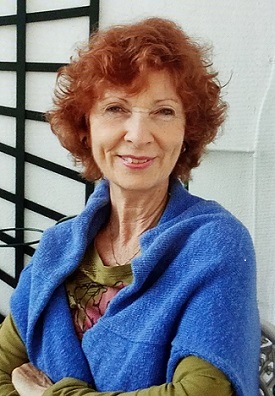 As soon as I discovered McDiarmid's Moved by the Spirit was a book about a career in Orientation and Mobility (O&M), I was intrigued. It was O&M training (teaching cane skills to individuals who are blind or visually impaired) that changed my life for the better and helped me accept the rapid progression of my vision loss caused by retinitis pigmentosa, so I'm drawn to topics focusing on mobility training, as I have written in my own books on the importance of learning mobility skills.
It has been a delight to "meet" the author through our telephone interviews. We connected immediately. It was as if we were opposite sides of the same coin. In McDiarmid's book, she shares an optimism about her life's career choice. I, in turn, looked at it from my own O&M training and experience. While the US Mint prints out coins in a common medium of silver, our common medium coating, the O&M coin, was faith. It is seldom a book overtly combines the two topics.
Our Interview About Moved by the Spirit
Receiving the Call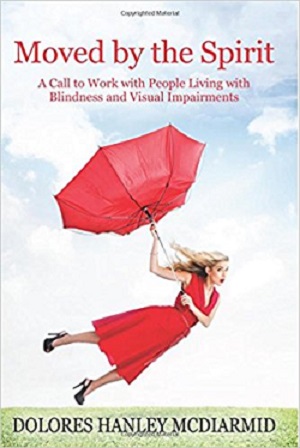 Bovaird: In your book, you describe how you "received the call" to make a change in your career through watching an episode of "Little House on the Prairie" where Mary lost her sight and received rehabilitation training. Within a year, you enrolled in Florida State University, determined to train for a new career. Can you share some of the challenges you experienced from the call to the start of your training?
McDiarmid: I believe the primary challenge was my feelings of doubt, wondering if I was making the right decision. Some of the questions that raced through my mind were: was this what God wanted me to do? Am I making a smart decision leaving the security of my teaching position and my paycheck, leaving a job where the children and parents liked me?
After all, I really didn't know what I was moving toward by leaving my job and returning to school in Tallahassee. I had met one person who was blind and that interaction wasn't very pleasant. After that one encounter, I asked myself, "Is this what blind people are like?" Maybe I was making a mistake.
So, I have to say the primary challenge was doubting my intentions to leave my job and return to school.
Bovaird: One woman describes your book as "the inspirational story of transformational power that faith plays in our lives when we allow it to be the guiding force in all that we do." How do you respond to this observation?
McDiarmid: I believe God is continually working to transform each one of us into the person He created us to be. To believe this is an act of faith and to knowingly play an active role in this process is exciting and life-giving. I think there is a sense of the mysterious when we walk in faith; indescribable and difficult to explain to those who have not experienced this walk with God.
In this process, He uses each one of us. Some of us recognize when we are being used and other people may not be aware of how God is using them to transform another's life. I believe it is a gift when one is able to allow faith to be the guiding force in all that we do. One of the reasons I wrote Moved by the Spirit was to provide an example of how our daily walk with God can have a positive effect on us as well as the people we encounter in our daily lives.
Choosing What to Include in the Book
Bovaird: Your book is a rich mix of technical terminology, spiritual reflections, lively admissions of weaknesses to strength, your own and client stories, FAQs, and debunked myths. How did you choose what to include in your book?
McDiarmid: Initially, I began to write Moved by the Spirit as a memoir, my journey in what I consider a rewarding and interesting career. Therefore, it was natural to begin at the beginning of my story and simply move forward on the timeline. For several years, I had spoken at numerous Career Days in the Broward County School System, and I saved all documentation of questions that children and teachers asked. It was apparent they were very interested and wanted to have a better understanding of people living with vision impairments and blindness and how they did things. In the book, I have included everything I spoke about in the schools.
I wanted to change people's perceptions–to invite them to see the rewards of working with people dealing with the challenge of living with sight loss. Therefore, I felt compelled to share funny and rewarding experiences in the "story time" chapter. To be realistic and honest, I included stories evoking several emotions because that is the reality of working in the field of blindness and visual impairments.
Importance of Faith and the Role It Plays
It was also important for me to show how my faith has and continues to play a significant role in the workplace and in daily life. I hoped that the periodic spiritual reflections could help others to think about the spiritual aspect of various situations in their own life and perhaps how they might look at their own career in a more spiritual, meaningful, and rewarding occupation as an Orientation and Mobility Specialist.
Information About Technical Training
Bovaird: I loved how you defined and described your technical training then shared what it was like for you. I had never heard of the diagonal cane technique before; one that doesn't give "all" the information. I use constant contact and not the two-point touch. How much does terminology vary from state to state, region to region?
McDiarmid: I don't believe the terminology varies from state to state or region to region. From my experience and the few Orientation & Mobility books I have read, the terminology is the same. In fact, I searched online and found a directory of terminology which leads me to believe that the terminology is probably consistent, no matter what part of the country one lives.
Changes in the Field Over Your 35 Year Career
Bovaird: As an ESL (English as a Second Language) teacher, my duties and the expectations on me changed throughout my career. Over the course of your 35 years as an O&M instructor, what changes have you observed in the field and how did you adapt from your original training?
McDiarmid: It's been about 11 years since I have taught outdoor O&M such as community travel, street crossings, and bus travel on a daily basis. When I was teaching O&M in our community, it was very different than now in 2017. Three changes come to mind:
We have vehicles that are quiet, which presents additional challenges when teaching someone with a sight loss to cross streets safely.
Instead of curbs, there are slopes made of bright yellow material with the raised bumps or circles. I am not sure if their positioning makes alignment easier or more challenging.
There are Global Positioning Systems (GPS) and navigation apps on phones to help with orientation in the environment.
All three of these changes require an Orientation & Mobility Instructor to modify their teaching techniques.
Sensitivity Training
Bovaird: I was fascinated how you provided the sensitivity training to the bus drivers in Florida. You highlighted that "as word traveled, I traveled,". You mentioned how your message went out to the world. I wondered how that happened. Can you talk a little more about this training and how it evolved?
McDiarmid: After a few years of providing sensitivity training to the bus operators, I submitted a proposal to present at the Southeastern Orientation & Mobility Conference in Jackson, Mississippi, and also at an International Conference in Washington, DC. At that time, the sensitivity training program was a fairly new concept. Nowadays, perhaps it is more common.
When the bus company got new administration several years ago, they decided they wanted to do the training themselves.
Two years ago, a new opportunity came my way, and I've been conducting sensitivity training for one of the paratransit companies providing door to door service for people living with disabilities. Basically, it is the same program but tailored to the door to door service as opposed to the county bus system.
White Cane Law
Bovaird: You mentioned in your book how you went to great lengths to highlight the White Cane Law for residents of Florida. Do you see this as a local problem in your area or a universal lack of knowledge for drivers and/or those with visual impairments?
McDiarmid: I believe the lack of knowledge regarding the White Cane Law is a big challenge locally and in some regions, maybe not all parts of our country. Here in the Fort Lauderdale area, there is not a lot of pedestrian traffic like in New York City or San Francisco, and motorists are not in the habit of thinking that someone may be crossing a street. The mentality of motorists in many places such as here in South Florida is far from courteous.
There are some places where you find motorists who are more thoughtful drivers. For example, I remember when my husband and I were visiting in Litchfield, Connecticut. I was walking by myself and needed to cross the street, so I found my way over to the crosswalk. After being an O&M instructor for so many years, there is no way I can jaywalk. Anyway, as soon as I approached the crosswalk, the vehicles came to a complete stop. I remember thinking, "Wow, I feel like I'm on another planet." It was really nice to experience, and I wished the drivers in South Florida could be as courteous.
Whenever I speak in the community, I continue to educate people about the White Cane Law. Most people do not know about it. In my book, there is a story that provides an example of just how uninformed people are in the field of law. Educating motorists about yielding to pedestrians continues to be a topic that is always included in my presentations. There is a role for everyone to play in educating people about this law to help save lives and keep pedestrians safer.
Organizing a Disability Fashion Show
Bovaird: I see that fashion shows are becoming more inclusive for those with disabilities nowadays throughout the world. That didn't seem to be the case back in the 1980s when you organized the fashion show for the community expo. In the years you organized the fashion show, what changes did you observe about the participants and those who came to see it?
Every year I organized our Disability Fashion Show there was an excitement and eagerness to participate. One of my goals was to have each participant feel like a star that day; feel something that they probably would never experience. With each year that passed, I always found people living with various disabilities interested in modeling an outfit and having their story told. It was a great event! Really special! Like I say in my book, Moved by the Spirit, my own eyes were opened to how much each of the models contributed to our community and the world. God has not short-changed anyone from talents.
Most of the audience was probably family and friends of the models, but I do think some of the mall traffic took time out, had a seat, and enjoyed the show; maybe a little bit out of curiosity. The fashion show was a wonderful way to educate the public about people living with a disability.
Personal and Client Stories
Bovaird: I enjoyed the personal and client stories you shared with lighthearted titles and clever tongue-in-cheek lines at the end. How did you approach putting this section together, i.e. especially regarding the stories that involved your clients?
McDiarmid: First of all, I knew that I wanted readers to be aware of the funny and unexpected situations in a day in the life of an O&M instructor. So I began with the category of humor and then moved into other stories that were more serious or a little sad. Writing this section was a lot of fun, and I enjoyed reminiscing.
Summary and Where to Find the Book
Bovaird: If you are curious as to what a career in teaching Orientation and Mobility involves, Moved by the Spirit: A Call to Work with People Living with Blindness and Visual Impairments is a great resource! But not only to career-oriented people, it's helpful for family members and those with visual impairments who are considering O&M because of their own vision loss. It showcases the many facets of this career, a big dose of optimism, and a way to tune into your own spirituality.
Who knows where it will take you?