Meet Elizabeth Lee

Tell us about your background, education, and training.
I have always been connected to non-profit organizations – since high school as a volunteer and more recently as a staff member. I knew early on that I wanted a career in the non-profit sector. I attended Fordham University in New York City and studied psychology and sociology. Throughout college, I worked at the YMCA with children and young adults and it is through that work, along with the encouragement of a colleague, that I considered social work as a possible career.
Social work seemed like a good fit because the field offered an array of opportunities for working with youth. I decided to attend graduate school at Columbia University's School of Social Work because the school offered a specialty that focused on programming, which includes understanding the needs of the community and creating innovative and responsive social programs and program resources. 
During my first year at Columbia, I was placed in a senior center that primarily served the Chinese community. I was so nervous because I had never worked with seniors and my Chinese definitely needed some tuning up. I said to myself, "All I want to do is work with teens, not senior citizens!"
It turned out to be an amazing experience. I learned so much about the seniors' life experiences, their challenges, and their achievements – and I also became a more confident Cantonese speaker. I realized that working with seniors was a newfound love of mine. 
What made you interested in blindness, visual impairment, and low vision as a career?
After receiving my Master of Social Work (MSW) degree from Columbia, I was torn between working with seniors or youth, since I really enjoyed working with both populations. As I went through the job search process, I found a job advertisement from VISIONS/Services for the Blind and Visually Impaired for an Intergenerational Program. It was perfect because I wouldn't have to choose which population to work with – I could work with both! I would be able to use my experience in an exciting program that would bring the two generations together.
However, while I had experience working with these populations, I had no experience with blindness services. This new field attracted me. It provided me with an opportunity to not only learn new skills, but also work with seniors in a setting other than a senior center.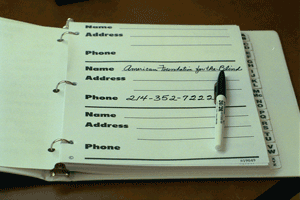 The most interesting thing I learned during my training is how one simple change can make such a major difference in someone's life; a large print address/telephone book, for example, can allow a visually impaired person to look for a friend's phone number easily and independently and help him or her remain connected, which is so important.
Can you tell us more about the Intergenerational Program at VISIONS?
VISIONS' Intergenerational Program was established in 1987 and recruits and trains high school students to assist elders who are blind. The students work with the seniors at their homes and in their local communities.
The program recruits students who are 16 and older through flyers, presentations, and word of mouth. Prospective applicants must go through a screening process, a group interview, and an intensive one-week training session. The program fosters a bond between the participating seniors and young people by attempting to break down stereotypes each may have about the other generation.
Students' duties include assisting the elders with shopping, escorting them in the neighborhood, doing errands, computer troubleshooting, reading mail or other materials, offering friendly visits, and encouraging the seniors to reminisce about their lives (which we refer to as "life reviews.") The older adults who participate in the program report that they experience decreased loneliness and isolation, increased social interaction, and greater use of local stores and services, while the students develop increased interpersonal skills and a strong sense of responsibility.
In addition, both groups participate in a range of programs designed to provide further opportunities for mutual engagement in a safe and positive environment. The teens are able to use their skills to assist the seniors, while the seniors have the opportunity to serve as mentors and elders for the young adults. 
These are a few of the programs we offer: 
Senior Speak Out: A weekly support group for blind seniors aged 60 and older. Our student volunteers escort the seniors into the auditorium, assist with meals, and – most importantly – use the time to socialize with the seniors.
Herb Class: Seniors and students learn about the use of fresh herbs in their food. The class promotes nutrition and healthy eating.
Computers: Students assist seniors with computer operations, terminology, and setting up email and social networking accounts.
Intergenerational Dance: Seniors and students use this opportunity to experience various dance forms together.
Can you describe a typical working day?
What's great about my position at VISIONS is the diversity of responsibilities – every day is unique and different. There is no typical day because I can be in the office one day and then out in the community another. On some days I run programs, such as the "Walk for Your Health" walking club or "Fun with Herbs" gardening at VISIONS at Selis Manor community center on 23rd Street in Manhattan.
I am constantly in the community doing presentations and trainings for service providers and seniors. Recently, I trained a group of senior volunteers from a settlement house who visit other seniors in their homes. The volunteers were trained to recognize possible vision problems in the seniors they visit and learn more about the range of services that are available. The volunteers were also encouraged to reach out to VISIONS if they discovered a senior in need of services.
I also check in, by phone or in person, with seniors who are part of the intergenerational in-home program. It is a way for me to make sure the program is meeting their needs and to receive feedback about how the students have performed their duties. 
I also do in-home visits for new seniors who are interested in the program. It gives me the opportunity to assess the safety of the neighborhood and the home and develop a positive initial relationship with the person. I am able to explain all of the services VISIONS has to offer and then review the rules and regulations of the Intergenerational Program. 
There are so many varied aspects to my job that I am never bored. I am always on the go and there are always new projects that I am working on.
Tell us more about VISIONS/Services for the Blind and Visually Impaired. What services does your agency offer?
VISIONS is an 83-year-old nonprofit rehabilitation and social service organization.  VISIONS purpose is to develop and implement programs to assist blind or visually impaired people of all ages to lead independent and active lives, and to educate the public to understand the capabilities and needs of people who are blind or visually impaired.  VISIONS offers an array of services and programs free of charge including:
Rehabilitation Services:
Vision rehabilitation therapy provides training by certified professional specialists in adaptive living skills to help clients of all ages to carry out their daily activities with confidence and independence.
Occupational therapy by a licensed professional addresses visual and physical impairment needs of blind or low vision individuals with additional disabilities.
Our low vision service enables people with vision loss to maximize the use of their remaining vision efficiently and effectively by the use of prescribed optical aids, if appropriate.
Adaptive aids – such as a prescribed long cane; large print calendar, address book and telephone; large print and talking watches; and electronic liquid level indicators that help with pouring – can enable individuals to manage their households, attend school, hold a job, and travel safely and independently.
Blindline®, a database of services in New York State and resources for people who are blind or low vision:
Provides information through a toll-free number 1-888-625-1616 and an accessible website www.blindline.org.
Serves as a vocational training and job internship placement for blind clients, from Westchester, NYC and Long Island who can travel to Manhattan, to learn help desk, information and referral and customer services skills. Employment services for New York City residents & Technology programs for clients without geographic restriction.
VISIONS at Selis Manor community center program, located in an apartment building for low-income people who are blind on West 23rd Street in Manhattan, offers services for tenants and for blind and visually impaired indivduals throughout the NY metropolitan area, including:
Social services
Individual and group vision rehabilitation
Senior and youth services
A wide variety of adapted classes including photography, fitness, yoga, computer training, bowling, ceramics, and quilting
Volunteer readers and shoppers.
VISIONS Center on Blindness (VCB), a 35-acre year-round adapted temporary residential facility in Rockland County, New York offers:
Vision rehabilitation training, including orientation & mobility, braille, cooking and computer classes
Services for populations with special needs (families with blind multi-disabled children, developmentally challenged adults, frail seniors)
Job internships and mentoring opportunities for blind young adults
Employment and Technology Institutes throughout the year.
Community outreach provides public awareness, educational forums, vision testing, and traning of staff in senior centers and community settings.
Interpreters in eleven languages enable VISIONS to reach communities and individuals who speak langauges other than English.
Is there a story you'd like to tell about a particular senior who benefited from your services?
I think the best way to answer this question is to let VISIONS seniors speak for themselves. The following quotes best describe the value of the VISIONS Intergenerational Program:
"They've been enormously helpful.  I give the program top rating.  It's quite a difficulty for me to get to the laundromat and they have been a real big help getting me there. They are very open to everything I suggest.  They are always up for doing more. They are great with sighted guide."  D.D.
"Once it was pouring, and I felt bad asking the volunteers to go shopping.  But they saw that I needed some things, and they had no problem shopping. Rain or shine, the volunteers are always ready to help." – GR
"My doctors noticed how much healthier I am because of the volunteers. They help me get out of the house and get some exercise walking around the neighborhood. My house feels like a prison for me, so it was great to be able to escape and walk around the neighborhood. I can't say enough about them. They are great." MS
"The volunteers are beautiful, wonderful and I don't know what I would do without them. I love them, and I wish they could come visit me everyday! This service is so helpful and is greatly appreciated." VB
"The kids are fantastic. I would give them a 10-plus on everything they do. They have taught me so much about my computer. I used to use them for shopping also, but I have found that their time with me is much too valuable for shopping. I find the computer work so important." VG
"I live in darkness – the volunteers are opening doors for me. When they understand my problems they relate to me more. They are very patient. They realize the importance of their work." EP
How can our readers learn more about your agency's services?
Readers can visit our website at www.visionsvcb.org or call our toll free number 1-888-245-8333. We can also be reached by email at info@visionsvcb.org.