An Interview with Bryan Gerritsen, Certified Low Vision Therapist (CLVT)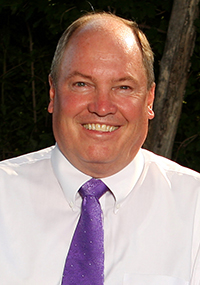 Ever since I was a young boy, I have wanted to work with people who are visually impaired and blind. At the time, the only university in Utah with a program to prepare persons to work with the visually impaired was Brigham Young University (BYU). I enrolled there and received a Bachelor's Degree in Special Education for the Blind in 1974. My university advisor encouraged me to pursue a further degree in Orientation and Mobility (O&M).
While I was enrolled at BYU, I was fortunate to meet Carl Lappin, a guest speaker from the American Printing House for the Blind in Louisville, Kentucky. Carl discussed his agency's services and his view of the future of our field. APH named their textbook database, called the Central Automated Resource List (APH-CARL), after Mr. Lappin. Carl was a visionary, as well as a great man.
After his talk, Carl visited with me and encouraged me to consider what he felt was the best program in the country for O&M: Western Michigan University. After visiting several schools throughout the country, I agreed with his assessment and enrolled at Western Michigan, where I received a Master's Degree in Orientation and Mobility for the Blind in 1975. Part of our coursework there included a class in low vision, along with an internship and observations in low vision clinics.
What made you interested in low vision as a career?
The internship I did at the Hines Veterans' Administration (VA) Hospital in Chicago, as part of my Master's program at Western Michigan University, included time in their low vision clinic with another great man: Dee Quillman. Dee was one of two low vision therapists there, and an early leader in the developing field of low vision. He had tremendous influence on me, and I learned that I had a love for low vision services.
When I took my first job in Atlanta, Georgia, at the Atlanta Area Services for the Blind (now called the Center for the Visually Impaired), Dr. Randy Jose, another leader in the field of low vision, also had great influence on me. Twice a month, he brought his optometry students from the School of Optometry at the University of Alabama at Birmingham to our agency in order to provide low vision care to our clients.
I was impressed and moved by the tremendous impact these services had on the lives of people who had vision problems. Dr. Jose was a master in low vision service care, and an inspiring teacher. Later, when I moved to Utah, I had the privilege of working with Dr. Robert Christiansen, another leader in the field of low vision care in the United States. Dr. Christiansen was the chair of the Vision Rehabilitation (Low Vision) Section of the American Academy of Ophthalmology for five years. He was a wonderful tutor for me for many years, and I continue to work with him today, one day a week at his office, providing low vision services to patients in the Salt Lake City area.
Tell us about your company Low Vision Rehabilitation Services. What low vision services do you offer?
Low Vision Rehabilitation Services is the realization of my dream to help provide high-quality low vision care to persons with visual problems in an ennobling way. I love working with people of all ages. I also enjoy helping people find solutions to challenges due to their vision loss, such as reading a newspaper or book and seeing faces and objects at a distance.
This might involve teaching patients to view around the "spot" or blurriness in the center of their vision, or it might include the help of low vision devices, such as illuminated magnifiers, strong reading glasses, telescopic devices, or even electronic video magnifiers. I have always wanted to do this in the most professional setting and manner, with the utmost excellence, and in a way that helps people feel encouraged, not discouraged.
I felt that the best way to do this was in a private setting, through doctors' offices, which would provide the highest level of care in a professional and upbeat setting. When a patient comes for an appointment, I first try to provide vital training in learning how to see around the "blind" or "blank" spots (also called scotomas) they may have in their central vision because of macular degeneration (AMD) or diabetic retinopathy.
I also try to help my patients realize the tremendous importance of improved illumination. I provide suggestions for simple, low-cost ways to accomplish this, such as using a desk lamp on a table or counter while eating or writing, using a flashlight when turning a key or plugging in an electrical cord, or using the relatively new and inexpensive LED press-on lights in a closet for picking out and matching clothing or for seeing dishes, cups, and glassware in a kitchen cabinet.
Providing enhanced contrast throughout the home is also important. Some of my suggestions for enhancing contrast may include using a dark colored plate for the light-colored butter, colored (instead of clear) drinking glasses, toothpaste that contrasts with the white toothbrush bristles, switchplate and outlet covers that contrast with the wall, and brightly colored electrical tape on the edge of kitchen cabinet doors.
Finally, I help to provide my patients with the newest and most helpful low vision devices available in the country to assist with reading, sewing, or hobbies, seeing the television or computer screen, and for any other everyday tasks that they would like to do. For instance, I might provide a person with a small clip-on telescope or strong reading glasses to help with seeing their computer screen better or with threading a needle. I also provide follow-up training, which I feel is the key to success.
During the initial and follow-up visits, I will work with my patients on finding and maintaining the proper "working distance" from their eye to the computer monitor or sewing materials, using good illumination, and if appropriate, learning how to slightly turn their heads to see around the "spot" or distortion that may be in the center of their vision.
For most persons, Medicare and their secondary insurance will cover these visits and training. In order to make these services more accessible to persons throughout the state, I have arranged to provide this care in doctors' offices in most major cities in Utah, from Logan at the north end of the state to St. George at the south.
Can you describe a typical workday for you?
If I was working in one office and doing the same thing every day, it might be easier to describe a "typical day." But because I travel from one office to another, perhaps it would be more insightful to briefly describe a 2-3 day working period. For instance, last week after working the day in Salt Lake City, I drove that evening to St. George to prepare to work there on Thursday. I saw ten patients in St. George from 8:20 AM until 6:00 PM, with no break for lunch.
Just after finishing and packing up my eight suitcases of low vision devices, one of the two doctors there approached me and asked me if I could see one more patient, who had multiple sclerosis and was in a wheelchair. She had driven to St. George from Nevada, and wanted to be seen for help in low vision. I agreed, and together we tried to figure out low vision options that could help her, despite her inability to hold or move a magnifier or text. We found some helpful solutions, and she and her husband were thrilled.
I left the next morning at 5:30 AM for Richfield, Utah where I saw patients with four doctors, from 9:00 AM until 5:30 PM without lunch again. Then one of the doctors asked me if I could go to a patient's home to help mark her stove and appliances, which I agreed to do (at no charge). After doing that for about an hour, I drove back home, arriving about 10:00 PM, and prepared to work in Salt Lake City again on Saturday.
My work requires busy days and long hours, with a lot of driving to get to each location.
I also do reports for Medicare and try to keep on schedule with very full days, yet I always try to give my very best to each patient to help them with their unique needs and challenges. Some people have told me they have no idea how I keep track of what city I'm supposed to be in or what my schedule is. But it is very fulfilling work and a tremendous joy to try to help people to be able to read again and to do the things they love.
Is there a story you'd like to tell about a particular client who benefited from your services?
There are so many stories I could share about wonderful people who have found encouragement by receiving help and realizing that something can be done to assist them to continue to function, despite their vision loss:
A 91-year-old woman who started and owns the Provo, Utah airport and wanted to continue doing her own bookkeeping
A 90-year-old rancher who wanted to see if his ranch hands were really working or just "sitting on their shovels"
A woman who wanted to continue to knit because she'd knitted for others all her life and didn't want to quit now just because of her vision problems
A craftsman who wanted to be able to continue to do his detailed stained glass and lapidary work.
Just this week, I worked with a man who wants to be able to continue to play the piano, despite his serious vision loss, and was thrilled to learn that he could do so with some telescopic glasses to help him read his sheet music. I also worked with a woman who needs to see her computer screen in order to keep her job. Finding solutions and helping people succeed is exciting work.
How can our readers learn more about low vision services?
Readers in Utah and neighboring states can call me at 801-547-5903. They can also email me at info@lowvisionrehabservices.com or visit my website at www.lowvisionrehabservices.com. Finally, they can ask their own eye care specialist for more information about low vision services and low vision practitioners.