Meet Kathy Zubrycki, Director of Training and Admissions at Guiding Eyes for the Blind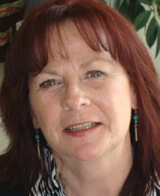 Tell us a little about yourself. What is your background, education, and training?
I grew up in Morristown, New Jersey. For as long as I can remember, I have always had a great love for animals, especially horses and dogs. Some of my favorite authors are Albert Payson Terhune and Jack London, who included stories about dogs and wolves among their works, and Walter Farley, who wrote the Black Stallion series.

In high school, I knew I wanted a job that would enable me to work with people (at that time, children in particular), so I began pursuing a career as a Special Education teacher, enrolling in what was then known as Newark State Teachers College (now Kean University) in 1972.

I was also working part-time in an office and my manager was very friendly with Morris Frank, the first person in the United States to work with a guide dog. Morris was a remarkable man, truly a pioneer, who returned from Switzerland with his first guide dog in 1928 and took on the task of convincing a skeptical American public what a guide dog team was capable of.
What made you interested in blindness and visual impairment as a career?
Morristown is the home of The Seeing Eye, Inc., so watching guide dog instructors working with dogs and blind people was an almost everyday occurrence for me. I was fascinated by the work the dogs and instructors were doing. My mother is very fond of relating — much to my chagrin — that I was one of those annoying children who would always run up to the guide dogs and pet them.
My mother would try to restrain me, apologizing to the instructor for the interruption. She recalls that the instructors were always polite and stated that it was good training for the dog and helped it learn to ignore distractions. How many times have I said the exact same thing during my career!
And it's so true — guide dogs must learn to ignore anything that may take their focus off their work, whether it's children, other dogs or animals, or a particularly inviting scent. They need to concentrate on the task at hand, which is to keep themselves and their handlers safe.
Meeting Morris Frank and watching him work with Buddy, his guide dog (actually, his seventh guide dog when we met) inspired me to apply to The Seeing Eye, Inc. to become an apprentice instructor. When I was accepted, I had to make the difficult decision to discontinue my college education. That was 34 years ago, and I've never looked back!
There's a bit of an interesting romantic twist about the way I began working at Guiding Eyes for the Blind. When I was an instructor at The Seeing Eye, I attended professional and consumer conferences throughout the year. At one conference, I met Ted Zubrycki, who was the Director of Training at Guiding Eyes (as well as a former instructor at The Seeing Eye).
Our friendship developed into a relationship and we married in 1985, but we both continued working at our separate schools. In 1987, an instructor's position became available at Guiding Eyes and I was asked to join the staff.
Ted also founded The Special Needs Program in 1990, which provides guide dogs for people who have a disability secondary to blindness. The program is unique in the guide dog field, and I was able to work with Ted, training dogs and students in this program.
What are your responsibilities at Guiding Eyes?
Can you describe a typical working day?When my husband Ted passed in October of 2000, I became the Director of the Special Needs Program, a position I held until 2002 when I became the Director of Training and Admissions.
As Director of Training, my role is primarily administrative, but I still find time for direct classroom work and training. Guide dog training is unique and is unlike any other form of dog training. Guide dogs must be able to make decisions as to what is — and is not — safe for their handlers, which entails much responsibility for the dog. While one can refer to a book or a DVD to learn about other types of training, that's not the case with guide dog work. It all occurs "on the job," in hands-on training classes, working directly with the dogs and their handlers in real-life situations.
At Guiding Eyes for the Blind, we provide a three-year apprenticeship program for guide dog instructors. Apprentices are educated about guide dog training and are also required to learn about eye diseases and disorders that can cause blindness and vision loss, such as cataracts, glaucoma, macular degeneration, and diabetic retinopathy, including the functional effect of a particular eye disorder (or several disorders) on an individual's vision.
Apprentices also learn basic cane travel skills and will, at some point during the apprenticeship, have a 10-day blindfold experience. During those 10 days, the apprentice will join a class of blind students and will wear a blindfold for the entire time. The apprentice will be assigned a dog and, while under the supervision of a class instructor, will experience the same training regimen as the rest of the class.
This part of the training program is designed to help the apprentices understand some of the feelings and concerns a blind person may have when learning to work with a guide dog, including the joys — and frustrations — that accompany learning a new skill.
I also oversee the Admissions Department, which includes our Field Services Division. We have eight Field Representatives who travel nationally and internationally to visit each person who applies for a guide dog. I attend conferences, conduct home interviews, and provide follow-up support to our graduates. You can also find me at my desk, reviewing files and answering emails. The diversity each day presents is one of the many things I enjoy about my current role. It is never boring!
Guiding Eyes is also a member of the International Guide Dog Federation (IGDF). All member schools must adhere to the standards set by the IGDF, and each member school is assessed every five years. I serve as an assessor for the IGDF and have visited guide dog schools in Canada, Portugal, and Norway. Later this year I will be visiting guide dog schools in Tasmania and Australia.
Tell us about Guiding Eyes for the Blind. What kinds of training and services do you offer?
Guiding Eyes for the Blind is dedicated to enriching the lives of blind and visually impaired men and women by providing them with the freedom to travel safely, which assures greater independence, dignity, and new horizons of opportunity. Guiding Eyes for the Blind has been training guide dogs and their owners since 1954. We are unique in that we have the oldest line of "purpose bred" Labrador retrievers in guide dog work. "Purpose bred" refers to dogs that are bred specifically for careers as guide dogs.
Volunteer puppy raisers raise all of our puppies. Our wonderful puppy raisers are a dedicated group of people who want to give back to the community by raising a dog intended to help an individual with vision loss. They will take a puppy into their homes when it is 8-10 weeks old and raise it until it is 16 months old, when it returns to our main campus Training Center and is evaluated for formal guide dog training.
Our puppy raisers are responsible for providing a loving home for the puppy and for teaching the puppy good house manners and proper social "etiquette" toward other animals and people. Puppy raisers must attend monthly meetings with a Guiding Eyes staff member and other puppy raisers in the area so that the puppy's progress can be assessed periodically.
Dogs accepted into training are assigned to an instructor and receive a minimum of five months of formal training. Each instructor will work with 8-10 dogs at a time. The training begins in quiet areas and progresses in complexity, both in the skills that are taught and the environments to which the dog is exposed.
A guide dog's primary responsibility is to keep its handler safe by avoiding obstacles; stopping for any change in elevation, such as curbs or stairs; avoiding train platform edges; and stopping for cars. The guide dog can communicate all of this through the harness and the harness handle. The harness handle is rigid, which enables the handler to feel the dog turning. The dog can also indicate the presence of an obstacle by stopping and/or refusing a command to go forward.
A common misconception is that the guide dog directs the person; instead, it is the person who directs the guide dog by using a variety of verbal commands such as "forward," "left," and "right." It is the blind person's responsibility to remain oriented and know how to reach his or her destination; the dog and the person work together as a team.
One of our Field Representatives will conduct a Home Interview with each applicant for a guide dog. The purpose of this at-home visit is to better understand each applicant's goals, routines, lifestyle, and mobility requirements. This also assists in identifying which of our programs (see below) is best suited for the applicant.
Since all of our applicants must demonstrate the ability to travel independently using a white cane, we encourage the presence of the applicant's orientation and mobility (O&M) instructor during the Home Interview process, as well as during certain follow-ups. This facilitates three-way communication between the applicant, the Field Representative, and the O&M instructor so that particular concerns, such as traffic crossings or orientation skills, can be noted and addressed.
Can You Describe Your Different Guide Dog Programs?
We have several ways to provide guide dog training to qualified applicants, depending upon their needs:
The Residential Program is a 26-day training program conducted from our training center in Yorktown Heights, NY. Clients come from all over the United States, Puerto Rico, and Canada. We have also provided guide dog training to clients from Europe and South America. A typical class will have 12 clients, two instructors, and a class supervisor. The training is individualized to meet the client's needs. The training takes place in environments that range from a small town to New York City.
The Guiding Eyes Campus
The Home Training Program provides guide dog training in a client's home area. A client may request this option for a variety of reasons, such as employment needs, medical requirements, or being a primary caregiver for another family member. In this program, a dog is pre-selected for a client and brought to the client's home for training. The training course ranges from 10 days for someone who has worked with a guide dog previously to 15 days for a first-time guide dog user.
The Special Needs Program provides guide dog training to individuals who have additional disabilities, such as orthopedic/balance problems, cognitive challenges, and deaf-blindness. All instructors in the Special Needs Program are fluent in American Sign Language (ASL). As in the Home Training Program, a dog is pre-selected for a client, and training is customized to meet each client's specific needs. For example, if a client has a balance problem, the dog may be taught to brace and provide stability for that person. A dog selected for someone who is deaf-blind must be patient, able to respond to hand signals, and not be reliant on voice commands.
The Action Program combines elements of the Residential and Home Training Programs. It is offered for experienced guide dog users who require a new/successor dog but cannot commit to a 26-day training program. The client spends 10 days at our Yorktown campus and receives an additional five days of training in their home area. If a graduate requests follow-up assistance to help resolve a working problem with his or her dog, such as difficulty with street crossings, problems with other dogs, or becoming familiar with a new area, Guiding Eyes will send an instructor or a Field Representative to help resolve the problem.
If a graduate has been hospitalized for an extended period of time and has not worked with his or her guide dog, or if someone has experienced additional vision loss and is not confident with their travel skills, the graduate can return to Guiding Eyes for an intensive five day "refresher" course for one-on-one instruction with senior member of the Training Department. Our goal is to do whatever is necessary to keep a team together.
We also provide veterinary support in the form of an annual stipend. Our veterinarians are available to consult with a graduate's own veterinarian to help resolve health issues that may arise. If necessary, we will transport the guide dog to our facility for treatment and return the guide dog to its handler.
All of our services, from the point of application onward, are provided at absolutely no cost to the blind or visually impaired person. We are funded solely by voluntary contributions from friends and supporters who value the work we do to support blind men and women across the country and around the world.
Is there a story you'd like to tell about a particular student or client who benefited from your agency's services?
There are so many stories I could share with you! One of our graduates is a Holocaust survivor who lost his vision while in the camp. For just one day, he was lax in remembering one of the most important rules for survival in the camps: Keep out of sight of the officers and guards. As a consequence, on April 8, 1944, he was noticed by the guards and brutally beaten for no apparent reason. Today, he still walks three miles a day with his guide dog for the joy of it, stating that it keeps him young!
Our Special Needs department provided a guide dog to a young girl with cerebral palsy, which affected her gait and required her to use a support cane as well as a white cane. She also had difficulty standing still at a curb. Her dog was trained to help with her balance and correct her when she veered off-course when crossing a street. She now teaches a self-defense class to other people with disabilities!
However, from my point of view, every graduate has a story about how working with a Guiding Eyes guide dog has changed his or her life. Many graduates tell us that having a dog not only enhances their mobility and provides companionship, but also provides a greater sense of confidence and safety.
How can our readers learn more about your work or contact you?
Please visit our website at www.guidingeyes.org or contact us toll-free at 1-800-942 0149.