Meet Tom Miller, Retired Executive Director of the Blinded Veterans Association

"The problem is that there are so many challenges involved in finding the thousands of veterans who are dealing with vision loss. According to the Department of Veterans Affairs, there are an estimated 158,300 legally blind veterans and 700,000 veterans with low vision."
The Challenges
Tom Miller, Executive Director of the Blinded Veterans Association (BVA) from 1994 to 2011, knows all about these challenges, from both a personal and a professional perspective: Tom lost his sight in 1967 during a combat mission in Vietnam and received a medical discharge a year later.
Founded in 1945, BVA is a not-for-profit organization of "blinded veterans helping blinded veterans" and is privately funded by "the generosity of Americans who express their gratitude to the men and women who sacrificed so much for freedom."
As a newly blinded war veteran, Tom clearly remembers his overwhelming sense of isolation and the challenges he faced as he struggled to get the help he needed. It is his memory of that isolation that drives his efforts to reach other veterans living with vision loss.
As the Executive Director of BVA, Tom's goal was to share the vast wealth of resources, services, and support that can bring new hope and opportunities to blinded veterans, along with practical help to rebuild their lives.
According to the United States Department of Veterans' Affairs (the VA) there are an estimated 158,000 American veterans nationwide who are legally blind and an additional 700,000 who are living with low vision.
Many of these men and women have been injured in active duty in World War II, Korea, and Vietnam, or have experienced vision loss as a result of age-related eye disorders and diseases, such as macular degeneration, diabetic retinopathy, cataracts, and glaucoma.
And then there are the younger soldiers returning war-injured from Iraq and Afghanistan who are victims of encounters with improvised explosive devices or sniper fire.
BVA's mission is to reach out to identify, advocate, and help address the wide-ranging needs of all blinded veterans by offering advocacy, peer support, and counseling services via their annual conventions, newsletters, website, field service representatives, and volunteers.
Operation Peer Support
A few years ago, Tom and his BVA team took on the challenge of locating—and reducing the isolation of—an estimated 2,200 young servicemen and women who had returned from Iraq or Afghanistan in the last few years with vision-related injuries. BVA's Operation Peer Support program aims to help these recently returning soldiers gain access to all of the supportive resources they so rightly earned in order to build a positive future for themselves and their families.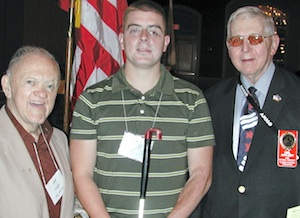 Operation Iraqi Freedom veteran and BVA Operation Peer Support participant Dustin Howell, center, with World War II veteran Jack Shapiro, left, and Korean War veteran Neil Appleby at the organization's 61st National Convention in Buffalo, New York in 2006.
"Operation Peer Support is doing very well," Tom says. "It all began in 2006 when we had lunch with a pharmaceutical company and they wanted to know how they could help. As a result of that meeting, we launched Operation Peer Support. The aim is to bring newly blinded veterans to our national annual convention. Again, we're back to addressing the isolation that many veterans experience. Operation Peer Support provides opportunities for them to meet each other. The numbers who've participated, along with their family members, during these last few years is relatively small—52 to date—but the impact on each and every one is big!" 
"Over the years, we've assessed the needs of these veterans and now have a fairly aggressive agenda of workshops that cover a wide range of activities: education, employment, recreation, technology, counseling, and self-help resources. We've also had great fun kayaking, rock climbing, tandem bicycling and river rafting. These veterans like to be active! And we leave time to just relax and socialize, when a lot of information is shared between the veterans and their families."
"At our annual conference in Phoenix, Arizona in 2008, we invited three British soldiers, who were accompanied by a father, a new bride, a girlfriend, and a mother. It was a good experience for all of us, especially as they had so few peers back home who could relate to their situations. Two of them came back to join in the conference we held in Portland, Oregon in 2009."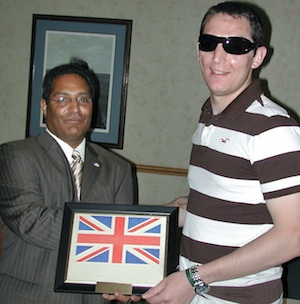 British blinded veteran Ben Shaw, right, receives a braille flag of Great Britain from Randolph Cabral, Executive Director of the Kansas Braille Transcription Institute. Ben was one of three British service members invited to the BVA 63rd National Convention in Phoenix, Arizona, as an Operation Peer Support participant.)
"We've just arranged an exchange visit to the United Kingdom for four of our Afghanistan veterans, along with BVA's Board President, to participate in a one-week sports event at the International Congress of War Blind to be held at St. Dunstan's in Southern England. You can't overestimate the positive synergism of all these veterans and their families getting together."
Finding Those Who Need Help
Still, the primary challenge for Tom and his team is finding these war blinded men and women throughout the United States and then getting permission to visit them!
"Since the beginning of the war in 2003, it's not been easy," Tom says. "There are a number of reasons for this, but bottom line, the U.S. Department of Defense (DoD) has control over who sees our war-wounded veterans. DoD doesn't readily share much information with us. This is in large part due to the legalities surrounding the Health Insurance Portability and Accountability Act (HIPAA) privacy laws that provide federal protection for personal health information held by covered entities and gives patients an array of rights with respect to that information."
"The issue of privacy is obviously important, but all they have to do is let us know there's a blind soldier in one of their wards and then, we believe, it should be that soldier's decision to choose whether or not he or she wants our help."
"On the other side of the coin, and it's tough to say this, I believe that many ophthalmologists and optometrists just don't want us around because they themselves can't deal with telling a patient there's nothing more they can do. They don't want us blind soldiers in the wards because it's too depressing for them. When the eye doctor has done the best he or she can do, we know there's a heck of a lot we can still do to help our blinded veterans-but we're not always given the chance to do what we do best."
"Most war-wounded casualties coming into the States go to Walter Reed Army Medical Center in Washington, D.C., the Defense Department's largest military hospital. Others go to the National Naval Medical Center in Bethesda, Maryland. We've had meetings with top-ranking officials in both facilities, trying to get authorization to see veterans who had been blinded."
"We thought, as peer counselors and advocates, especially with our own personal experiences of being war blinded veterans, that we'd be given the opportunity to provide these soldiers and their families with positive, practical support, resources, and information to help them get back on their feet. We wanted to let them know what they might expect in trying to rebuild their lives, and give them a positive sense for the future."
"As you can imagine, it can be overwhelming for both the soldier and the family to deal with their injuries, such as the loss of a limb and vision loss, while also trying to learn what's going to happen next, or what the future holds."
"We eventually got approval from one department at Walter Reed where they were working with amputees. The general there told us he would let us know if any of the amputees were also experiencing vision loss. He was a great guy. He'd give us the word when he had someone and we'd go and visit."
"We have a number of different ways to learn about these blinded soldiers. Sometimes we hear from blinded service personnel from Afghanistan and Iraq who attend our annual conventions. They send us names and contact information of soldiers they know or met while they were in the hospital. And you can bet your life, whenever we hear a soldier with vision problems is at the Walter Reed Army Medical Center, we're on our way to visit them!"   
The Scale of Casualties
"We strongly believe there's a lot more casualties than the media and the various government and military departments are willing to tell us," Tom says. "Walter Reed, Bethesda, Brook Army Hospital in San Antonio, Texas and Balboa Naval Hospital in California are all pretty full. Ever since combat ended in Iraq, it seems the media has shown less interest in soldiers returning from Afghanistan. It's frustrating for us."
"Our frustration is that we just don't have a systematic way of gaining access to these war-wounded soldiers. It's a hit-and-miss situation. We're almost totally reliant on medical employees who believe in what we do and believe that the war-wounded can benefit from meeting with us. It's only then that we get access."
"I can remember a time when DoD and the VA knew very little about one another, but it's much better now. I have high praise for the VA. We've worked very closely with them throughout BVA's 65-year history."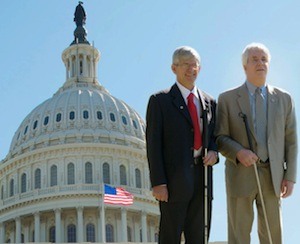 BVA's two Toms, Miller and Zampieri, represent the forces behind the significant legislation and watchdog work that have resulted in world-class rehabilitation programs for America's blinded veterans.)
"I think it's fair to say that most of the VA's services are due to our advocacy with the U.S. Congress on Capitol Hill. We try to keep an eye on their activities and make sure they're relevant. But, to be fair, the VA has also had its share of challenges, including a major demographic shift: For many years, the veterans they served were primarily elderly veterans who were living with age-related eye disorders and diseases. In recent years, however, returning war-wounded veterans have been young people in their 20s and 30s."
The Needs of New Young Casualties
And as Tom notes, "Many of these younger veterans are highly technology-oriented. They have specific needs, know what they want out of life, and get on the Internet, along with their spouses, to learn as much as they can. Some become very active on Facebook and Twitter. They're much more sophisticated with their computers, iPhones, iPads, and BlackBerries."
"This is quite a contrast to 43 years ago, when I was blown up and the electric typewriter had just come out. I had no clue what 'blind rehab' would do for me. I sat on my own for three months, not knowing what to do, where to go, or where to turn for help."
"Typically, if the veteran has been blinded, they will be transferred from the military treatment facility to one of the ten VA rehabilitation centers. If there is brain injury involved or other severe problems, they will go to the VA's Polytrauma Rehabilitation Center in Palo Alto, California."
"And that's another challenge," Tom explains. "It's not always easy to get these vets involved in rehabilitation or the BVA. Many of them have spent months in a hospital trying to get well. They just want to go home-straight from the hospital bed to employment. The last thing they want to do is spend more time away from home at a rehabilitation center in a program that can last up to three months."
"But first and foremost, they have to get well. The pain they're going through has to be addressed, including the loss of a limb in addition to the vision loss. But many of them don't know about vision rehabilitation services. So whenever we're given the opportunity, we explain what vision rehabilitation is and we tell them about the VA's services for blinded veterans. These vets want answers to very basic questions, such as How can I go to school or work when I can't see?"
"Families need to talk as much as the vets because everyone is overwhelmed. They don't know the questions to ask or where to turn for help. It's a time of tremendous confusion and stress. We explain that the VA has a very robust service. You just can't beat the benefits, but it's not always easy to navigate the system." 
"We tell them how it's possible to return to school, prepare for employment, or start a new career, and we discuss all the resources available to them. We spell everything out in very practical ways. I think it makes a difference and has a greater impact when they talk to us. We've been there, we too have been blinded by war, and we can talk to them from a position of empathy, knowledge, and personal experience."
"Just recently," Tom says, "I visited the eye clinic at Walter Reed with Tom Zampieri, our Director of Government Relations. We met two guys there who had eye injuries. One of them had lost much of one side of his body and had difficulty communicating with us because his jaw was wired closed. We spent quite a bit of time talking with his family about the importance of rehabilitation, what can be done now, and what to expect down the road. We think it helped."
The Social Obligation
Tom also chairs a Secretarial Advisory Committee for the VA, in which securing the rights of blinded vets are of utmost importance to him. "It's true that these war-wounded returning service members are going to need care," he says, "not just today, but life-long. When these soldiers separate from the military, the VA will be caring for them for the rest of their lives and we need to budget for this."
"The government says that the Iraq war has cost us a trillion dollars, but one doctor told me that it will be 3-4 times that amount if we include the care needed by our returning vets."
"The VA now has an annual budget of $114 billion. That sounds like a lot, but it's a heck of a thing: When a war's over, the further away we get from armed conflict, our returned casualties and their long-term continuing needs can go off the radar screen."
"That's when politicians start to chip away at the VA budget, which isn't good. What politicians need to understand is that service members are an ongoing cost of war, whether we're in a war or not. It's not a discretionary issue; instead, it's our ongoing obligation. It's a 'sacred obligation,' as we call it. We use this term throughout all our Veterans Day events, yet we need to continually remind ourselves not to forget it."
"BVA tries consistently to remind Congress what blinded veterans need, in terms of health care, rehabilitation, and benefits — and will continue to need for many years to come. The beauty of BVA is that our focus is very narrow. We're one of the smallest veteran service agencies, but we keep our eye on the ball. We're highly respected and Congress listens to us, as well they should!"
Increasing Awareness
In an effort to spread the word about BVA and VA services, Tom has recently become a member of VisionServe Alliance, an organization that provides a forum for Executive Directors/CEOs of private agencies and organizations specializing in blindness.
His mission is to facilitate links between the VA and private agency members and to advocate for veterans to receive services from non-VA rehabilitation facilities when a VA presence isn't available. Tom believes that such partnerships will prove to be "win-win" situations for everyone involved and he's beginning to see some progress in that area.
"It would be criminal if these vets are not made aware of the full range of exciting services and resources. Almost everyone who goes through the VA system discovers that it's a life-altering experience. The VA programs, services, and resources build confidence and self-esteem and help set realistic goals for building a career or going back to school. We need all the help we can get to spread the word!"
For More Information
To learn more about the Blinded Veterans Association, Operation Peer Support, and the vast range of services for blinded veterans, visit www.bva.org or call 202-371-8880. Equally important: If you know a veteran with vision loss, introduce them to BVA.