Tilly Aston—Australia's First Blind Teacher, Poet & Visionary
Contributed by Maribel Steel, VisionAware Peer Advisor
A story of courage and victory over circumstance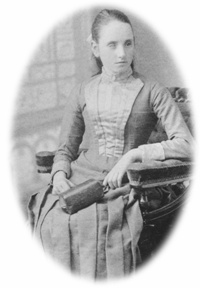 Most people have never heard of Miss Tilly Aston (1873 – 1947), an Australian heroine who deserves a brighter spotlight on her life devoted to the service of others. As an advocate for change, a dedicated teacher, eloquent writer with a pioneering spirit, Tilly felt a sense of urgency to help her 'sightless brethren' in their mutual constant struggle for equality.
Matilda Ann Aston, Good as Gold
Born in 1873 in the Victorian gold mining town of Carisbrook, Matilda Anne was the youngest of Edward and Ann Aston's eight children. As a young child, her family were not deterred by the fact that their dear Tilly was blind in one eye. Her parents were keen to educate their daughter, her father reciting rhymes and times tables and English stories as she sat close to his boot-maker's bench, while her mother sang songs from folklore. By six, she had learned to read from giant typed books and could recite her favourite poems. As a seeker of freedom, Tilly often roamed with her siblings, climbing trees and playing among the Australian bush beyond the local creek. These hazy landscapes later became the source of her descriptive poetry as she drew on impressions from childhood.
Change at Tilly's Fingertips
Just before her seventh birthday, Tilly noticed a foggy mist beginning to blanket her world. The mist turned to a dense twilight making everything hard to distinguish and, before long, a total eclipse of sight plunged Tilly into perpetual blindness. Yet the young Tilly remained positive in the face of her mother's anguish, relying on her vivid memory and imagination to feed her vision. In 1882, after the sad death of her father, Tilly's mother made the decision to travel by train to the city of Melbourne with her blind daughter. The nine year old was enrolled as a boarder and pupil at 'The Asylum and School for the Blind'. This was the beginning of a new and exciting phase for the young girl, who saw the move to the city as an exciting adventure full of opportunity. She was a keen student, learning how to read and write in braille, making great advancements in her studies of literature, music, and developing a love for handicrafts.
Reaching for Ambitious Dreams
As she matured, so did her desire to carve out a career as an independent blind woman working among a sighted community, even though her vision to attain her goal was seen as a far-fetched dream in the late nineteenth century. Greatly encouraged by the school and with tenacity of spirit, Tilly persisted with her studies. She became the first blind woman in Australia to complete her senior school certificate, enabling her to qualify for University entry. But the path ahead still presented many obstacles. Her education required special Braille textbooks and private tutors, which was an expense her family couldn't afford. So a fund-raising concert was arranged and money pledged to help Tilly accomplish her University degree. She pushed steadily onwards, concentrating on the goal of obtaining an Arts degree. Tilly took Braille notes while her tutors read the books required to pass her exams. But, two years into her degree, she experienced the bitterness of failure when she had to withdraw from her studies due to the stress she was facing with a lack of braille textbooks. To a vibrant and independent Miss Aston, this was a terrible blow for her future plans.
Tilly's Vision: First Braille Library of Victoria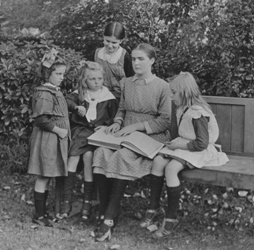 Not letting go of her dreams, Tilly was determined to find a way to continue the quest to advance the cause for her 'blind brotherhood'. At the age of twenty one, she began to earn a small income by being a music teacher. Much to her family's horror, she often went out on walks by herself, to explore the streets within her neighbourhood. In one serendipitous conversation between Tilly and a friend, she recalled how the lack of Braille literature in Australia had halted her academic career. Her friend replied by saying, "I wonder if there would be any chance in starting such a movement in Melbourne." This was all Tilly needed to hear which sparked her entrepreneurial talents as she had long believed that the one way to get a library together was to produce a collection of hand-made books in Melbourne. Tilly's dream became a reality when a few sighted women from the Stenography Association offered to learn the language of Braille in order to copy printed volumes and convert them into tactile books. Other sighted transcribers soon joined the gathering once a week to be taught by Tilly and to type text books into Braille with a few of her blind friends joining the team, Tilly binding the pages together to create their first books. These were the humble beginnings of the Braille library in Melbourne, with Miss Aston confidently at the helm, encouraging others to work in harmony for the advancement of the blind. "All noble things we do and dare must be fruitful, sometime, somewhere." -Tilly Aston
Helen Keller, a Sincere Friend
Tilly's challenge was not so much her own blindness but the attitudes of the old Victorian society she lived in. One acquaintance who became a loyal and sincere friend was Helen Keller, the legendary deaf-blind American woman who also stood for equality in women's civil rights. One can only imagine the deep sense of support and encouragement these two remarkable women were able to exchange through the writing of Braille letters across continents.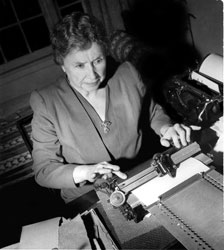 It seems likely that Miss Keller and Miss Aston shared these sentiments expressed in Tilly's memoir: "Something had to be done to alter these conditions, and I realised at the same time that no one but the blind themselves could handle such matters in the proper spirit."
All Equal in the Language of Hope
Tilly was constantly seeking ways to gain knowledge from across the ocean and set about teaching herself how to read and write Esperanto, a new and controversial language being taught in Europe. Through a system of words taken from several languages, the international language of Esperanto, though not popular with many, became Tilly's link to a worldwide web of knowledge, which enabled her to be at the forefront of activities helping the blind community overseas, exchanging information with a renewed alliance of contacts. In 1895, Miss Aston and a group of seven blind friends decided to create an official organisation they called 'The Association for the Advancement of the Blind' (AAB), which later became Vision Australia. Tilly worked tirelessly, leading the advocacy group who were successful in obtaining voting rights for the blind, free postage for bulky Braille books and reduced travel costs on public trains, first in Victoria and, later, throughout Australia.
Trial and Heartache as the First Australian Blind Teacher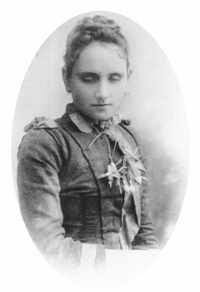 In 1913, when a newspaper advertised for a head teacher for the blind school in Melbourne, Tilly didn't respond at first. But friends urged her to reconsider her situation, knowing that Tilly was happiest when she could make a positive difference in the lives of others. She applied for the position and was shocked by the result. Caught up once again in the discriminating attitudes of others, Tilly had to prove her worth as a teacher before getting a place at the school: it was considered a terrible sacrifice for the students to have a blind teacher rather than a sighted one. When confronted with this injustice, Tilly resolved to prove her worth. As the first blind teacher, she played piano for the school marches and singing lessons. She worked competently with the children, teaching Braille, reciting stories and verses, and demonstrating how to work with the textures of raffia and wool. Yet Miss Aston endured twelve lonely years of misunderstanding with the staff. Sighted teachers remained closed to her different methods of teaching, even going to great lengths to avoid conversations with the blind teacher during lunchtime. To cope with the strain of such negativity, Tilly put all her efforts into educating her students. At night, she transcribed maths and other textbooks into Braille and copied parts of the school paper to keep her students up to date with information available at their fingertips. Not surprisingly, Tilly's health suffered under the strain of feelings of inequality. In 1925, after twelve years of dedication to her vocation, she was forced to retire after collapsing as a result of a stroke. But the legacy of Miss Aston remained in the hearts of those children she had nurtured as her own, who grew up to be competent adults and forged successful careers. It wasn't until Tilly had resigned that she received an unexpected visit from the teachers of her school. They came to mend past misunderstandings and wanted to appoint her as a Life Governor of the institution. They had finally recognised her outstanding efforts as a teacher and the inspiration she offered to the children. When they handed Miss Aston her certificate, Tilly could do little to stop the rush of tears that burst free from a grateful heart.
The Light Finally Shines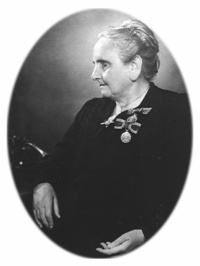 Tilly's skills as an entrepreneur came to light when she launched a plan to have her first book of poems published. It was necessary for Tilly to help raise funds for the costs for her book, Maiden Verses, so she sent out invitations to people she knew to gain advanced orders—a sort of 20th century 'crowd funding' appeal. She was a member of the Australian Literature Society group, where her poetry and writing blossomed with support from other like-minded artists. She shared many poems with Helen Keller, who endorsed her friend's collection in Songs of Light. This glowing tribute by Miss Keller persuaded the publishers to print the book in 1935, helping Tilly to become known around the world as Australia's first blind poet. Tilly Aston attained great popularity and received the King's medal, twice, for her service to the community; such were her talents and commitment to blazing a trail where no one had defiantly trodden before. Matilda Anne Aston died in her home on 1st November 1947. A year later the Midlands Historical Society and Carisbrook school children, in the town of her birth, erected a cairn to the memory of an accomplished woman worth her weight in gold. "I want the world to know how ardent, how sincere, how tenacious we were in our efforts to raise the status of the blind. Whatever effects my life attainments may have upon others, there has been a fair amount of personal satisfaction in my victories over circumstance." -Tilly Aston
Further Resources
Many thanks to the Heritage Team at Vision Australia for their kind permission to use the images in this article from the Tilly Aston archives.