How I Became a Vision Rehabilitation Therapist by Jackie Bokan, CVRT, Virginia Department for the Blind and Vision Impaired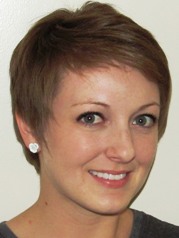 My Journey Begins: A Friend with Stargardt Disease
I was working on getting my biology degree from the University of Pittsburgh and planned to attend optometry school after that. During the summer after my sophomore year, a family friend shared with my family that she was legally blind from a condition called Stargardt disease. She was 16 and had been losing vision since she was 11. She didn't tell everyone, but decided she needed to tell us since she spent so much time at our house. We had known her and her family for years, and spent time riding and showing horses together. We were shocked because we'd spent so much time with her and had no idea she had a vision impairment.
I already had an interest in vision, and I found her situation to be fascinating. I wondered how she did everything day-to-day with limited vision, and did it well enough that no one could tell she was visually impaired. So I started asking. My friend and her mother were glad to give me information and show me her adaptive devices – and even took me with them to observe her low vision examination. All of this information opened up a whole new world that I otherwise never would have known about. I was amazed at all the little tricks and tools she used that allowed her to do almost everything. It was so interesting that I thought I might want to pursue a career in the field. I didn't know enough about it, however, so I decided to find an agency that provided these services and learn more.
An Amazing Internship at ABVI-Goodwill in Rochester, NY
I arranged an internship for the following summer at the Association for the Blind and Visually Impaired-Goodwill Industries of Greater Rochester, Inc. I did a lot of research, and found that this agency provided a wide range of vision rehabilitation services to people. I decided that I'd spend time in each of the different disciplines to find out what each involved and try to decide which career to pursue.
The internship was an amazing experience, and I learned so much about a field that I had never known about before. I spent time observing and helping in low vision therapy (LVT), Orientation and Mobility (O&M), children's services, and Vision Rehabilitation Therapy (VRT). By the end of the internship I had no doubt that VRT would be my career.
Graduate School in Vision Rehabilitation Therapy at Salus University
I started looking for graduate programs, and found that Salus University, the optometry school I was planning on applying to, also had vision rehabilitation programs. I began making calls to find out how to switch career paths, since I was heading into my senior year as a biology major at the University of Pittsburgh.
Following the advice of the VRT professors at Salus, I took neuroscience, education, and gerontology nursing courses to get a better background for the field. I had to get approval to take courses outside my major, and I also collaborated with professors to create independent study courses I thought would be helpful.
I was accepted into the VRT program and was on my way. Two weeks after graduation from Pittsburgh, I moved to Philadelphia to start graduate classes. Right away, we put on blindfolds and low vision simulators and started learning the skills that we would eventually be teaching to clients. I was a good student and knew what I needed to do to succeed in school, but this was different from any other classroom experience I'd had. It was intimidating and I worried that since I had never actually done many of these daily living tasks myself, I wouldn't be the able to teach them!
At Salus: A True Learning Experience
Every day was a learning experience for me, and I learned many things that were helpful, even for me as a sighted person. I conquered my fears and realized that by performing activities of daily living under simulation, I was also learning (a) how to teach someone who was visually impaired, (b) how to describe objects and give directions, and (c) how capable people who are blind and visually impaired can be.
Fortunately, I did not have to experience this alone. I quickly became friends with a classmate who was in every class with me the entire time I was at Salus. We both even decided to add on a certificate in low vision therapy, along with the VRT master's degree. This meant more classes, more internship hours, and another certification test, but also more knowledge and skills and greater professional opportunities. We were both thankful to have each other for support and encouragement throughout the whole process.
After two years of coursework, I spent almost a year doing observations and internships for both degrees to get more hands-on training and apply the skills I had learned. I did practical observations at William Feinbloom Vision Rehabilitation Center in Philadelphia, PA and then at the Association for the Blind and Visually Impaired-Goodwill Industries of Greater Rochester, Inc., the same place I had spent the summer three years earlier, trying to figure out what I wanted to do.
Internships: Affecting Real People's Lives
I then did my VRT internship at Independent Living for Adult Blind in Jacksonville, Florida, where I taught center-based classes on independent living skills, and then did my low vision therapy (LVT) internship at the Brooks Rehabilitation Center for Low Vision in Jacksonville. Of course I was nervous, having never done these jobs before, and now I had the responsibility of affecting real people's lives. My supervisors and mentors were wonderful and helped me learn how to interact with different types of people and connect with them, which was a major part of the job that school could not have prepared us for.
Once I started working with people, I found how appreciative they were of these services and what a big difference even the smallest things could make. As I gained more experience, I worried less about textbook information and more about interacting with the person, building a connection, and finding out what they needed and what was important to them. I realized that emotional support, understanding, counseling, self-advocacy, and providing information and resources can be an incredibly important part of what we do.
Finding Employment at Virginia Department for the Blind and Vision Impaired
Before I finished with my internships, I interviewed with, and was hired by, the Virginia Department for the Blind and Vision Impaired (DBVI). As soon as I finished my internship hours and took my VRT certification test with the Academy for Certification of Vision Rehabilitation and Education Professionals (ACVREP), I moved to Virginia and started working.
At DBVI, I work as an itinerant VRT, traveling to people's homes to work with them. I feel incredibly lucky to have found a career that fits my personality and skills so well. Our office covers 19 counties, and four VRTs manage the territory. I cover five counties and have an average of 60+ clients on my caseload. Our agency provides several services to clients, and one of the major roles of the VRTs is coordinating with a low vision optometrist to schedule a low vision exam and providing follow-up training with prescribed low vision devices in the client's home.
I feel fortunate to have been introduced to the Vision Rehabilitation Therapy field and to be able to provide these beneficial and sometimes life-changing services to people who need them. Every day is different because clients are extremely diverse and have all kinds of different skills and activities that they are struggling with due to their vision loss; together, we come up with solutions. Training is very individualized to the client. You've got to be very creative sometimes, and other times a person's difficulties can be solved by the simplest adaptations. It is a very rewarding career and in almost every case you make someone's life better.