Dr. Ruth Kaarlela, Founder of Rehabilitation Teaching/Vision Rehabilitation Therapy
By Maureen A. Duffy, M.S., CVRT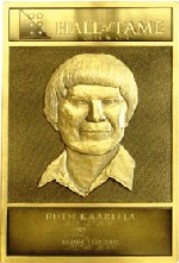 Dr. Ruth Kaarlela is a member of the American Printing House for the Blind Hall of Fame, honored for her pioneering work in the development of the profession of Rehabilitation Teaching (now called Vision Rehabilitation Therapy, or VRT). Dr. Kaarlela is commonly referred to as "the founder of Rehabilitation Teaching." You can read Dr. Kaarlela's biography and learn more about her professional achievements at the Hall of Fame website.
The following interview, in which Dr. Kaarlela recounts her post-academic life, first appeared in the September 2003 issue of the newsletter of the VRT Division of the Association for Education and Rehabilitation of the Blind and Visually Impaired.
How did you enter the vision rehabilitation field?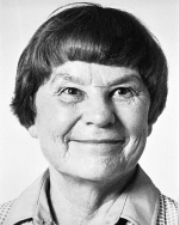 By a circuitous route! I had been employed as a social worker in a family service agency and in a teaching hospital (during which time I supervised a graduate blind student in his internship) when I took time off to explore the field of education. When the Industrial Home for the Blind (now Helen Keller Services for the Blind) in Brooklyn was recruiting a staff member with both a social work and an education background, I took the position.
It involved working with the schools and the families of blind children to make it possible for the children to be integrated into the public schools. After three years of that work, and having taken courses in special education, I became an itinerant teacher of blind children in Nassau County. From there I was invited to apply to Western Michigan University to develop the Rehabilitation Teaching program. The rest is history! My total time in New York and Michigan was 30 years.
Tell us about your current life.
I am back to my roots. After several years of winters in Florida and summers at our family cottage on Lake Superior in Northern Michigan, I gave up my Florida residence and settled in the Greater Detroit area where numerous extended family members and friends live, and where I am still within reach of the cottage. I am active at the Finnish Cultural Center, where I do volunteer work and serve as chair of the Finnish American Historical Society. I belong to a book club at the library and I take advantage of cultural offerings as well as tours to interesting destinations.
I have recently returned from a six-week trip to New Zealand and Australia, sponsored by Interhostel. I am trying to expand my mastery of the computer, I practice yoga and tai chi and I maintain contact with several former colleagues and students. Since my retirement, I have been able to make practical use of my background in vision loss and gerontology. As the next youngest member of a large family, I have tried to be supportive of relatives with diminished vision and hearing, Alzheimer's disease, cancer and other chronic afflictions. I share a residence with my younger sister.
Can you tell us something special about yourself?
I do not consider the following "special," but rather a characteristic of my work experience. I have found myself in fields that were at transitional points when I entered. In social work, the goal was to "professionalize" the services through graduate programs.
In the itinerant teaching program, the objective was to allow visually impaired children to be educated in their home communities instead away from home in residential schools. In rehabilitation teaching, as in social work, the goal was to provide professionally prepared personnel to serve visually impaired persons. And in the area of gerontology, I introduced the first course in my university and into the rehabilitation teaching curriculum.
Thus, I was in situations which required much ground work and public education, and which at times met misunderstanding and resistance — and which at times were hurtful to those valiant workers who had brought the field to the transition point. We owe them much. With the skills and the support of those with whom I worked, I feel my inner security and strength saw us through.
Given my history in rehabilitation, I became a part of all the organizations that had the potential to move the field forward. My motivation was always to make Rehabilitation Teaching a superior profession with relevance and visibility.
Thank you, Dr. Kaarlela, for all you've done and will undoubtedly continue to do. The field of Vision Rehabilitation Therapy and VRTs everywhere remain indebted to your visionary leadership, highest standards, and innovative methods of service delivery for blind and visually impaired adults.