Rebecca Knaub, Salus University Student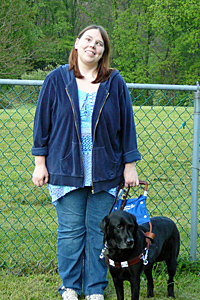 A Little About Myself
My name is Rebecca Knaub and I was born with a visual impairment. I have a rare eye condition called septo-optic dysplasia. I have an underdeveloped optic nerve in the right eye and no optic nerve in the left.
My mother always encouraged me to learn independence, organizational skills, cleanliness, and how to maintain a home. She was always a bit over-protective, especially when it came to the kitchen. Even though I was born this way, my Memere (grandmother in French) always allowed and encouraged me to actively participate in cooking or baking. Both of these women have taught me a tremendous amount and are greatly responsible for helping me to become the self-sufficient woman I am today.
At 12, I was able to learn braille after having relied on tapes and readers for most of my education. My vision teacher, Rhoda Salak, realized that I needed braille to reach my full potential. For two years I was able to learn and master braille under Mrs. Salak's instruction. Braille made learning a lot easier and definitely less frustrating.
When I started 8th grade, however, I had a new vision teacher and the resources were no longer available for me to continue using braille. Once again I found myself frustrated and floundering while relying on tapes and readers. Fortunately circumstances allowed me to finish out my 9th grade year and the rest of my high school years at Overbrook School for the Blind.
While at Overbrook I was able to learn the skills that I use every day such as mobility and technology. I sang in the choir, rang in the bell choir, and participated in swim team and track. I was also able to work in the workshop and earn some money.
During my senior year at Overbrook, I was given the opportunity to teach five middle school-aged children braille and technology. I always wanted to be a teacher of some kind, especially if it meant teaching other blind or visually impaired people the skills that are so valuable to me.
I attended Edinboro University where I earned my undergraduate degree in Anthropology. I originally started out as an elementary education/special education major but I was encouraged to change my major. Teaching has always been my passion and my dream and I hope someday to fulfill that.
In 2010 I started at Salus University and finished in 2012, having earned my Master of Science degree in Vision Rehabilitation Therapy. In April of 2013 I earned my Academy for Certification of Vision Rehabilitation and Education Professionals (ACVREP) certification. Currently, I am looking for employment.
Why I Decided to Pursue a Career in Vision Rehabilitation Therapy and Chose Salus
I always wanted to teach others who are visually impaired the skills that I learned through the years. I realized that due to my math skills, being a teacher of the visually impaired (TVI) would not quite fit and was not quite what I wanted to do. I did research and asked some of my former teachers at Overbrook about the Vision Rehabilitation Therapy field. I realized that this field was exactly where I belonged.
So, I did research on the few universities that offer the Vision Rehabilitation Therapy (VRT) program and found Salus had a more comprehensive program. In addition to being more cost effective, I was able to travel independently to Salus during the summer classes and during the times that I needed to meet with professors.
My Experience at Salus in the Vision Rehabilitation Therapy (VRT) Program
I feel that my experience in the VRT program definitely prepared me for what I will face in the workplace. I learned some excellent techniques that were a bit different from the ones I learned via trial and error. My fieldwork placement and internship allowed me to practice the skills I had learned. I feel that these opportunities were one of the most important parts of my education.
My Advice for Someone Considering a Career in Teaching or Rehabilitation
If you are a person who is passionate about teaching and enjoy the benefits and rewards of helping someone regain their independence, this is the job for you! It is a fulfilling job with its own unique set of challenges and triumphs.