Sue Ponchillia in Memoriam
By Maureen A. Duffy, M.S., CVRT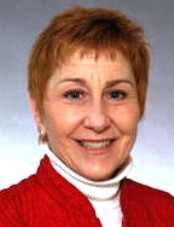 Susan Vlahas Ponchillia: Giver, Adventurer, Scholar
Following is the text of Dr. Paul Ponchillia's tribute that was delivered at the memorial service for his wife, Dr. Susan Vlahas Ponchillia, held on Saturday, October 24, 2009, in Three Rivers, Michigan. Dr. Ponchillia was the longtime director/coordinator of the graduate program in Vision Rehabilitation Therapy (VRT) in the Department of Blindness and Low Vision Studies at Western Michigan University. You can read Susan Ponchillia's obituary at the conclusion of Paul's remarks.
At the Beginning: Meeting as a Reader
I guess I'll start at the beginning, that is, when we first met and began our journey. When I walked into my first Monday evening class at Western Michigan University (WMU), up pops this sweet young woman's voice asking if I might be looking for someone to be my print reader. Two of her most beautiful qualities, that is, her easy and welcoming nature and her willingness to give, were immediately obvious. I would later learn of two others, her indomitable spirit and inner courage.
Susan did, indeed, become a reader for me. She was especially good at reading tests. If I told her to mark an answer on the test form that she thought was wrong, I'd hear a gagging sound from her. Of course, I should have listened, since I ultimately missed most of those questions. This little writing exercise was the beginning of what would blossom into a totally fun and productive 29-year writing partnership. Early on, we had a bit of a battle of writers' egos, but we eventually learned that she was the better wordsmith and formatter and I was better at early drafts.
After I graduated, we talked a few times over the next two years, while I was off teaching and she was getting a master's degree at WMU. Fate brought our paths together again three years later when life circumstances found us both "eligible." From that day forward, there began the synergism that became the being known as "Sue and Paul."
Sue's Early Years: Much Spirit Early On
Sue's spirit showed itself early on. Her baby book, which you can see at the reception following this service, reports her to be a newborn 7-pounder, who stood up and took her first step shortly after 10 months and whose handwriting looked like a grown up's as early as kindergarten. She also told me a lot of stories showing her spirited nature as a kid; the best one being when she and her sister Gail escaped one morning out the bedroom window on a series of tied together bed sheets.
Her early years also predicted her academic future, since she spent most of her elementary, junior high, and even high school after-school hours devouring books at the Belding Library. As a result of all that reading, she was a walking, breathing dictionary. Her command of words enabled her to attain one of the highest Miller's Analogy test scores of any doctoral student in WMU history. However, because so much of her vocabulary was learned from reading, she occasionally wasn't sure how words sounded. It always put a grin on my face when she would come out with something, such as, "pro-mon-o-tory" for promontory.
Sue's Interest in Blindness, Low Vision, and the Arctic
Susan first became interested in blindness and low vision when a Belding teacher took her class to visit a local man who was blind. Not surprisingly, Susan found his braille reading especially fascinating. Later in the same class, she studied Helen Keller and, from that point on, her future was set. She spent two obligatory "party down" years at Ferris State and transferred to WMU's education program for teaching children with visual impairments. That is when our lives intersected.
The side of Susan that only close friends know much about is that of "Arctic Adventurer." Before we began to share the outdoors, we had both camped, paddled, hiked, and the like. But, as it was with writing, as partners, we went well beyond what either of us had done individually before. After a few test trips to places such as the Boundary Waters Canoe Area, the Maine wilderness, the Nova Scotia coast, and a couple of Ontario canoe routes, we agreed to head to the Canadian Arctic and beyond.
She and I ultimately took more than twenty trips to the Arctic wilderness, including kayaking and hiking in the farthest northern reaches of Ellesmere Island, Greenland, Baffin Island, the Beaufort Sea, King William Island, Iceland, Norway, Northern Sweden, Alaska, and several Arctic places without names. On at least three of these trips, she had near-death experiences. Before the first Arctic trip, she hadn't told me about her fear of water. However, after being washed down a swollen glacial river during the first near-death scare, she did what Sue always did; she stuck her chin in fear's face and took scuba diving classes.
Picture yourself with the courage to trek or paddle off into such places with a partner who had not even a sliver of vision and you will understand the depth of her courage. Most of you have seen that courage in these past five years. Her death was such a shock because she had everyone believing all was well. During the past two years, she continued to work late hours and never missed a beat, in spite of suffering one disappointing medical report after another.
Sue's Badge of Courage
She expressed her feelings well in this short poem:
Earning My Badge of Courage
Sue Ponchillia, 2009


I wondered?
What does it take to earn that title "courageous"?
You know, in obituaries.
One reads: "Died after a courageous battle with cancer"
What did those people do to earn that badge of courage?
Would people say that of me, I ponder?
Then I realize, pieces of the badge have come to me already;
one by one.
We who have cancer are just living
…and earning our badge in pieces
I've earned mine in snippets.
First, the mastectomy…
My right arm swelling with lymphadema and having to wear a compression sleeve all day, every day…
Then hair loss
Aches, pains
Disappearing fingernails
A new chest port to make chemotherapy easier – twice, so maybe I earned two pieces of my badge of courage
And, oh, don't forget the lung drainage procedures and then the permanent tube
I'm sure there are more pieces coming my way until my badge is complete.
But all along the way, the reality is that I'm just living my life
…and savoring it
Maybe that's all people are doing,
…just living their lives and taking on each hurdle as it comes, but still living
So maybe it's not so hard to earn
The badge of courage.
I like the way John Wayne said it:
"Courage is being scared to death, but saddling up anyway."

Sue's Kindness to All
The side of Susan that most of you know is her basic kindness and goodness. Many of you are former students, who have been the greatest recipients of her gifts. She has sweet-talked or even cajoled you into the Program; brought you into her office and helped you through tough classes when you were ready to drop them and run; lent you money for tuition, books, or gas to get home; talked you through personal crises; or simply given you a hug on a bad day.
Perhaps, you aren't a former student, but know Susan as a mentor who has coached you in goalball, taught you at Sports or Art Camp, brightened your day through some professional corroboration, or simply dropped everything at the office to run you across town to an important appointment. In any case, you know as I do, this part of her has entered your souls and obligates you to act in kind in her behalf. I, more than anyone here, promise to continue her legacy of giving and kindness.
I'll close by asking you all to continue to think of Susan in the present, not the past. With age, I have come to be assured that there is another dimension, Heaven, from which spirits as strong and good as hers look upon us, intermingle with us at times of need, and if we let them, continue to guide us. I'm sure you will find Susan somewhere in the night sky as the brightest of lights nearest those surrounding God, her maker and redeemer. Most assuredly, you will feel her presence if you are lucky enough to ever experience the Aurora Borealis. ~ Paul
From Sue's Obituary: Noted Blind Rehabilitation Professor Dies
Editor's note: The following obituary was originally published on Michigan Live.com.
Dr. Susan Ponchillia, a noted professor and researcher in the field of blind rehabilitation, died October 12 in Kalamazoo, Michigan. She was 55.
Ponchillia, a faculty member in Department of Blindness and Low Vision Studies at Western Michigan University (WMU) for 28 years, was renowned for her work with the natives of Tlicho, a nation in subarctic Canada, who deal with a high rate of vision loss due to a genetic predisposition to rare forms of retinitis pigmentosa.
Her research took her and her husband Dr. Paul Ponchillia, a WMU professor emeritus in the same department, to the arctic region repeatedly over the past 20 years. Susan Ponchillia spent several months during a sabbatical year living in one of the region's remote native communities during the winter months.
In Kalamazoo during July of this year, she premiered a film she produced about her work with the Tlicho people. The documentary was designed to help educate people on the risk of inherited vision loss and explore how other cultures cope with such diseases. She regarded the work, Sing Me a Fish: Tlicho People of Subarctic Canada Living With Vision Loss, as the capstone to her professional career. She was scheduled to retire in December.
Ponchillia also worked extensively with her husband to create and develop annual sports camps for blind athletes held on the WMU campus. For 22 years, those camps, cosponsored by the Michigan Blind Athletic Association, have attracted students with visual impairments from across Michigan and the Midwest and from locations as far away as Georgia, Maine and Alaska. Through the couple's support, internationally competitive goalball teams with ties to Kalamazoo developed and have competed at the highest levels of international sport.
Ponchillia earned bachelor's, master's and doctoral degrees from WMU. She was a rehabilitation teacher in private blind rehabilitation centers before accepting a part-time teaching position at WMU in 1981. She became a full-time faculty member in 1984. She and her husband are co-authors of Foundations of Rehabilitation Teaching, a celebrated 1998 textbook that earned international accolades as one of the few comprehensive works of its kind.
Additional areas of research and service for Ponchillia included work with people with diabetes and resulting blindness and new developments in braille technology. Ponchillia was awarded the College of Health and Human Services' Teaching Excellence Award in 2002 after students lauded her for her hands-on approach to teaching.
Update: Read more about Dr. Susan Ponchillia's life in the Matilda Ziegler Magazine for the Blind.