A Day on the Road with Vision Rehabilitation Therapist Stephanie Stephens Van
Stephanie has 30+ years of experience as a Vision Rehabilitation Therapist and Low Vision Therapist. She has been Supervisor of Rehabilitation and Social Services, consultant for a variety of public and private vision rehabilitation agencies, and an Adjunct Instructor at Salus University College of Education and Rehabilitation. Stephanie has a Master's degree in Blind Rehabilitation from Western Michigan University. She has also written Finding and Hiring a Driver If You're Blind or Visually Impaired, an informative article that explains the process of hiring a driver and locating alternative forms of transportation.
As a Vision Rehabilitation Therapist (or VRT), Stephanie teaches adaptive independent living skills that enable adults who are blind or have low vision to perform a range of daily living activities, including home management, home modifications, home mechanics and repair, personal self-care, financial management, leisure activities, using the telephone, reading and writing, and braille. You can learn more about Vision Rehabilitation Therapy and vision rehabilitation services at What are Vision Rehabilitation Services?
Because Stephanie has low vision, she will use a driver to transport her approximately 100 miles to teach the three adult clients she will see today.
8:00 AM: Getting Ready for a Day "On the Road"
As I wait at home for my driver, Robert, I review the list of items I'll be taking with me for my three scheduled home visits today to Esther who has macular degeneration, Sam who has diabetic retinopathy, and Millie who has glaucoma.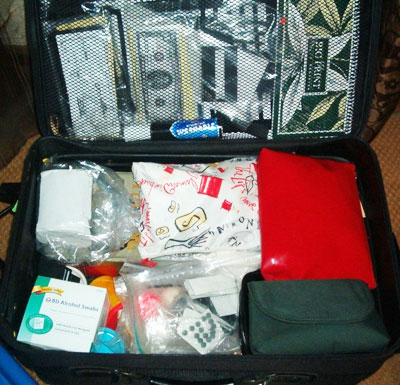 In addition to my usual wheeled suitcase filled with adaptive equipment for daily living activities, I'm bringing a braille writer, a braille label maker, a slate, and a stylus for Millie'sbraille lesson.
I've restocked the writing templates in my suitcase to provide a check-writing guide, signature guide, and envelope-addressing guide, along with a daylight task lamp and talking watch for Sam. He's looking forward to using the check guide so that he can assist his wife with household finances and bill paying—and he also likes the idea of writing his own checks independently without assistance from his wife.
Finally, I have my Google Maps directions to locate Esther, since this will be my first visit to her home. Yes, I took my lunch from the refrigerator and checked my office voice mails. I'll return phone calls while I'm traveling in the car between visits. Did I remember everything? Catalogs? Teaching notes? Handouts that I want to share?
The weather is beautiful today. It's on days like today that I'm glad I don't have to work in the office and miss the brilliant sun and perfect blue sky. I hear a car horn outside, which signals that Robert is waiting. After getting a hug and kiss from hubby, I gather my purse, canvas tote bag, and wheeled suitcase and I'm out the door and on the road for the day.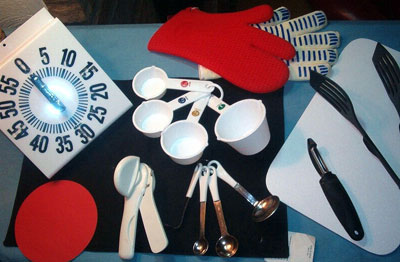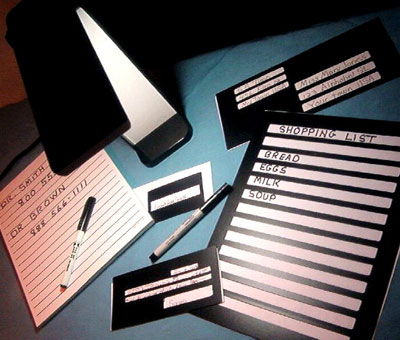 As I load my equipment and supplies into Robert's car, I double-check to make sure I have everything I need for today's lessons. There are so many items to keep track of! I'm always amused when I enter a client's home carrying my wheeled suitcase filled with teaching supplies and my tote bag filled with files, handouts, and resource information—people always ask if I'm moving in! My suitcase contains sewing supplies, braille writing tools, devices to help with pouring liquids, adapted watches and clocks, small hand tools for making home repairs, labeling and marking supplies, and adapted kitchen items, including oven mitts, bold print timers, double-sided cutting boards, slicing guides, and measuring cups and spoons.
I hand Robert our driving directions, record his mileage and start time, and discuss our best travel routes, based on the traffic that morning. We also discuss possible locations for Robert to wait while I'm inside teaching, so that he can respect each client's confidentiality. We are finally ready for a day "out in the field."
First Stop: Esther's Assessment
8:45 AM: Our first stop for the day is at Esther's home, where I'll be conducting an initial Vision Rehabilitation Therapy Assessment to determine her goals and my own teaching strategies for our future teaching sessions. Esther is 85 and lives alone in her own home. Today is my first meeting with Esther. The background information I received from our agency's social worker informs me that she has adult children nearby who are involved and supportive. She was recently referred to my agency for vision rehabilitation therapy because she has macular degeneration, or AMD, and is having difficulty performing everyday activities. Although her legs and back are affected by arthritis, and several heart attacks have reduced her activity level, she is eager to participate in today's assessment and future lessons.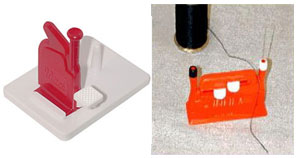 As soon as we complete our introductions, Esther provides me with a verbal list of daily living activities that, because of her diminished eyesight, have become difficult for her to do on her own. She begins by telling me about the sadness she feels because she can no longer thread a needle independently and sew for her family members and friends. She tells me that she has supplemented her income throughout the years by making and tailoring clothing, but now she has difficulty matching thread colors to make even small clothing repairs.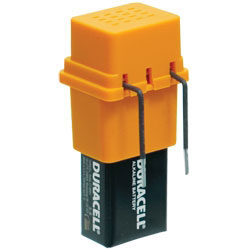 Esther also loved to cook and bake for her family, but is now afraid to use the stove and oven because of her reduced vision from AMD.
In addition, she is not comfortable when pouring beverages and eating, especially at restaurants, because she can no longer see her food and is afraid of "making a mess" and embarrassing herself and her family members. Because of this, she no longer looks forward to her weekly dinners at a local restaurant with her large extended family. I hear sadness in her voice as she tells me about her increasing difficulties with eating skills.
As we continue talking, Esther discusses the problems she has when she tries to pay her bills, write checks, and use the illuminated 7X hand magnifier she recently received from her low vision specialist. Her list of daily living needs grows as we continue to talk and share information during the assessment.
After two and a half hours, I bring our assessment and initial meeting to a close by reviewing the teaching goals I heard her express. I also suggest some additional goals related to personal and household safety that I share with all of my clients: lighting and home modification; safe indoor movement, including lower and upper body protective techniques; and trailing techniques.
We schedule a visit for the following week to begin our program of learning and instruction. I assign Esther some "homework" in using the protective and trailing techniques we discussed and practiced during the assessment. I also encourage her to acquire a tray with a lip and a plain white or light-colored placemat (for visual contrast). These items will help her keep track of utensils and other small items when she is cooking, sewing, replacing the batteries in her magnifier and hearing aids, and refilling her weekly medication organizer. I explain that keeping pills within a defined boundary (the lip of the tray) sure beats hunting for them on the floor.
A Break for Lunch and Record-Keeping
11:15 AM: Esther and I part company for now. Robert is waiting outside in the car, ready to go. I gather my teaching supplies and leave with a positive feeling about Esther's ability to adjust and learn. She didn't resist when I suggested some alternative ways of doing everyday tasks; in fact, she seemed pleased and I'm excited for her. This could be fun, even if I need to do sewing machine adaptations. I may not be great at sewing, but as a Vision Rehabilitation Therapist, I know how to assess her visual and physical needs and suggest appropriate adaptations for her machine and sewing techniques.
Back in the car, I make some notes in the file I've compiled for Esther's case. I document the length of time for this initial visit, the skills we covered during the assessment, the homework/practice I gave, and my plan for our next lesson. Robert starts the car, we review the directions to our next stop, and off we go.
Riding with Robert is always very entertaining. We discuss philosophy, ethics, classical music, politics, and chuckle about the silly road games we make up along the way such as "How Many Porch Sitters Today?" Before we reach our destination, we both make a necessary rest stop. I'm glad we're still in an urban area, because clean bathroom facilities are difficult to find in the more rural areas I serve. I know many Vision Rehabilitation Therapists who are required to make overnight stays on the road because their service territories are so large and sparsely populated. I feel fortunate that I can return home every evening.
I eat my lunch in the car on our way to my next appointment. Although I try to keep my travel time between visits to a minimum, the distance between clients can be substantial at times. Scheduling assessments and lessons can be difficult and time-consuming when I consider client proximity, my available days on the road, Robert's work hours, and my clients' eye, medical, and dialysis appointments. Over the years, I've learned a variety of ways to group my appointments and deal with these scheduling issues. There are days when people cancel on short notice, and I've learned to fill these cancellations with clients who agree to see me with no advance appointment. No two days are ever the same when I'm on the road.
Second Stop: Sam's Final Lesson
11:45 AM: My next appointment is with Sam, age 75, who has diabetic retinopathy. He retired from a career in electrical engineering and lives with his wife in a ranch home out in the country. Sam's wife greets me at the door, and this time I enter with only my tote bag and daylight task lamp in tow. Sam has been waiting for many weeks for his talking watch and task lamp to arrive from my agency's supplier. Today will be our final lesson, since Sam has accomplished all of the goals we identified during his initial assessment. Our last teaching session was approximately six weeks ago.
During our lesson, I remind Sam to orient himself to the watch face and control buttons the same way each time