Choosing Clocks and Watches for People Who are Blind or Visually Impaired
Features to Consider in Choosing a Clock
When considering a talking clock, one of the key features that is important to most is a simple to use product such as the one button approach. Also, an alarm and or hourly report is a feature that comes with most simple talking clocks. Most all are battery operated and lightweight and can easily be moved from place to place. There are some small models that can be carried in a pocket or purse for traveling. Another consideration is the volume of the talking device, an important consideration. Some come with a loud voice; a few models have a volume control or switch.
Considering a Visual Display Option
Another consideration is whether or not a visual display is desired. Several models do have a small visual display, not the ideal feature if someone is trying to look at the clock display as well as hear the time. However, some models do have large displays.
Atomic or Self-Set Clocks
The next category to consider would be clocks that are self-set, also called atomic clocks. These clocks have many other features such as announcing the time and temperature, both indoors and outdoors, and announcing the date. They also have an alarm. These types of clocks have a visual display, although not super large. Most are battery operated, but do not travel well in a pocket or purse as they tend to be larger, about four to five inches tall.
Voice Controlled Clocks
The third category in this type of device are clocks that are voice controlled or voice activated. Although these clocks had many features, the user may have to memorize specific commands in order to make the clock work properly. Some clocks have up to 10 or 12 commands that must be spoken specifically and clearly each time. One such function may be to set the clock with your voice, or set the alarm with your voice. Several of these clock models must be plugged in to work properly.
Advanced features of these voice controlled clocks are time, date, temperatures as well as one model that allow you to set reminders. For instance, when to take your medication or other daily reminders that can be added each day.
Of course, smart phones have built in clocks and alarms that can be used with voice commands.
Selecting an Adapted Watch
By Maureen A. Duffy, M.S., CVRT
General Considerations
The person who is blind or low vision should have as much input as possible in the selection of an adapted watch or clock.
A timepiece that seems "easy to use" for a fully sighted person may not be appropriate for an individual who is blind or has low vision.
How easy – or difficult – is the battery insertion and removal? Is it possible to change the batteries independently?
Does the timepiece have an alarm? Is an alarm an important feature for the person?
Is it possible to set the time and alarm easily and independently? Some timepieces, especially talking timepieces, may require many steps to set the time and alarm.
Does the watch have an expansion band or a buckle band? Many times, a "stretchable" or expansion band is easier to get on and off independently.
Try to keep in mind the principles of universal design: simple, familiar, durable, and easy-to-operate are usually the best choices.
Selecting a Low Vision Timepiece
Consider the size of the watch and clock face: A woman's watch will have a smaller clock face and numerals, while a man's will be larger and likely easier to read.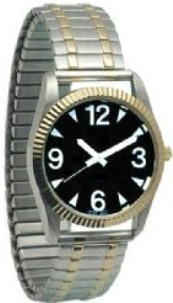 Many people with low vision prefer the larger size and visibility of a man's watch.
Does the person prefer a digital or analog (i.e., hour and minute hands) clock/watch face? Let the person with low vision make the choice.
If analog, examine the arrangement of numerals on the dial. Are all numbers represented, or only 12, 3, 6, and 9? Again, let the person with low vision make the choice of numeral visibility and placement.
Whether digital or analog, consider the contrast between the clock/watch face and numbers. Usually, black numbers on a white background, or white numbers on a black background are the easiest to see.
When selecting a wall clock, look for large, plain numbers or letters on a contrasting non-glare background: black numbers on white or white numbers on black. Position the clock at eye level, if possible.
Selecting a Talking Timepiece
Examine the voice quality: Is it a male or female voice? Male voices are usually (but not always) easier to hear. Let the individual user make the decision.
Can the volume be adjusted? Be certain that the person can hear the voice and time announcement before purchasing a talking timepiece.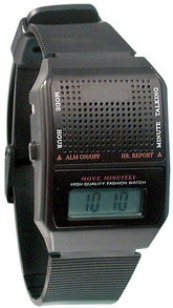 Examine the size and location of the controls and buttons, as well as the number of steps required to set the time or the alarm. Some talking timepieces have very small controls and may require many steps to set the time and alarm.
Are other languages available? Many talking watches are now available in a variety of languages, including Spanish, Chinese, and Russian.
Does the watch have time, day, and date functions? Does the person require these functions? If not, look for a simpler timepiece.
Some talking watches and clocks adjust automatically for Standard and Daylight Savings time and don't require resetting.
At right: A man's talking watch with a digital display and a buckle band.
Selecting a Braille Watch
Many adults and older adults may be reluctant to try a braille timepiece because he or she "doesn't read braille."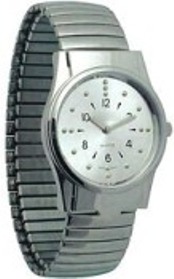 Braille timepieces, however, do not contain braille letters or numbers; instead, they use a pattern of raised tactile markings: (a) 3, 6, and 9 are marked with two dots, (b) 12 is marked with three dots, and (c) the remaining hours are marked with one dot. Braille watches are more accurately described as "tactile" timepieces:
Reading the time on a tactile watch requires opening the crystal and touching the raised markings and hour and minute hands.
Most tactile watches open at either 3:00 or 6:00.
Some tactile watches open by pulling up on a latch; others open by depressing a button.
Examine the location and durability of the latch, the hinge, and the opening.
A man's larger tactile watch face is usually easier to read initially.
Where You Can Find Adapted Timepieces
You can find these and other specialty timepieces in Helpful Products and Technology for Living with Vision Loss – VisionAware. You can also find good-quality low vision and talking watches and clocks in your local "big box," department, and drug stores.