Overview of Low Vision Devices
By Bryan Gerritsen, M.A., CLVT Edited by Maureen A. Duffy, M.S., CVRT
What Are Low Vision Devices?
Low vision devices can help you make the most of your vision so that you can perform everyday tasks more easily and with less frustration. Some devices, such as optical and non-optical aids, offer very simple and relatively inexpensive solutions. Other devices, such as electronic and digital magnifiers, may be slightly more complex and costly. However, both optical devices and electronic or digital devices require training to use them efficiently and effectively. Training is always one of the main keys to success with the use of low vision devices. There are several different categories of low vision devices: optical devices, non-optical devices, and electronic magnifiers and magnifying systems. Low vision devices are task-specific, designed for close-up visual tasks or distance viewing. You may require several different devices to accomplish different tasks, depending upon your eye condition and your everyday living needs.
Low Vision Optical Devices
Low vision optical devices include a variety of helpful visual aids, including stand and hand-held magnifiers, strong magnifying reading glasses, loupes, and small telescopes. Because these devices can provide greatly increased magnification powers and prescription strengths, along with higher-quality optics (i.e., the way the lens bends or refracts light), they are different from regular glasses and magnifiers that you can buy in a local store or online. Most often they require training to help you use them effectively.
Low Vision Non-Optical Devices
Low vision non-optical devices can include adaptations such as reading stands, supplemental lighting, absorptive (or glare control) sunglasses, typoscopes, and tactile locator dots. They can be used in combination with low vision optical devices and can help with reading, organizing, labeling, and a variety of everyday tasks.
Electronic Magnifying Systems
Electronic magnifying systems come in many different varieties and sizes, depending upon the task or activity you want, or need, to do. Some have a camera system that displays a magnified image on a monitor, which can be helpful for reading mail, books, and magazines, while others are hand-held, portable, and can be taken to the supermarket to read labels and coupons, or to restaurants for reading menus.
How Can I Obtain a Low Vision Device?
They are often recommended as part of a low vision examination. A low vision exam by a low vision specialist — an ophthalmologist or optometrist with credentials or specialization in low vision testing, diagnosis, and treatment — is the best way to decide what type of device or devices are best for you, your eye condition, and your everyday living needs. At your low vision evaluation, you will have the opportunity to try a variety of devices in a variety of settings and learn first-hand how they can work for you.
How Can I Locate a Low Vision Specialist?
You can find a listing of low vision specialists in the "Low Vision Services" category in the APH Directory of Services. In addition to the low vision providers in the Directory listings, you can find additional providers through the following directories:
Advice from Audrey Demmitt, RN, BSN, and a VisionAware Peer Advisor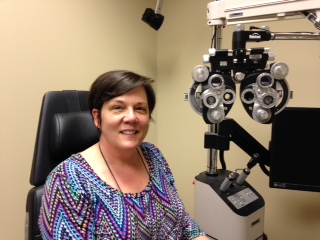 Many people are apprehensive about low vision specialists and feel they are "just trying to sell me expensive devices that don't work." Sometimes, there is a very simple device available to do an everyday task, and sometimes the more expensive devices, such as video magnifiers, can truly be life-changing solutions that are worth considering. I often hear my clients say, "Why can't the doctor just give me some new glasses that will work?" They often do not understand about uncorrectable vision problems and become frustrated. Clients have even asked me, "Why do you have glasses that help you, but there are none that will help me?" I have
retinitis pigmentosa
and use prism magnifier reading glasses that enable me to read, but they don't work for every type of eye condition. Low vision devices are not "one size fits all." I always try to advise people to start by having a
low vision evaluation
and learn the particulars of their eye condition before they try to purchase low vision devices on their own. Why purchase a variety of over-the-counter or mail-order devices that may or may not work? In the long run, going to a low vision specialist can save you money, time, and much frustration. The benefits of having a low vision exam are many. You will discover new ways to do visual tasks, learn about new devices, receive expert and personalized advice, and have the opportunity to try them out before purchasing. Keep in mind that most devices require some training in order to use them effectively, and this is usually offered through the low vision clinic.