Selected Clocks
Atomic Clocks
Digital Talking Atomic Clock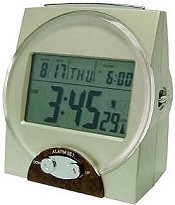 The talking atomic clock has a clear talking function.In addition to the time, it will announce the month, day of the week and number of the day. The large digital display shows you the time, day and date, in big, bold numbers and letters. Also features an alarm. Measures 4.5 x 4.7 x 2.75 inches, and the LCD screen is 1.75 x 3 inches. Requires 2 AA batteries (not included). The time is spoken as 'it is 10 minutes to 12' instead of 'it is 11:50'. This clock announces AM or PM. Optional hourly announcement.
Lighthouse Website Price: $39.00
Atomic Analog Talking Alarm Clock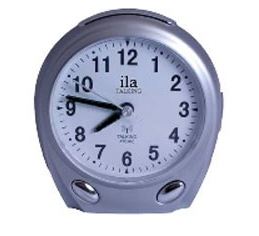 This atomic analog talking alarm clock automatically picks up the correct time according to the USA Atomic Clock. This clock speaks the hour, minute, AM/PM and even the day, month, date and year! It will automatically set itself to show the official time.
To set the alarm time (hour and minute) this atomic talking clock uses buttons located on the back of the clock. This feature helps visually impaired individuals to set the alarm time easily using the talking function and improves the accuracy of the setting.
Features:
Measures 4 x 4.7 x 2.5 inches
Weighs 0.60 lbs
Volume Control (High, Medium, Low, Off)
Press the S1 button (top button) once to hear the time (hour, minute, AM/PM)
Press the S1 button (top button) twice to hear day, month, date and year
Daily alarm
Works in the US and UK
Requires 2 C Batteries (NI)
Lighthouse Website Price: $34.95
Atomic Talking Clock With Calendar, Alarms
This Atomic Talking Clock With Calendar, Alarm speaks all the functions to guide you through the settings
Features:
a modern design in a silver-tone case
Volume control
Measures 4.5″ x 4.75″ x 2.75″
Requires 2 AA batteries (not included)
Alarm speaks the time and beeps for 5 minutes
Lighthouse Website Price: $39.00
Voice Control Talking Clocks
Moshi IVR Voice Controlled Talking Alarm Clock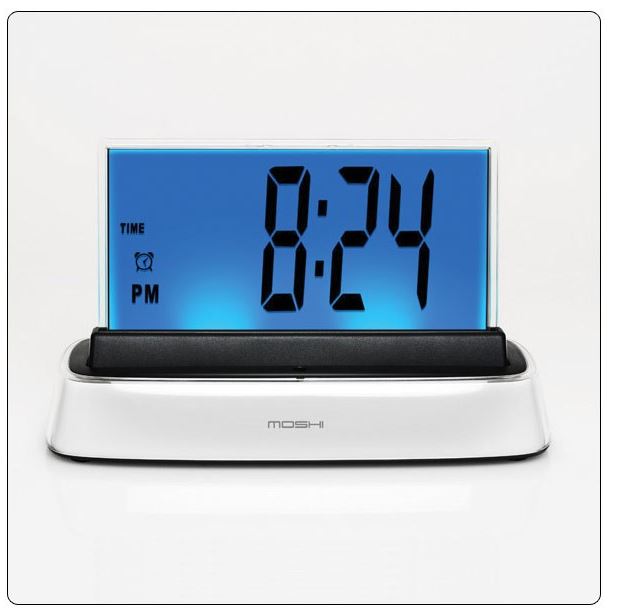 The Moshi IVR (Interactive Voice Response) Clock is an amazing, modern styled talking clock that is totally voice controlled. Once set, through voice commands only, the current time, the alarm time and sound, the sleep sound, and even the date, can be retrieved by just asking for it. "MOSHI" is fully voice interactive and can be operated without ever seeing the clock. The 12 commands can be asked and answered without even leaving the comfort of your bed! In addition to the indoor temperature announcement in either Fahrenheit or Centigrade, choose from 5 different backlight colors. To activate the clock, simply say, "Hello Moshi."
Features:
Listens and responds to 12 voice-activated commands
Has 3 different alarm sounds; chime, chirp or bell
Can play a sleep sound of your choice for 5 minutes; water, birds or waterfall
Includes a nightlight and a "help" feature
Operates on AC/DC power (adaptor included) or 3 AAA batteries (not included)
Measures 7.5 x 3.25 x 4.5 inches
Price: $45.95
Spanish Talking Clock
This Spanish speaking talking clock is easy to set and use daily. The setting and talking buttons are all easily accessible on the front and the time talking button is the big bar on the top. This clock features a large display with 1 inch high numbers.
Features:
Buttons are easy to find and press.
Speaker is easy to hear
The 1 inch high large and bold numbers can be seen better than on most portable talking travel style clocks
Measures 5″ x 3-1/2″ x 2″
Operates on two AA batteries (Not included)
* Note: This clock only speaks in a 24-hour format, but the visual display is in the 12-hour (am/pm) format.
Price: Price: $12.95
EZ Aqua Button Talking Clock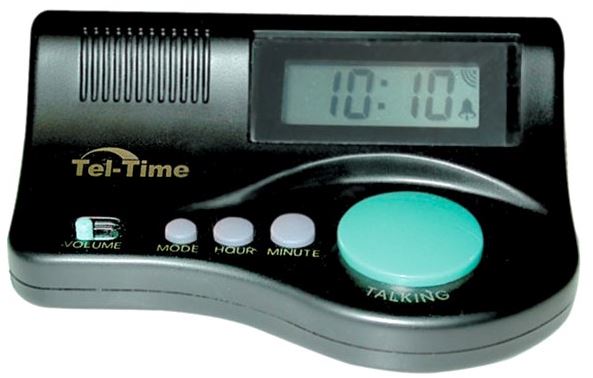 This small, desktop clock shows the time in easy to see digital numbers. It is black with a large, aqua colored, button that one pushes to hear the time spoken in a clear female voice. It features an alarm that beeps. Offers optional hourly time announcement and high and low volume control. Measures 4.7 inches x 3.5 x 1.75. Uses 2 AA batteries, not included.
Lighthouse Website Price: $17.00
Pyramid Talking Clock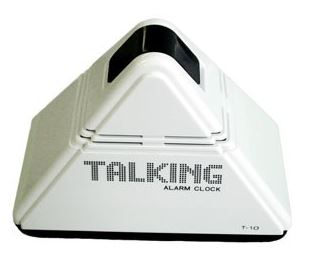 The unique triangular clock is easy to use. Just push the top and its clear female voice will report the time. Wake up to a rooster, beep-beep or cuckoo at 3 volume levels. Using 4 AA batteries, it features a liquid crystal display, easily set without vision. Please note this item does not have an hourly announcement.
Lighthouse Website Price: $19.95
Low Vision Clock: Big N' Bossy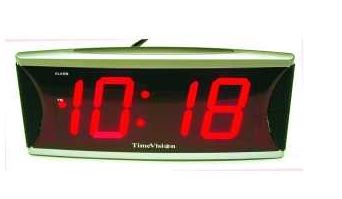 If you are an individual who has no need for a talking clock, but want a large display, the Big N' Bossy Clock is for you. The large display clock features numbers that are approximately two inches in height. The clock also includes an alarm (and alarm volume control) and easy to find setting buttons on the back. It comes in red and green.
Lighthouse Website Price: $25.95
Choosing the Right Clock for You
Also read the Chicago Lighthouse article about choosing a clock.