Google Home: A New Electronic Digital Assistant
"Hey Google, can you give me a gift idea for my mother?" The Google Home device on the coffee table lights up and responds in a female voice, "You could make her something tasty to eat. Do you want a recipe?" I don't really feel like cooking, so I ask, "Hey Google, what restaurants nearby are open for lunch?"
Almost immediately, the starburst on top of the Google Home lights up and the Google Assistant responds, "The Seafood Center is open from 10 am to 6 pm. It is four miles away." That sounds promising. "Hey Google, what's their phone number?" A female voice cheerfully reads the number out, then repeats it again when asked, after I locate a wide-tip pen and some paper to jot it down on.
What is Google Home?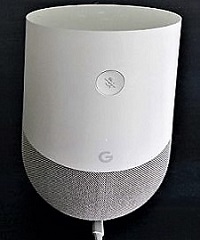 Google Home is the most recent of the stand-alone devices that offer users an electronic digital assistant, connected to the Internet, to help with information-gathering tasks.
Think of a smart, voice-activated speaker that connects to the Internet via WiFi. It is similar in many ways to the Amazon Echo product with the Alexa digital assistant that preceded it by at least a year.
Google Home, which debuted in November 2016, looks like a beefier, two-tone, Renuzit air freshener, is 5 ½ inches tall and about 3 ½ inches wide, and is available in a variety of color combinations.
It has a detachable electrical cord (not a standard USB cord) that plugs into an AC outlet and one recessed button on the same side where the electrical cord connects. This recessed button toggles the microphone on or off.
The top of the Google Home device is sensitive to touch. Touching the top will pause or resume a response from the Google Assistant and circling the top with a finger will increase or decrease the volume, depending on the direction—clockwise to increase, counterclockwise to decrease. A colorful light array will appear at the top when Google Home is starting up or processing a command.
How Does Google Home Work?
Google Home connects to the wireless Internet (WiFi) during setup, and provides access to a wide variety of information and entertainment resources available on the Internet using simple voice commands. One of the great features of Google Home, as well as the Amazon Echo, is that after the initial setup, users can get information or can access services on the Internet without using a computer, tablet, or smartphone.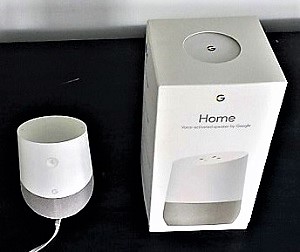 The Google Home device next to its packaging box
Prior to the digital assistants, such as Google Assistant, Alexa, and Apple's Siri, users had to know some of the basics of using a computer or a tablet to get access to this storehouse of information. Now, devices like Google Home can make this information more accessible (although in a somewhat limited way, as explained below) to anyone who is able to vocalize a command and hear the response.
Setting Up Google Home
The initial setup of the Google Home requires a tablet or smartphone, running the free Google Home App, that can (a) identify the Google account to be used on the device, (b) enter the WiFi connection information, and (c) select some of the basic features to enable.
For example, asking the Google Assistant for the news will present news updates from pre-selected sources prior to customization. You can personalize these sources later, during or after the setup, by adding news sources like BBC or CNN updates from the available list of news options.
Advantage of Google Home for Users New to Technology
Much of the selection or customization for Google Home can be done intuitively, using a conversational voice command. With the Amazon Echo, on the other hand, many of these personalizations are added as "skills," meaning that they must be done on a tablet or smartphone, connected to the Alexa App. For example, to have the Echo entertain with jokes, you must add a "skill" for jokes and give the command for that specific skill. The Google Home, when asked, just shares a joke.
Is It All Just Fun and Games or Can It Help With Everyday Tasks?
Daily Tasks
The Google Assistant will perform many daily tasks, like telling the time, weather forecasts for any place you ask, setting a timer or an alarm, compiling and adding to a shopping list, calculating numbers like a talking calculator, reading and adding appointments to calendar, searching the Internet for a local business phone number, and so much more.
Accessing Radio Programs and Podcasts
In addition, because of the Internet access, Google Home can provide a great deal of streaming content, for entertainment, education, or just a convenient means of access. You might think of the Google Home as a voice-activated radio tuner that uses the Internet as an alternative to radio waves. For example, one of my favorite podcasts for technology updates, is "Cool Blind Tech." Each episode is called a podcast that can be downloaded or streamed on the Internet. Saying "Hey Google, play the Cool Blind Tech podcast," starts the most recent podcast.
The same happens with several other popular podcasts found on NPR Radio. My local PBS radio station plays live when I give the command, "Hey Google, play the local PBS radio station." I notice, however, that the selection of podcasts, specifically related to vision loss, like AppleVis, Eyes on Success, and Blind Abilities is more limited than what is available using the Amazon Echo.
Finding Practical Information
The Google Home doesn't yet have the flexibility of a computer running a screen reader, meaning that you will not be able to conduct the in-depth sort of information gathering you might do with a computer, researching multiple websites.
However, the Google Assistant did a great job searching through recipes on the "Food Network," "Martha Stewart," and "AllRecipes" websites to provide a wide variety of recipes. In addition, the Google Assistant allowed the recipe to be read one ingredient at a time, or one section at a time; for example, the ingredient list first and then later, step-by-step instructions.
Connecting to Other Appliances
Google Home takes advantage of at least a dozen other Smart Appliances, such as lights, thermostat, an air conditioner, locks, and more. For example, with some smart lighting from Belkin WeMo, the Google Home can connect to the lighting using WiFi and. Using a voice command to Google Home can turn the lighting on, turn it off, or dim it. You can also receive a verbal report on which lights are on in which rooms, if they are all connected.
Wouldn't it be great if you could control some of those hard-to-use flat panel LED ovens and microwaves by using Google Home? (Note: I didn't find one currently working with the Google Home. I am just dreaming about future possibilities!)
Is Google Home Right for You? Some Limitations to Consider
Neither Google Home nor Amazon Echo is able to send an email, a text message, or make a phone call. These are big limitations if this is a user's only access to the Internet. To date, the Google Home will not access an Audible account to read narrated Audible books, and the Amazon Echo will.
If reading books is a priority, then the Google Home may not be the right device for you. But if your goal is to get access to one of the easy-to-use digital assistants that will provide quick access to the Internet and some everyday tasks – such as timers, alarms, and dictionaries – using logical voice commands, then Google Home is a compelling introduction.
Google Home is also easy to find at local retailers, such as Target or Best Buy, for $129.