Locating Computers with Access Technology for People With Visual Impairment
by Steve Kelley, VRT
Author's note: This author ordinarily prefers to use the term "Access Technology" (AT) to describe the technology through which a user accesses a computer or technology. Most of the external resources used for this article use the term "Assistive Technology." Both terms describe the same thing—products, devices, or equipment used to maintain, increase or improve the functional capabilities of individuals with disabilities, this case people with visual impairment)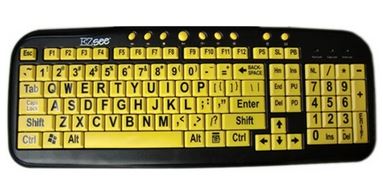 The Importance of Assistive Technology
One of the most powerful ways to compensate for loss in vision, particularly overcoming the increased difficulty of reading, is by using assistive technology on a computer, tablet, iPad, or an electronic device specifically designed for someone with vision loss. If you were born with visual impairment or blindness, you probably know all about this type of assistive technology. However, if you have a recently acquired vision loss, you may have no idea that computers and tablets may be efficiently used by individuals with a vision impairment. Very often, by the time we experience a vision loss, we have been using a computer and keyboard visually for years, and can't imagine accessing them any other way. Unless you or someone close to you needed a computer with assistive technology such as a software screen magnifier or text-to-speech to enable the computer to read out loud, you may have no idea this technology even exists, or where to find it.
This technology does exist, and is available today on more devices than ever before. In some cases, you may already have a device in your home that has assistive technology built into the operating system, such as VoiceOver and Zoom on the Apple iDevices (iPhone, iPad, iPod Touch) and Mac computers, or the full screen magnifier built into Windows.
Where to Find Computers with Access Technology
Before you try to locate a computer that will be usable for you, consider what you'd like to do with it. For example, if you'd like to use the computer to read the newspaper, many computers and tablets will allow you to do this in one way or another. If, however, you are trying to develop skills with assistive technology to return to the workplace, you may want to consider whether the workplaces you're interested in are using Windows on a PC, or an Apple Mac, and focus your efforts on that particular device. The next step is to try to fine tune the selection process with an assessment from someone skilled with the AT you're interested in, or at least a hands-on demo of the device you're interested in or a range of devices that may accomplish your specific goals. The latest computer or tablet may seem like the perfect device until you get your hands on it, perhaps only to discover it is too heavy, clumsy for you, or does everything but what you really want it to do.
Assistive Technology Device Demonstration Programs
Many states support an Assistive Technology Device Demonstration Program that may offer consumers with a disability such as a vision loss, a wide range of services, including a technology assessment, low interest loans to help purchase technology, training, or even a short term trial of the device in a home or work setting. You can find information about projects in each state through a state-by-state chart on the RESNA Catalyst (the Rehabilitation Engineering and Assistive Technology Society of North America) website
These programs grew out of the Assistive Technology Act (also called the Tech Act) that was first signed into law in 1988. The purpose of the Tech Act was to provide increased access to technology for consumers with disabilities through federal and state grant funding. Many programs charge little to no fee for these services, or partner with other rehabilitation or health agencies that provide financial or staff support. Check the National Projects list that augment and support state based Assistive Technology Act activities.
Local Rehabilitation Services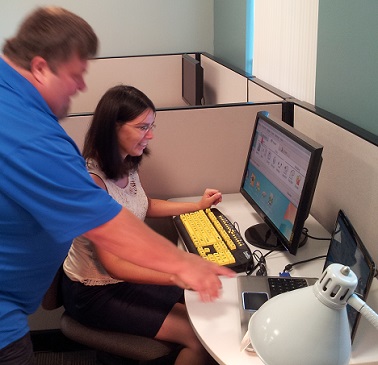 Another starting point for an evaluation or demonstration is a local vision rehabilitation therapist (VRT). This professional may not always have the technology expertise to conduct an evaluation, but can certainly direct consumers to what is available locally. A quick way to locate a VRT is to use the VisionAware Directory . In the Categories drop down menu, select "Computers/Assistive Technology Training." Also try the category "Daily Living Skills/Independent Living Skills Training" if you need additional resources. This writer discovered when searching for resources on this directory for the State of Maine, that it returned listings for the State's Division for the Blind and Visually Impaired, the statewide non-profit agency serving the blind and visually impaired, plus the state's Assistive Technology Device Demonstration Program. Any one of these resources could point a consumer in the right direction for locating a computer or tablet with the appropriate assistive technology.
Workplace Technology
If you are working or interested in continuing to work, you will want to check with your state vocational rehabilitation agency for assistance. Check in the VisionAware directory listings to find the "Employment and Job Training" category. Also read about workplace technology to learn more.
Retail Store Demonstrations
What about the assistive technology mentioned above that is already installed on the computer or tablet? Why not just have someone at the Big Box Store demonstrate the screen magnifier on the Android Galaxy tablet, for example? With the notable exception of the Apple retail stores, this may yield disappointing results. This writer's experience is that the retail staff may be aware that these assistive technology features exist, but often lack the training to turn them on and have little experience demonstrating them.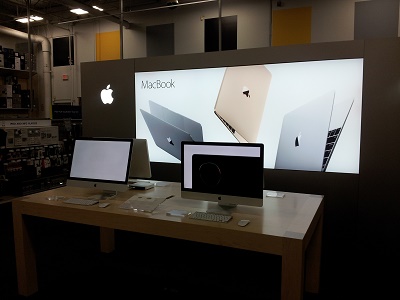 Apple retail stores, on the other hand, do have staff members with some training on turning on and demonstrating assistive technology features. Depending on the store, they may have someone in-house who can demonstrate the basic features of VoiceOver, Zoom, and other accessibility features available on both the iDevices and Mac computers. It's also worth pointing out that Apple offers One-to-One Training for $99 for a year through their retail stores. This may prove a good way to get started using VoiceOver or Zoom if an Apple product is turns out to be the right device for your needs.
Regardless of how much experience you've had in the past using computers—laptop, desktop, or tablet, there is one that will work for you, and assistive technology that will permit you to access it, regardless of how much vision you have. Resist the urge to purchase the latest popular gadget and seek out a resource that will help you identify one that fits both your goals, and your abilities. You may be pleasantly surprised by the many opportunities the right assistive technology will provide to you!
Other Resources
Computers for the Blind Offers Inexpensive Computers
Reading For All, Using the Public Library System