House Hunting with Vision Loss: The Purchasing Process
Making an Offer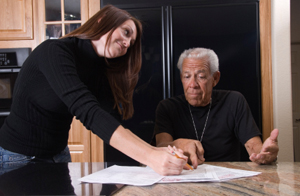 Once you find a house you like I recommend that you seek assistance not only from your realtor but also from people with expertise or at least experience in each step of the purchasing process, especially if you are buying your first home. Step one is how much money do you offer for the house? Your realtor should give you good advice on a reasonable offer that the owner might accept. But, if the seller is also a client of the realtor, the realtor may have a conflict of interest. This is one reason to examine the appraisal. How much have comparable houses in the area sold for. Talk with someone who has your best interest at heart. This might be the person who's been your eyes when you were looking for the right house or you may want to talk with your financial advisor.
Finding a Lending Institution
While house hunting, I recommend that you begin two other steps in the process. Begin contacting several lending institutions to find the one that will work best for you. Often your own bank or credit union will give you the best deal because they already know something about your financial history. But, you should still inquire elsewhere. As I discovered last fall, many lending institutions no longer offer in house loans or give mortgages on condominiums. If you know someone who has been in the banking industry, ask him or her to help you choose the best lender after reviewing the information you gather from the various lending institutions.
What You Will Need for a Loan Application
At the same time, start compiling a portfolio of the items you'll need for a loan application. Every bank will have its own list, but many items are common to all lending institutions. If your vision is very limited, then you will may want a sighted person to help with this step in the process. As you will see on the list below, this person needs to be someone you can trust with some very confidential information. For this step, I utilized the knowledge of a friend with many years in the banking industry.
Items Required on a Loan Application
Identification: Photo ID and Social Security card
Income Documentation: Most recent pay stubs covering a month from all current employers; W-2's, 1099's, and K-1's for two years; Most recent retirement/pension/disability income/social security statement (if applicable;signed copies of last two years of your income tax returns; a year-to-date profit and loss statement, if self employed; child support, alimony, or separate maintenance income for six months
Asset Documentation: complete copies of bank statements for most recent two months; Explanation of each deposit on the two statements (a brief explanation written next to each deposit; documented credit rating
Once you actually apply for the loan your inability to provide any of the documentation in a timely manner may affect your closing date. Since interest rates can fluctuate daily, postponing the closing date may affect your interest rate. A higher interest rate can cost you a lot of money over the years of your mortgage.
Home Inspection
As soon as your loan is approved, set up the home inspections and plan to be present for each. Again engage the help of an expert. If you know a builder, ask him to attend the inspection with you. A builder will be looking at the same things as the inspector—roof, ceilings, wiring, appliances, heating and air conditioning unit, floors, foundation, etc. When you receive the written results of the inspections, have your builder friend review it with you and discuss which repairs you should insist the seller make. Sometimes this requires careful negotiating. Pick your battles.
Choosing the Location for Your Closing
Most real estate agencies conduct their closings through one or two title companies or real estate attorneys. Many home buyers and sellers do not know that a buyer can choose the location for the closing. (The exception occurs when the property is a foreclosure owned by a bank.) Again, I recommend that you do some background investigating before choosing the location for your closing. Unfortunately, not all businesses are honest. Recently, my condominium association had to foreclose on some property. In the process, we learned that the title company had allowed the original owner to sell the property even though there was a lien on the title.
More Control
Choosing the location yourself gives you more control over the closing. For example, you can schedule a time before the closing for someone to read all of the documents to you. I prefer that my personal attorney be my reader. As he reads each document, he can do a better job of explaining the legal-eze than a friend or family member. When your realtor sets up the appointment with the place you choose, ask your realtor to have the person officiating the closing to mark each signature line so you can quickly and easily sign each document. Personally, I like signature lines marked with post-it notes just below the lines. I once refinanced a house and had to sign my name 52 times. The mortgage officer had every line marked and we finished in less than 45 minutes.
In Summary
Even though I was purchasing half of my own house rather than buying another home, I'm glad I engaged professionals in helping me make decisions. My attorney advised me to have the house appraised. Since purchasing the house, we had been through the housing market crash, and I was uncertain of the current value. This small expense allowed me to make a fair offer to the other owner. Next, a friend–retired from the banking industry–helped me put together a portfolio for a loan application. Eventually, my financial advisor showed me that I could save money paying cash rather than taking a mortgage. The final details of the purchase and closing were handled by my attorney. My older friend now living in the assisted living facility and I both were pleased with the outcome!
Owning a home is a wonderful accomplishment, but also a major decision in one's life. Therefore, asking others for suggestions or advice is a wise decision whether the person is visually impaired or sighted. Every home buyer has priorities to consider. Some discussed in this article should be considered by everyone. Others are specifically directed toward the unique needs of individuals with vision loss. I hope this article will encourage you to pursue your dream if you've been hesitating because of your visual impairment.