Bathtub Area With and Without Contrast
Bathtub Area Without Contrast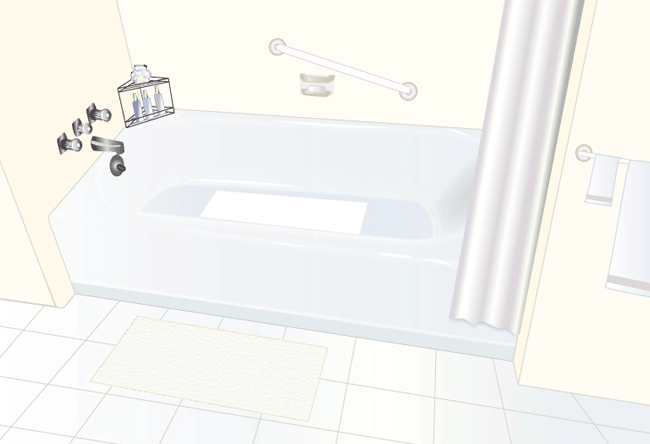 The low contrast bathtub area features light flooring, light walls, and a white tub and tub surround. The tub mat and grab bar are light colored; the soap is white; the shampoo and conditioner bottles are light colored, the same size and are indistinguishable; the towels are light colored; the shower curtain is a light color; and the bath mat is white.
(Note: all bathmats and tub mats should have a non-skid backing.)
Bathtub Area With Contrast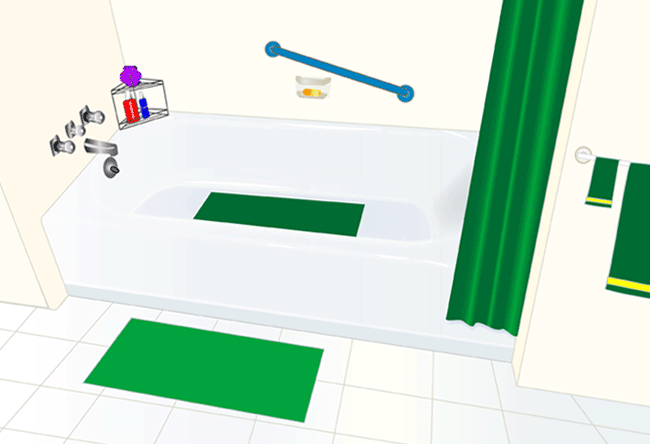 In comparison, the high contrast bathtub features light flooring, a white tub, and white walls, with changes only in the accessories. All were selected to provide high visual contrast and differences in texture.
The tub mat is dark;
The grab bar is a dark color
(Note: these can be purchased locally in different colors or you can using contrasting tape to achieve the same effect);
The soap is a dark color;
The shampoo and conditioner bottles are a dark color and the conditioner bottle has a rubber band to distinguish it;
The towels are dark;
The shower curtain is dark;
The bath mat is dark
(Note: all bathmats and tub mats should have a non-skid backing.)