Sink Area With and Without Contrast
Sink Area Without Contrast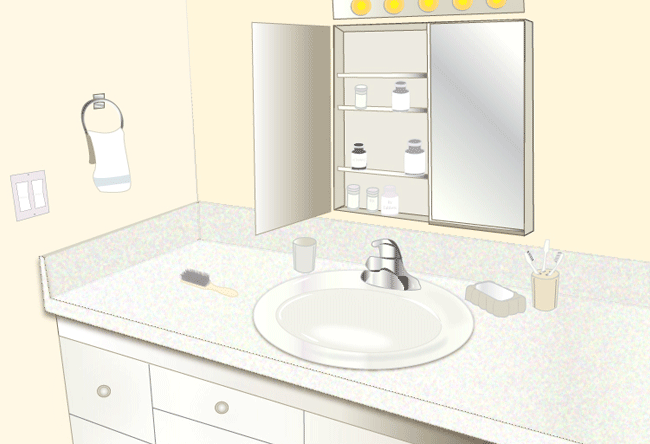 The low contrast bathroom sink graphic shows a sink with a soap dish and soap holder, cup, toothbrush holder with toothbrushes, medicine cabinet with medicine bottles, light switch, hand towel, and hairbrush. All the items are a light color against light colored walls and a light colored countertop. The labels on the medicine bottles are printed in a light text against a light background, all providing examples of insufficient visual contrast.
Sink Area With Contrast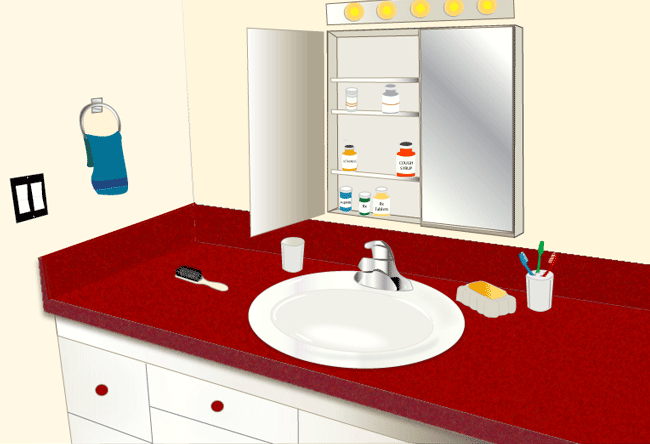 The high contrast bathroom sink graphic, in comparison, demonstrates how good visual contrast can help people with low vision.
The countertop is a dark color and the walls are a light color.
All of the accessories were selected to provide maximum visual contrast, and in some cases, texture.
The soap dish is light with dark colored soap.
The cup is white against the dark background of the countertop.
The toothbrush holder is light with dark colored toothbrushes.
The medicine bottles have large print lettering in a dark ink on light background; one medicine bottle has a rubber band and another has two rubber bands to distinguish them texturally from the other bottles.
The light switch plate has a dark background and white switches.
The hand towel is dark against a light wall.
The hairbrush has a light handle against a dark background.