Clean to the Touch
An Interview with Authors Kathy Bull, Susan Lind-Sinanian, and Eleanor Martin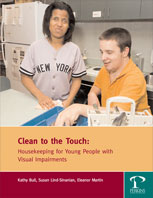 Clean To the Touch: Housekeeping for Teenagers and Young Adults with Visual Impairments, published by Perkins School for the Blind, is a teaching manual containing systematic, easy-to-use, step-by-step techniques that can enable people with visual impairments to accomplish a wide range of housecleaning and housekeeping tasks easily, safely, and effectively.
Areas of the home addressed in the book include bedrooms, bathrooms, kitchens, and floors, along with information on room arrangement, safety, and storage tips. Although the manual emphasizes the needs of young adults, these housekeeping and cleaning techniques can be helpful for people of all ages, including adults and older adults who are blind or have low vision.
Meet the Authors
Kathy Bull has a Bachelor of Science degree from Lesley University in Teaching Young Children with Special Needs and is a certified teacher of children with Moderate Special Needs, grades 5-12. She has taught Home and Personal Management at Perkins School for the Blind since 1989.
Susan Lind-Sinanian has a Bachelor of Science degree in Elementary Education from Northeastern University and a Master of Education degree from Boston College in teaching students who are blind and visually impaired. She has taught Home and Personal Management for 30+ years at Perkins School for the Blind.
Eleanor Martin has a Bachelor of Science degree in Home Economics from Baldwin Wallace College and taught at Perkins School for the Blind for 11 years. She is also a Certified Vision Rehabilitation Therapist (CVRT). Since 1990, Ellie has been teaching daily living skills at the Carroll Center for the Blind in Newton, MA.
Can you tell us more about your background, experiences, and training?

Kathy: "When I was in my teens, I started working at state schools for people who were called – at the time – 'retarded.' My experience in those institutions made a huge impression on me. Many good people lived and worked in these schools, but the design and culture were not good for people in so many ways. Besides the physical conditions, there was a terrible imbalance of power and almost no opportunity for the people who lived there to learn, express themselves, or become empowered in any way. It was then that I learned about the problem of abuse of people with disabilities. To this day, that is something I am continually working to 'make right.'
"I have had the opportunity to take many helpful classes, workshops, and in-service trainings. I have always been interested in learning about education, especially education that is based on the interests and needs of the learner and serves to empower the learner. My most meaningful learning has been on the job, learning from my students, colleagues and parents. At Perkins, we are lucky because we work as a team, so every day I have the opportunity to learn, not only from the students, but also from dedicated and knowledgeable people who have a variety of skills and perspectives."
"I like teaching everyday skills that enable learners to work with their hands and learn to do something related to daily life. I teach a class called Adult Living, which is a practical, hands-on class that prepares my students for life after graduation."
Susan:
"When I was attending Northeastern University, studying Elementary Education, I had to choose a Co-op job. I was offered a placement as a junior housemother in one of the dorms at Perkins School for the Blind. While I had planned to teach in the area of special education when I graduated from Northeastern, I didn't yet have any idea about what area of specialization I wanted to pursue. My placement at Perkins helped me to focus on blindness."
"While working at Perkins during my year-long Co-op placement, I learned about a scholarship program at Boston College for teachers of students who were visually impaired. I became a 'teacher trainee' and lived at Perkins, helping young children with morning and evening routines while pursuing my Master's degree."
"After graduating from Boston College, I applied for a job as teacher of Home and Personal Management at Perkins. Ellie Martin, my mentor and supervisor, had recently established this new program and her creative ideas, support, and experience inspired me. "Ellie believed that boys – as well as girls – should learn these skills. At this time, which was 1971, Boston College did not offer instruction in independent living skills, so all of my training in this area came from a few textbooks and Ellie's experience."
Ellie:
"I became interested in teaching the blind when a friend of mine invited me to observe her class at Perkins. The importance of communicating everyday, naturally occurring knowledge and skills to children who had never had vision was very interesting to me. As a result, I decided that I wanted to become a teacher and develop teaching methods that could help my students increase their information about, and ability to perform, daily living tasks. With the benefit of more intensive training, I believed that they could learn to function as well as their sighted peers."
"Later, when I married and started a family, I took a slightly different career direction and began teaching newly blinded adults at the Carroll Center for the Blind. Many of my adult students at Carroll had retained their visual memories and so didn't always have to learn daily living tasks, such as vacuuming or baking, from scratch. During the summers, however, I taught teenaged students who had no visual memories and relied heavily on the lesson plans that eventually formed part of this book. Using lesson plans meant that I didn't have to rethink each step of every daily living task."
What inspired you to write Clean To the Touch?
Kathy:
"In 1989, when I began teaching Home and Personal Management to students with visual impairments, I needed in-depth resource books and curriculum guides to use for my own teaching. I turned to my skilled colleagues and began to rely upon three excellent books: Toward Independence: The Use of Instructional Objectives in Teaching Daily Living Skills to the Blind by Anne Yeadon, A Step-by-Step Guide to Personal Management for Blind Persons from the American Foundation for the Blind, and Household Arts: A Curriculum Guide by Roena J. Markle." (Please note: All three books are currently out of print.)
"In my search for resources, I discovered that books which focused only on teaching housekeeping to people with visual impairments – and which covered the subject in sufficient depth – were extremely rare. I began to think that a specialized housekeeping manual would be a very useful book for me and probably for other teachers of students with visual impairments as well. When Susan, Ellie, and I began talking about the idea of collaborating on such a book, we became increasingly enthusiastic – enough to overcome our hesitation and fear about what we were undertaking."
Susan:
"It became clear that there was a need for consistency among all the staff who were teaching independent living skills, including housekeeping. There was very little written material in this skill area and the three of us combined had quite a few years of experience. We had tried some techniques that were successful and wanted to communicate our knowledge to others."
Ellie:
"At Perkins, when I taught middle and high school students in Home and Personal Management, it was always necessary to break a task down into sequential steps so that the student could conceptualize the task more easily. In the course of writing performance objectives, it was necessary to put all of the sequential steps into words. The book evolved from that need."
"Kathy took on the enormous task of framing many contributed ideas into a useable format for the book. Up until that time, every teacher had to re-invent an approach toward the subject. We believed that so many different approaches to the same information would eventually create inconsistencies and ultimately confuse our students."
Can you provide a brief overview of the structure and contents of Clean To the Touch?
Kathy, Susan, and Ellie:
The Foreword, Introduction, and Using This Manual provide an overview of the book; a philosophical approach to teaching and learning daily living skills; suggested audiences for the book; an explanation of how the book is organized; the importance of individualized adaptations; a discussion of learning styles and teaching techniques; and helpful teaching tips:
Chapter 1: Getting Started: Includes information about ways to make housecleaning more fun; arranging rooms for easier housecleaning; household cleaner safety and storage; how to straighten up any room; and creating a schedule for housecleaning.
Chapter 2: Bedroom: Addresses organizing; dusting; daily bed making; changing bed sheets; and emptying a wastebasket.
Chapter 3: Bathroom: Addresses cleaning the sink; cleaning the mirror, cleaning the bathtub; arranging the medicine cabinet and grooming supplies; cleaning the toilet; changing toilet paper; and hanging up towels.
Chapter 4: Kitchen: Addresses cleaning the table; wiping countertops and tables; preparing to wash dishes; washing dishes in a dishwasher; washing dishes by hand; and cleaning up spills.
Chapter 5: Floors: Addresses vacuuming, sweeping, mopping, and washing floors, and includes information about plugging in appliances.
The lesson to teach each skill or task is organized as follows:
Words to know
Materials or equipment needed to accomplish the task
Additional suggestions, tips, and adaptations
A step-by-step explanation of the technique
Photographs and illustrations
Alternative techniques
Methods for measuring the successful completion of the task ("Measuring Success"), including evaluation by the teacher and also by the student, who is encouraged to self-evaluate his or her independent skill performance.
The book also contains a Bibliography and Housekeeping-Related Resources.
Although Clean To the Touch addresses the needs of young people, is the subject matter also useful for adults and older adults?
Kathy:
"Most definitely. We said 'teenagers and young adults' in the subtitle because that is the primary group we have experience with. Every step of the way, however, the lessons in the book always have to be adapted to the learner and his or her needs; therefore, with ability- and circumstance-appropriate adaptations and expectations, the lessons could be very helpful for adults who want to learn housekeeping skills."
Susan:
"Yes. I think it could be useful for any age. It might be necessary to change the language slightly, especially for adults who have already had substantial experience with these housekeeping tasks."
Ellie:
"Occasionally, I teach adults who have low vision or have never had vision and are suddenly left alone. Their parents have passed away or they found themselves in a new living situation, which forced them to learn survival skills, such as keeping an apartment clean and organized. These adults could certainly benefit from the step-by-step presentations of the housekeeping tasks in this book."
Is there a story you'd like to tell about a particular student or client who benefited from this instruction?
Kathy:
"A young man who lives in an apartment (a more independent living situation) in the Secondary Program at Perkins learned, through our book, how to load a dishwasher. Since then, he has taught two other students how to do the job. During this school year, he is doing community service at the Elder Outreach Program one lunchtime a week by helping with dishwashing!"
Susan:
"Many of the boys who considered housekeeping to be 'women's work' actually enjoyed learning some of the tasks, such as cleaning the floor, dusting, and cleaning the bathroom. I have taught students who were in wheelchairs and had limited use of their hands, and they enjoyed dusting and cleaning the floor. They told me that they enjoyed experiencing accomplishment and success; in addition, their parents and cottage staff were pleased to provide opportunities for them to help.
Ellie:
"Several years ago, I had a student who was a concrete, step-by-step learner. She benefited from the lessons in the book because she needed the structure they provided. She had a good memory and could recall the steps in each process. Often, she used our suggested methods for measuring her own success and was proud that she could accomplish these tasks independently. When she knew what was expected of her as a result of 'measuring success,' she increased her level of competence and became more confident in her ability to perform housekeeping tasks."
An excerpt from Clean To the Touch: Housekeeping for Teenagers and Young Adults with Visual Impairments
Making a Floor Plan
Think of the areas in the room.
It is useful to begin cleaning in the corner furthest from the exit and work toward the exit.
Plan which area you will clean first, next, and last. Use the same plan each time you clean.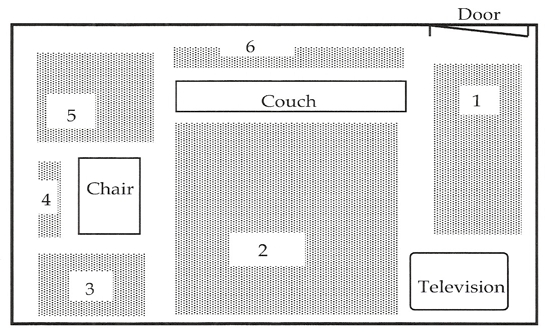 Diagram of floor plan; credit: Perkins School for the Blind
For example, in the illustration above, work in a clockwise direction around the room. Begin in area 1 in front of the television, move to area 2 in the middle of the room, then to the area between the chair and wall until you finish in the area behind the couch.
Cleaning the Floor
Move lightweight objects such as kitchen chairs, laundry baskets, and wastepaper baskets to an out of the way area.
Remove breakable objects and clutter from the floor.
Use your feet or hands to locate these objects.
Make sure that electrical cords and bed covers are out of the way.
Ordering Information
Clean To the Touch is available for purchase online from Perkins School for the Blind.
Author Contacts
Kathy Bull: Kathy.Bull@Perkins.org
Susan Lind-Sinanian: susan.lind-sinanian@perkins.org
Ellie Martin: ellie.martin@carroll.org