Advanced File Management Tips
File management is a challenge for most people. The key is to design a system you can live with—and then follow the system! These tips can help you create a filing system that is simple, easy, and manageable:
Use both hanging folders and standard, tabbed file folders—the hanging folders can be categorical (for example: banking, correspondence, invoices), while the tabbed folders can be elements within each category (under banking, for example, place tabbed folders for bank statements, investments, cancelled checks, etc.)


Mark all file folders with bold, large print labels. Place the categorical labels on the hanging folders on the front side of each folder. Stagger the labels from left to right so that they are easier to see and feel.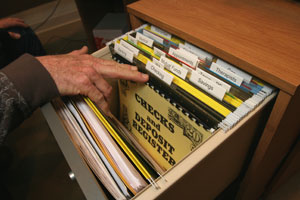 Hanging file folders with large print tabs are ideal for storing and finding important documents like your check register.


Put only essential information on labels to keep them easy to read. For example, rather than label a file "Information for the accountant" you might simply choose "Account Info."


Printed labels are generally easier to read than handwritten labels. Most office supply stores carry perforated, gummed labels that your computer word processing program can generate for you in the font and size you prefer. However, if you prefer to handwrite labels, you may want to use a bold-tipped pen in black ink.


Color-code your files—banking information in red folders, warranties in yellow, and so forth. Or, as an alternative, you might have the first hanging folder in each category in a light color (yellow or beige) with the subsequent folders within that category in a contrasting dark color (green or red).


Use Post-It notes of different colors and sizes to categorize projects.


Keep papers from related projects together by using staples, paper clips or large manila type envelopes (labeled in large print).


Plastic expandable file folders should be placed on the desk to allow for a close view of active file folders.


At the conclusion of each project or event, organize the paper work you want to keep and file it according to date and category.


Do not over fill folders. If they get too full, it's a good sign that you need to start tossing outdated or extraneous paper!


When using more than one checking account, color-coded checks are an easy way to keep accounts separate and avoid mistakes. Or, you may want to explore online banking and say goodbye to writing checks once and for all!

 Labeling Your Home Office Video