Making Car Repairs
You can certainly continue to perform most car maintenance tasks independently with vision loss. Most mechanics find it difficult to see many of the parts in a crowded engine space and rely on the senses of touch and sound to reach the oil filter or diagnose an engine problem. For more information about learning to maximize your senses, including touch, see Maximize Your Senses.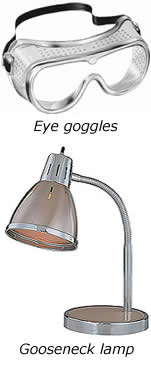 Safety and Preparation Checklist
Organize your work area. Collect all tools and equipment you will need ahead of time and have them arranged and sorted before you begin any home repair task. To help keep important items and equipment together, you can place your materials on a large tray, in a cardboard box, or in a work apron with pockets, arranged in the order you plan to use them.
Organize your tools. Separate your tools according to type and always store them in, and return them to, a designated location. If you have low vision, wrap contrasting-colored plastic or electrical tape around your tool handles to make them easier to see and to increase contrast with the work surface.
Protect your eyes. Regardless of your visual status (blind, visually impaired, or low vision), always wear impact-resistant safety glasses that completely enclose your eye area and are shielded along the sides and top edge of the lenses. They can be worn like glasses, or can fit over your own eyeglasses. Many types of safety glasses can also be obtained with prescription lenses.
Check the lighting. If you have low vision, make sure that the lighting in your work area provides sufficient illumination. You can read more about lighting at Home Modifications. A lamp with an adjustable flex-arm or gooseneck is usually a good choice because you can adjust the direction of the light as needed. A flex-arm floor lamp on wheels allows you to move the light with you as you move around your work area.
Keep a supply of "Goop" (or a similar waterless hand cleaner) within arm's reach of your work area to keep your hands clean and enable you to feel small engine parts more easily.
Cover the work area with papers or a drop cloth to protect the floor from oil, grease, and dirt. This will also help with cleanup after you've finished your repair.
If you have low vision, try placing your auto and engine parts on a contrasting-colored tarp or tabletop to increase their visibility.

Measuring Tire Pressure
The Reizen Talking Digital Tire Gauge speaks the tire pressure measurement in English and Spanish and also provides a large print LCD display.
The Accutire Digital SetPoint Programmable Tire Gauge stores recommended pressure levels for front and back tires and beeps when the pressure reaches preset levels. It provides a large print LCD display, and a white LED flashlight for low light conditions.
If you have low vision, try using your regular tire gauge with a magnifier, closed-circuit television (CCTV), or another type of low vision device. Talk with your eye doctor or low vision specialist to determine if a low vision device, such as a chest or around-the-neck magnifier or a magnifier mounted on a flexible gooseneck stand, could be helpful for some auto repair tasks.
Vacuuming the interior or washing the exterior of your vehicle
Assemble all of your cleaning supplies before you begin.
Break the total job down into one manageable area at a time. For example, try working on the hood or on the front passenger side carpeting to begin.
Apply the cleaner directly to the cloth or sponge, instead of to the work surface.
If you use a spray cleaner, locate the nozzle and spray into the cloth instead of on the surface.
Clean in vertical and horizontal patterns, using overlapping strokes to avoid streaks. Always work in a consistent pattern, such as left to right, to ensure you've cleaned the entire surface.
Use your free hand to measure the work area and use it as a border marker each time you move to a new section. This helps to divide larger areas and surfaces into smaller, more manageable sections.
Check the cleaning cloth periodically to determine if it needs to be turned or requires more polish.
Go over the entire surface once more with a clean cloth.
For more information about general household cleaning techniques, see Tips for Cleaning if You are Blind or Have Low Vision.
Checking the oil level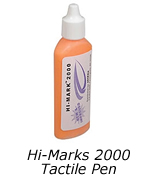 You can mark the dipstick with the following tactual methods, ensuring that you allow at least 24 hours for the marking product to dry completely:
Hi-Mark Tactile Pen: A three-dimensional plastic liquid that makes raised lines, dots and shapes. You can also use it to mark the handles of your frequently-used tools.
Spot 'n Line Pen: A three-dimensional plastic liquid that makes raised lines, dots and shapes. You can also use it to mark the handles of your frequently-used tools.
Filling the oil or windshield washer fluid
For this task, you will need a dedicated funnel used only for filling oil or washer fluid. You can find long-necked and flexible plastic funnels at most auto supply stores. Refill by using the following tips and techniques for pouring:
Initially, you can practice by pouring over the sink until you feel confident with your pouring technique.
Listen for the sound of liquid entering the fluid reservoir, as well as for sound changes as the liquid rises.
Pour slowly at first and gradually increase your speed as your skills improve with practice.
Re-measure the oil or washer fluid to confirm you've filled the reservoirs to the desired amount.
A Blind Mechanic's Story
Larry Woody knows the engine of a Chevy truck like the back of his hand. He lost his vision in 2002 after being hit by a wood chip trailer on I-5. Read Larry's story on APH CareerConnect®.