Arts and Crafts After Vision Loss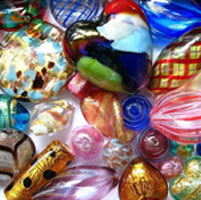 Your vision may have changed, but it's unlikely your imagination has! Simple everyday arts and crafts can be inspired by any product, any experience, at any time. Here are some ideas to try if you are blind or have low vision:
Continue to seek creative ideas from magazines or newsletters, but use large print or audio media. Seek inspiration at art and craft shows with friends who have similar interests.
Join a craft group to gain new ideas in familiar areas, or take a new class at an adult education program to learn a different type of craft.
Visit a preschool or elementary art class and have fun with young creative minds that know no boundaries! Teachers are always looking for volunteers and young children enjoy creating—and their enthusiasm may inspire you.
Talk about your interests with others. You can give others an opportunity to exchange ideas with you and keep up-to-date with current trends.
If you are looking for products that you can use in craft projects, see Setting Up a Craft Area and Products for Independent Living.
Peer Advisor Mary Hiland: Yes, an Arts Festival Is for Everyone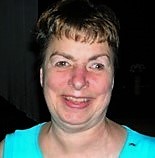 It's Not Just Paintings
If you think that art is just for those who can see, you're missing out on an experience that will broaden your world and impress you with the imagination and creativity that these artists demonstrate.
Choose the Right Friend to Take with You
My friend Eve has been a guide for me when hiking and a captain for me when biking. She has taken me shopping, and she has assisted when I host parties. She knows my tastes and what I need and do not need regarding mobility.
When we came to a booth that caught her eye, she would describe briefly what it contained, and if I showed no interest, we moved on. But if it was something I wanted to explore, she expertly placed my hands on the objects of art without fear of breaking anything. Most vendors encouraged me to touch anything I wanted anyway. Even people who are sighted want to touch the artwork to experience the textures!
Some Tips for a Pleasant Time
Go early. Beat the heat and the crowds.
Bring water.
Wear sunscreen.
Use a credit card for any purchases, because it's faster than fiddling with cash.
Read more from Mary at Summertime Fun: the Arts Festival on the Visually Impaired: Now What? blog.