Beadwork After Vision Loss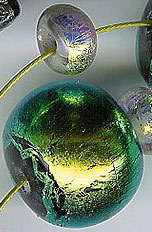 Beading can be a wonderfully creative art form that provides the opportunity to use your sense of touch to its fullest extent. Here you will find information about the craft, along with suggestions and adaptations to help you continue enjoying beadwork after vision loss.
About Beading
Beadwork is the art or craft of attaching beads to one another, or to cloth, usually by using a needle and thread or soft, flexible wire.
Beading is an ancient craft: A set of beads made from snail shells, approximately 100,000 years old, are thought to be the earliest known examples of jewelry.
Beads are available in a wide range of designs, sizes, colors, and materials, allowing much variation among bead artisans and projects. Using beads of varying textures and sizes can also make beading more tactually (and visually) interesting.
Some of the more prominent types and styles of beading include Native American and European (Murano glass) beadwork.
| | |
| --- | --- |
| Venetian and Murano Glass Beads | Native American Beadwork |
Some Beadwork Adaptations for People with Low Vision
If you have low vision, invest in a good task light that you can direct on to your work. A flexible swing-arm task light with low wattage, low heat, and located 8-12 inches from the work area often works best. Some lamps also have built-in magnifiers.
If you have low vision, ask your eye doctor about low vision devices, such as frame-mounted telescopes. Some beadwork artists have had success using closed circuit televisions (CCTVs) or video magnifiers.
To learn more about effective lighting and adapting a crafting area in your home, see How can I set up a craft area in my home?
Beading needles tend to be longer than normal (up to 4-5 inches long) and have lengthened and enlarged eyes for ease in threading. They are available at most craft stores or wherever bead supplies are sold.
Waxing the thread may help make it stronger, more tactile and easier to thread.
Consider using larger beads with larger openings to help with threading.
To keep your bead colors separated, use a fishing tackle box and/or small Ziploc bags. The box will help keep your beads organized and the bags can be labeled for color identification. Margarine tubs, baby food jars, and small re-sealable storage containers also work well.
Label your beading supplies in large bold print made with a wide-tipped felt marker or a tactile marking in braille.
For additional hints about labeling your beading supplies, see Labeling and Marking for People Who are Blind or Have Low Vision.
When working on a beading project, consider using a pill organizer to hold and organize your beads. A typical pill organizer has 7-28 "pockets" that will hold your beads and keep them from rolling. They come in a variety of sizes and generally have a hinged lid to keep your beads contained when you're no longer working on the project. Pill organizers can be found in most drugstores, and through specialty products catalogs.
A square of corrugated cardboard with the ridges exposed will allow you to line up the beads to form your design and keep the beads from rolling away. Have a friend or family member cut a flap from a cardboard box and carefully peel away the top layer of paper, which will uncover the corrugated rows. Cut the piece of cardboard to a manageable working size, such as 20 or 24 inches. If you are making bracelets, a 12-inch piece may work better for you. The grooves should run the length of the cardboard and will hold most sizes of beads in place.
Additional Information