Knit Your Life Back Together
By Lynda Lambert, VisionAware Peer Advisor Do you have happy memories of knitting with two needles in your hands and the feeling of a soft ball of yarn in a color that you love? Did you put away your needles and yarn after vision loss because you believed you could not ever knit again? If so, I have some good news for you! With patience and some adaptive techniques you can pick up the pastime of knitting again.
Let's Begin to Knit – Again
I was a knitter from my early childhood and when I lost my sight nearly 10 years ago, I was so sad that I could not knit any more. I loved to knit accessories and beautiful things to wear. I also loved to knit sweaters for children and donate them to a charity. Another passion I have is knitting prayer shawls for people who are sick or going through chemotherapy treatments. A gift of a hand-knit item gives comfort and warmth. Perhaps that can be your motivation for picking up the needles again. I began by holding the yarn strand in place in my two hands. Just the feel of the yarn brought a surge of pleasure. The long knitting needles felt cool against my warm hands. I remembered how much I had always loved to knit. If nothing else in my life was going right, I always had my knitting. "Can I ever do this again?" I wondered. Of course, it was not easy and I made a lot of mistakes. But I refused to quit. And it was not long before I was able to have an active knitting life again.
Create a Knitting Nook in Your Home
First, look around and select a quiet corner, nook, or room in your home where you can be alone and relaxed. Select a place where you won't have interruptions or any activities to distract you from knitting. You will need to be quiet and able to concentrate on your knitting and you want to be relaxed and calm.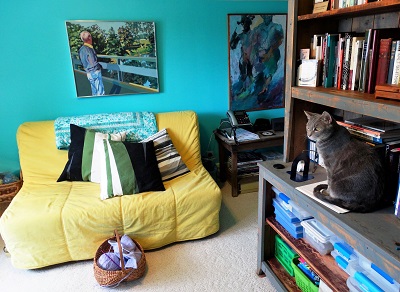 Lynda's "knitting nook" with a futon, shelving, her knitting basket, and her cat

Since our children are all grown and gone from home, we had a spare bedroom. It was the perfect opportunity for me to create a knitting studio there. I removed the bed and put a futon in the room. The futon serves as a couch and if I need the space for an overnight guest, the futon turns into a bed. This room has a bay window facing the east. It's bright early in the day and it's cheerful. I had it painted a favorite color (a soothing seafoam blue) and brought in works of art to make it feel like a studio space. You can use a spare room or even a nice little nook or corner space in a room that is relatively quiet in your home. Be sure to make it your own special place where you can relax and begin to do some knitting.
Ideas for Your Knitting Room
You will need some storage places, such as baskets, shelving, or drawers. My knitting studio has some shelving on one wall, a closet, and a ceiling-high shelving cabinet on another wall. Other options can be inexpensive moveable shelves that you can purchase at a big box store. They can be used anywhere. They are lightweight and easy to set up in your room if you don't have any built-in shelving or closets. I love inexpensive woven baskets with lids because they keep my yarns clean and the color variety creates a nice accent in my room. You can purchase these at any crafting store and place them anywhere you have a bit of space. You can also buy them as sets and stack them. Another suggestion is a small crafting table, nesting TV tables, or even a card table, which you can fold down and store. You will use them a lot! Place a small table beside your chair or couch so you can have a lamp if you need the extra light. Everyone is different when it comes to the amount of light that might be helpful. You might need a special kind of light. See Flexible-Arm Task Lamps for more lighting suggestions if you have low vision. I have a small Wave radio/CD player in my knitting studio. I also listen to books that I get through the National Library Service for the Blind and Physically Handicapped (NLS) program. See Audio Players and Talking Books for more reading options and audio book resources. For more helpful suggestions about setting up your knitting room or a craft area, see Setting Up a Craft Area: Some Ideas to Try If You Are Blind or Have Low Vision.
Get Your Knitting Equipment Together
Select a Pattern
Decide what you want to knit. Be realistic and don't try to begin your first knitting project by selecting something that is difficult.
Look through your patterns and check to be sure it is listed as "easy" or for a "beginner." You don't want to set yourself up for failure. Take your time and pick something you like, keeping it simple for now.
I suggest a basic scarf or dishcloth as your first attempt to knit again. Both are simple and you just knit in a straight line until you have the size specified.
Items You Will Need
Scissors: I like the small embroidery scissors sold at the fabric store. They look like a bird, and have a little leather case that they fit into. They are easy to carry if I take my knitting with me.
Tape measure: You can purchase one that is made for blind crafters. It has both large print markings and grommets in it to mark the inches. It is easy to use and does not require vision.
Digital recorder: I use a device called a Milestone. I speak each line of the pattern into my Milestone recorder. I do it one line at a time. This way, as I am knitting, I just press a button to hear one line of instructions as I need them. You can learn more about the Milestone and other digital players designed specifically for people who are blind or have low vision at Audio Players and Talking Books.
Knitting needles: Read your pattern to see what size needles you need. Needle size will be listed under "Materials," at the beginning of the instruction sheet. I can tell you that it is still difficult for me to use a circular needle because the stitches have to be moved onto a thin cable and I cannot count them. I just cannot feel the stitches on the cable. I have better results if I use only standard straight needles. I avoid patterns that require using a cable needle. Another difficulty is the slick metal needles. I do best when I use needles made of bamboo or plastic because my stitches are more secure.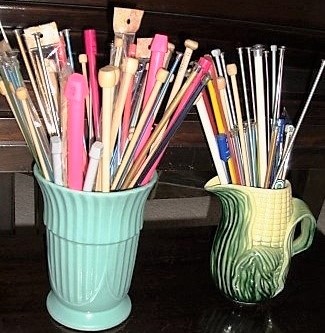 Lynda's knitting needles, stored in decorative vases
Electronic video magnifier or CCTV: If you have low vision, you can see your pattern by using a video magnifier or CCTV. I look at my pattern through the CCTV screen, and then I speak it into my digital recorder. All I need to have with me when I go to my knitting group is my recorder. See Electronic Magnifiers and Magnifying Systems for more information about these devices.
Selecting Yarn
Your instruction sheet will specify what weight of yarn you need and how much yarn your project will require.
Be sure to purchase all of the yarn at one time. Check the yarn wrapper to determine the number of the dye lot. Make certain that you buy the same dye lot for all of the yarn you need for the project. You don't want to run out of yarn. If you do, you may not be able to find more with the same dye lot and there will be a color shift from one dye lot number to a different one. That could ruin the appearance of your knitting project.
My recommendation is that you select a pattern that calls for a thicker yarn that you will be able to feel easily because you will be using larger needles. Find a pattern that will require, at minimum, size 9 needles.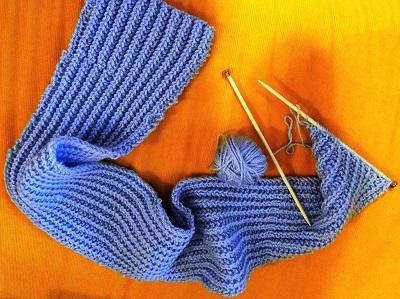 Lynda's simple blue scarf made with bamboo knitting needles
Use, at minimum, a worsted weight for your yarn. A simple worsted weight yarn in wool or acrylic would be perfect for you to begin using.
Smooth yarn is much easier to control than a fancy yarn that is delicate, nubby, or furry. Boucle yarns are also difficult to feel and they tangle into a mess.
For more tips to help with selecting needles and yarn, see Tips to Help with Knitting and Crocheting.
Ready, Set, Knit!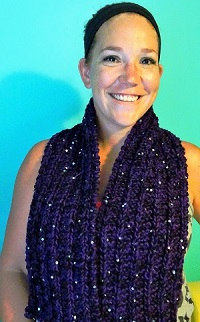 If you are like me, knitting used to come naturally. It was second nature because I did it for so many years. I was relaxed and it was such a pleasure to be knitting. But once my sight was impaired, knitting was nerve wracking when I tried to begin again under my new circumstances. I had to learn a few things by trial and error. My first encounter with my needles and yarn was traumatic because I was trying to knit like I did before sight loss. The harder I tried, the more frustrated I was. I started slowly, moving the needles and trying to get them to balance. I shifted them between my two hands and put them into my normal knitting position. I realized I needed to quit trying to look at it. My big revelation that day is that now I have 10 eyes instead of two to work with! Yes, think of your fingers as being your eyes now. Instead of looking with your sight, you will now begin looking with your touch! This is such a discovery when you begin to think this way. Use both of your hands and concentrate on how each one feels. Go slow. Take your time. Relax! You will be touching each stitch as you work – feel it carefully as you cast on your first row. I count my stitches as I go. Keep your fingers as close to the tips of your needles as you can. It will help you stay in control. Learn more about ways to maximize your sense of touch at Maximize Your Senses. I am able to educate my friends from time to time about sight loss. They are comfortable with me and they occasionally ask me how I do something, or what I think. I am glad to share with them and give them insight into how a blind person does many things that they did not realize we can do. By successfully knitting again, I gained confidence in myself and took pride in what I could do instead of lamenting my losses. For me, knitting was a game changer. I was back in the game of knitting together a life. Think about how great it will feel when someone compliments you on a beautiful sweater or stunning jacket or scarf you made. Give that person a wide smile and say, "Oh, thanks! I knit it myself." I know you can, too!
Additional Resources